The United Nations has made the gathering of data on girls across the world the coming year's focus. Marking the International Day of the Girl Child, it issued a call for action for increased investment in collecting and analysing data that's focused on and relevant to girls.
Robust and reliable data collected on a regular basis is essential for policy making. According to the UN, improving data on girls is critical to fulfilling the new global 2030 roadmap and the Sustainable Development Goals.
For Africa, girl-focused and girl-relevant data is a critical tool for identifying the challenges that continue to disadvantage girls. This will enable African politicians, lawmakers and civil society to better understand the barriers that confront girls and design policies and services to respond to their specific needs.
Africa still has a long way to go for girls to fully realise their rights.
A report from Save the Children ranked Chad, Niger, Central African Republic, Mali and Somalia as the hardest places in the world to be a girl. Research indicates that the rates of enrolment for school aged girls in primary education in sub-Sahran Africa are below 1990's levels.
The 2015 UN Women Beijing +20 Report points to Africa as having the highest prevalence of physical or sexual violence in world. According to the UN, 4 in 10 girls marry before age 18 and UNICEF has warned that the number of child brides across Africa is expected to triple by 2050.
The question that needs to be answered is: why do sexual violence and forced marriage continue to be pervasive vehicles for injustice against girls in Africa, even though there are various laws and regulations that African governments can use to protect girl children?
The answer is twofold.
First, there is a limit to the ability of the law to change ingrained social and cultural attitudes that suppress girls and discriminate against them.
Second, a top down approach (such as structural changes in law and policy) must be integrated with a bottom up approach that targets the hearts and minds of local communities.
The shared goal is clear: to enhance and amplify Africa's girl power.
Legal instruments
African states have a number of regional and international instruments that they can rely on to help tackle sexual violence and forced marriage. These include the:
International law has given girls' rights some visibility and sets out the duties of states in respect of these rights. For example, the Convention on the Elimination of All Forms of Discrimination against Women 1979 and the Convention on the Rights of the Child have been used to emphasise that culture and tradition do not justify the failure of states to intervene and prevent traditional practices that foster discrimination and violence against women and girls.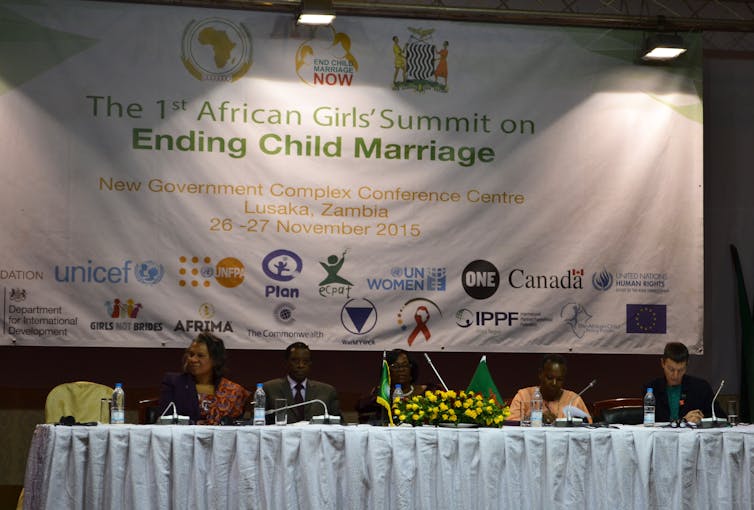 There are signs that a number of African states are taking positive steps to combat violence against girls. For instance The Gambia and Tanzania have banned child marriage, with tough sanctions for those who breach the law. Other countries are under pressure to follow suit. In Malawi the Ministry of Gender, Children and Community Development is mandated to tackle violence against women, including child marriages.
This top-down approach seeks to provide a legal infrastructure that national authorities can use to prevent and respond to forced marriage and sexual violence.
But social and cultural barriers can nullify national laws and strategies.
Societal and cultural barriers
Sexual violence and forced marriage thrive in a climate of gender inequality and discrimination. This is true for girls living in conflict as well as non-conflict situations.
A report on child marriage by Save the Children notes that:
… in many contexts, it is sustained as a result of harmful social norms and practices associated with the roles and expectations assigned to girls, and the negative consequences of poverty and deprivation.
Patriarchy is present in many societies in Africa and is perpetuated through social, cultural and religious norms and practices. These reinforce the subordinated position of women and girls in both public and private spheres.
Females who are victimised also have to cope with negative responses from their families and communities. This serves to shift fault or blame away from the perpetrators to the victims.
Many of those who escaped from the jihadist group Boko Haram face taunts of being called "Boko Haram wives". And girls who fall pregnant and bear children are ostracised.
In northern Uganda former girl soldiers – girls who were abducted and drafted by the Lord's Resistance Army – and were sexually exploited as "bush wives" live with significant physical and mental trauma. Their trauma is compounded by physical and verbal abuse from their communities.
The perceived inferiority of girls is reinforced by ideologies around chastity, virginity and the perceived roles girls should adopt in their families and societies.
This means that addressing the victimisation of girls also demands tackling the stigmatisation they face.
Such a bottom-up approach, combined with top-down implementation, can strengthen and sustain initiatives for promoting girls' empowerment.
Africa's girl power
Girls must be allowed to decide, free of coercion or violence, about their futures. Many girls across the continent are asserting their rights and raising their voices. Social media campaigns such as #GirlsTakeover and #BecauseiamaGirl convey a global message of awareness and action. They have drawn attention to the challenges girls face and have amplified stories of resilience, survival and empowerment.
Girls must be provided with the information, education and services they need to enable them to take their lives into their own hands.
For Africa, girl-focused and girl-relevant data provides a gateway for telling the stories of girls across the continent, the challenges that stifle their full potential and the best means to overcome them.