When Bram Stoker's hero, Jonathan Harker, wrote a diary entry in the 1897 novel Dracula saying that the the "old centuries had … powers of their own which 'modernity' cannot kill", he could have had little idea how right he was. More than 120 years after Dracula was first destroyed with a stake through his heart, he is still going strong and has become – in his own way – beloved.
But nowadays he's as likely to be fighting Lego Batman or opening a hotel as drinking blood. It seems somehow fitting that Stoker would have turned 170 years old in the same month that gave us a first glimpse of Hotel Transylvania 3: Summer Vacation, a film featuring a computer-animated Dracula on a family cruise.
So how did we get from what The Lincolnshire Echo called in 1897 "the most blood-curdling novel of the paralysed century" to family-friendly viewing?
As unlikely as it sounds, one of the most recognisably X-rated Draculas is a prime example of how the count became a pop culture figure. Despite positive reviews, the original novel had not been hugely successful and it took popular theatre and film adaptations to spread Dracula's fame. In the late-1950s, Hammer studios managed to stand out in a marketplace full of space-horror by looking backwards and focusing on classic horror novels.
Like almost every film version, Hammer's 1958 Dracula does not closely follow the novel. Instead, the film intelligently plays with audience expectations. Harker seems naive in the opening sequence as he ignores the standard warnings from the local villagers about Dracula's castle. But once he's alone, we learn his secret: that he is there to kill Dracula.
The 1958 Hammer Dracula was revolutionary in a number of ways: it was the first British Dracula film and the first in colour. But it was its use of the X certificate that made it stand out. X-ratings were often emphasised in Hammer's marketing, effectively codifying the excess of a production.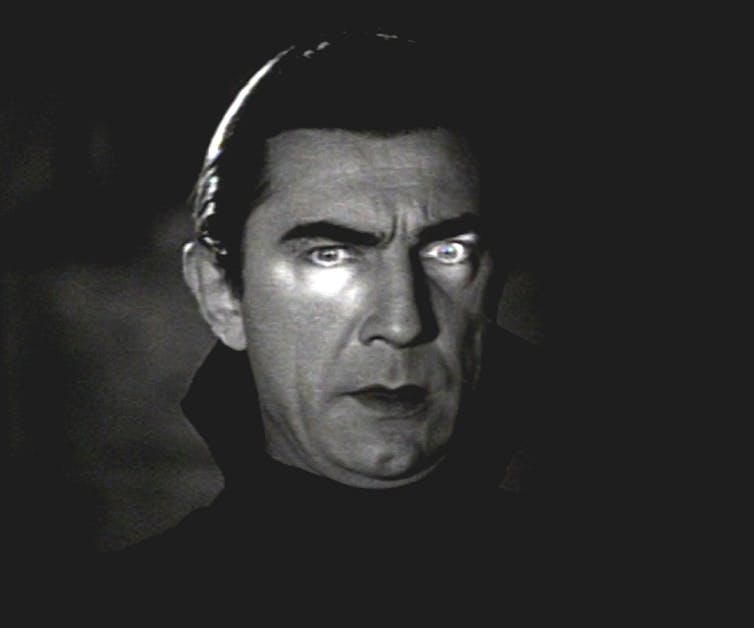 While Bela Lugosi's Dracula may have been attractive, Christopher Lee's revelled in a mixture of sexuality and blood that offended old-fashioned sensibilities. These conflicting attitudes hit a crescendo just two years later in the 1960 obscenity trial over Lady Chatterley's Lover. Dracula, then, was perfect for its time.
The film's success triggered a long string of sequels, with Dracula's many resurrections turning him into a recurring pest rather than a supreme threat. Brides of Dracula was released in 1960 without Lee – and without Dracula (Lee had decided at that point against sequels and the monster was instead a Count Meinster, played by David Peel). But both returned for Dracula: Prince of Darkness (1966). Dracula Has Risen from the Grave (1968), Taste the Blood of Dracula and Scars of Dracula (both 1970) followed swiftly after.
As horror film continued to evolve, such films looked increasingly outdated. Dracula AD 1972 ("He's ready to freak you out!") moved the Count to the 1970s, but it was The Satanic Rites of Dracula (1973) that visibly diluted the genre. Here, Dracula battles the secret service and plans global destruction using a deadly toxin – just one year before Lee starred as Bond villain Scaramanga in The Man with the Golden Gun. Hammer's final Dracula film, without Lee, was the kung-fu movie The Legend of the 7 Golden Vampires (1974).
The Hammer film series echoes the trajectory of horror literature as it moved into other hybrid forms, but in this case to diminishing returns. In distancing Dracula from not only his birth novel, but his time period and genre, Hammer provides a snapshot of what was happening to the Count across popular culture as a whole: a transformation into a character easily transplantable, immediately recognisable and, most tantalisingly of all, in the public domain.
Dracula goes multi-media
In other media, a similar trend is recognisable, with Dracula's foray into comic books seemingly following this same pattern. Horror comics start promisingly controversial. When Marvel's Tomb of Dracula began publication in 1971, it only escaped censorship due to a technicality – vampires were prohibited by the restrictive Comics Code Authority, but classic literary works enjoyed an exception.
Decades later, Marvel's Dracula occupies the same space as other superheroes and villains, fraternising with Doctor Doom or battling the X-Men. This superhero aesthetic also seems to have spread, with The Guardian's box-office analysis of Dracula Untold, for instance, making reference to "artwork heavily reminiscent of a certain dark knight".
Video games' best-established Dracula is the antagonist of Konami's Castlevania series of horror-inspired action games. Though not as frightening as later survival-horror games, the series makes effective use of Gothic tropes – even directly referencing previous Dracula movies in the first game's ending by crediting Christopher "Bee" as Dracula and "Belo Lugosi" as Death.
With the series' popularity growing so too did its spin-off potential. Castlevania's Dracula not only has light-hearted adventures as "Kid Dracula", but races go-karts and, this month, was added to the latest Bomberman game.
So, are we doomed to a culture of sparkling vampires and family-friendly Draculas? There is some hope: Castlevania's Netflix animated series counters this trend, transforming the games' simple narrative into a bloody folk horror tale resplendent with classic Gothic influences. It's not the novel, but it's a start.