Frank Sinatra would have been 100 this December 12. He was a working-class Italian American kid from New Jersey who couldn't read music, but from the moment he started singing as a member of the Hoboken Four to his rise to the top of the charts, Frank Sinatra was "The Voice" who defined the sound of 20th century popular music. His versions of the work of Cole Porter, Irving Berlin, George Gershwin, Sammy Cahn, and Jimmy Van Heusen are the standards that all other artists (from Harry Connick Jr to Lady Gaga) can only imitate.
But he was not always the multimillion-dollar success who made thousands of bobby soxers swoon and determined men's fashion, taste in whisky and high-flying, jet-setting attitude. In 1951, Sinatra's career as America's top pop singer seemed over.
A decade before, he was working with Harry James and Tommy Dorsey before moving toward a lucrative solo career. Thousands of women and teenaged girls mobbed his concerts; some managed to rip off his signature bow tie. Columnists buzzed about the Sinatra effect. Hollywood hired him.
But then his vocal chords haemorrhaged; he was dropped by Columbia records; his marriage to star Ava Gardner was over almost as soon as it had begun. As screenwriter Daniel Taradash remembered, he "was really flat on his rear".
But in 1951, James Jones published From Here to Eternity, the year's number-one bestseller – and Sinatra, who had been in musical films with Gene Kelly since the mid-1940s, found his future (acting) self. Columbia Pictures snapped up the controversial novel about the pre-Pearl Harbor US army and, in spite of industry and government pressures to censor it, planned to make the film the biggest blockbuster of 1953.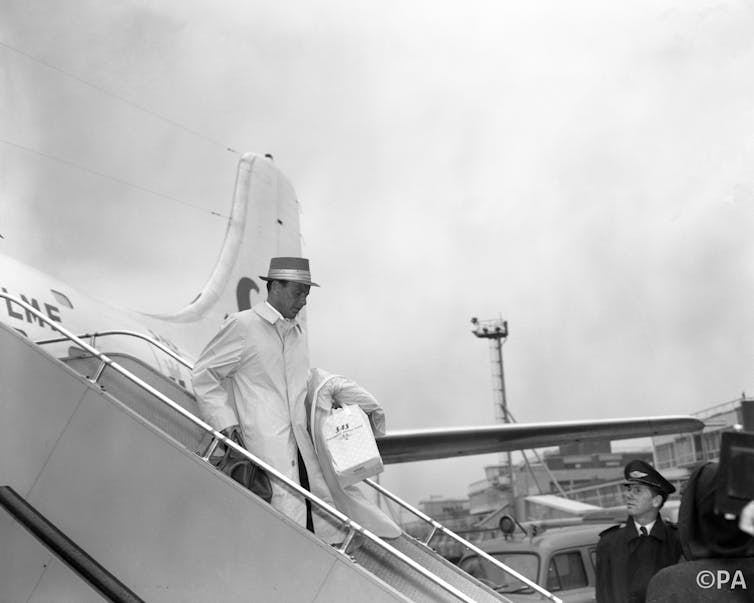 Angelo Maggio
The fallen star's fight to play the loud-mouthed, working-class Italian American army private, Angelo Maggio, is one of the best-known underdog stories of Hollywood casting. So much so that it was famously parodied by Mario Puzo and Francis Ford Coppola in The Godfather (1969, 1972). Although the Mafia did not put a horse's head in studio mogul Harry Cohn's bed after he initially refused to cast Sinatra as Maggio, it is true that Cohn didn't fancy Sinatra for the part. He wanted theatre star Eli Wallach, who allegedly made a riveting screen test before withdrawing to work with friend Elia Kazan in a new Broadway production of Tennessee Williams's Camino Real.
Hollywood lore alleges that Gardner, whose stormy relationship with Sinatra was to last until 1957, got her husband the part by going to Joan Cohn and talking woman-to-woman about the need to regenerate his career. Whatever the reason, he took the part and ran with it. Angelo Maggio changed Sinatra's luck. His voice recovered, he started the famous recording sessions with Nelson Riddle, and soon, in theatres and on the airwaves, he had the world "on a string".
Maggio was, like Sinatra himself, the ultimate outsider: an articulate rebel who broke rules, from the working-class and an ethnic minority – and a committed Democrat, even when it was no longer fashionable. In the 1930s and 1940s, Sinatra had worked for Franklin D Roosevelt, made speeches with Orson Welles supporting FDR's re-election, and had been accused of being a communist by Red baiters.
But that was another era, to play a character like Maggio in the height of the McCarthy era was dangerous – particularly if you were in the middle of a career slump in a generally conservative industry. But Sinatra thrived on controversy and fighting with the deck stacked against him. While his co-stars Burt Lancaster and Montgomery Clift got impressive salaries, Sinatra played the part for a pittance ($8,000). But he was utterly professional on the set, and better able than Clift to hold his liquor during their after-hours drinking bouts with author James Jones.
Director Fred Zinnemann felt Maggio's comic façade and sense of injustice would remind audiences of Charlie Chaplin, who had recently been expelled from the US on a trumped-up immigration charge. He let Sinatra loose in rehearsals and pushed him to improvise and sharpen Maggio's hatred of army corruption and the bullies who made his and his friends' lives hell. Off the set, Sinatra became a close friend of Harry Cohn's and later did him the occasional favour in his famous Las Vegas shows by advertising new Columbia films.
But by then, Sinatra's career as a cultural icon was set: he won the Best Supporting Actor Oscar in 1954 for his performance as Maggio. He then went from strength to strength in his career as both "The Voice" and one of Hollywood's most riveting performers in films about political assassination (Suddenly, 1954), drug addiction (The Man with the Golden Arm, 1955), and McCarthyism (The Manchurian Candidate, 1962).
We may remember him as the swinging, stylish "Voice", but what he had to say off stage and on screen was just as memorable.