The motives behind the four attacks that have taken place in Germany recently are still under investigation. Links to Islamic State are suspected in two cases, but not in the others. The one common factor was that all the perpetrators had a migrant background or were refugees. While the incidents share similarities with recent atrocities elsewhere in Europe, they raise particularly difficult questions in Germany.
There, attitudes towards asylum, migrant integration and internal security are closely linked and deeply ingrained. The recent spate of attacks raises questions not only about the current government but also about the founding principles of state and society in post-war Germany.
In some ways, Germany's troubled past has made the country more aware of the human dimension of the migration crisis. After World War II, the new West German state laid down unusually generous asylum measures as a gesture of remorse for the Hitler regime's crimes against humanity.
Germany's own post-war refugee experience – when some 13m German settlers were expelled from the territories recovered from Hitler's occupation – has also made Germans acutely aware of the suffering of the dispossessed.
But the past also reinforces barriers between the indigenous population and foreigners. Germany's approach to security is rooted in a Cold War fear of communism. Until recently, for example, an archaic citizenship law made naturalisation a difficult and lengthy process. It worked against the effective integration of foreign communities into mainstream society. Opinion on the German right has long tended to lean towards fear of foreigners – and increasingly of Muslims. They are seen as a potential threat to security, to the constitutional order and even to "Germanness".
A toxic issue
When the European migrant crisis broke in 2015, the German response reflected both of these tendencies.
Merkel's pro-migrant policy and spontaneous expressions of the German "culture of welcome" (Willkommenskultur) incorporated the inclusive tradition. The anti-foreigner Pegida movement and the right-wing Alternative for Germany (AfD) embodied the exclusionary stance.
The growth of the populist right has normalised anti-immigrant rhetoric. Beatrix von Storch, an MEP and prominent AfD member, recently argued, for example, that German police should be allowed to shoot illegal immigrants.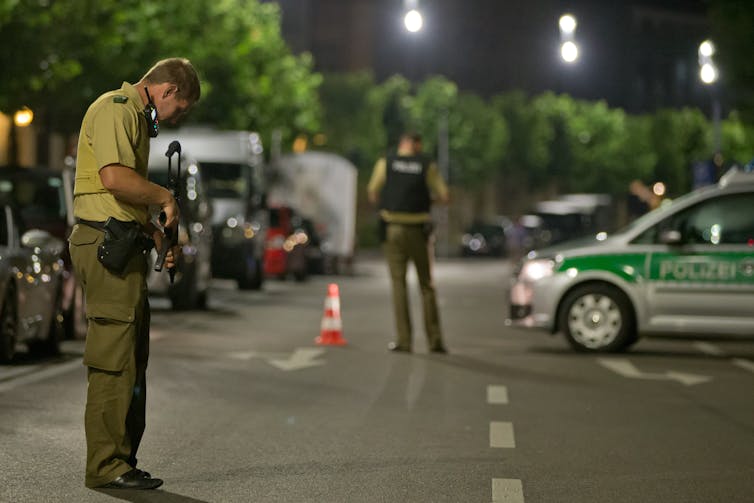 As a political issue, immigration has been as toxic to the mainstream parties as the EU has been in the UK. Migration issues have dogged the governing coalition. Now, the involvement of three young refugees in the latest violent attacks has consolidated the traditional German connection between migration and security. It has sent them to the top of the political agenda.
Following the recent attacks, Merkel's pro-migrant policies have come under fire not only from right and left outlier parties but also from the more conservative members of her own Christian democratic CDU/CSU party.
CDU home minister Thomas de Maizière warned against hasty decisions in favour of a calm, measured response. However, the CSU Prime Minister of Bavaria, Horst Seehofer (where the attacks took place) was much more outspoken. He demanded a wide range of stringent security controls, some of which may not be compatible with the German constitution.
Seehofer, considered a prominent ally of Merkel before the migrant crisis of 2015, had previously demanded an end to Germany's welcoming culture.
The lady's not for turning
On July 28, Merkel brought forward her traditional annual late-August press conference – politically the most significant of the year – to announce her response to recent events.
She spoke both to the sense of betrayal felt by people who had welcomed refugees and to the growing concerns about security in public places. Focusing on the "Islamist terror" incidents in Würzburg and Ansbach, she described the attacks at random, everyday locations "where any of us might be" as "a breach of civilisation's taboos".
She promised to find a better balance between freedom and security while standing against any attempt to threaten the German way of life or to ignite hatred and fear between the country's cultural and religious communities.
Merkel outlined a nine-point plan, including promises to plug security gaps and introduce more effective early warning systems to help spot perpetrators previously unknown to the police. There are to be mock terrorist attacks for training purposes, involving both police and military forces. She also called for closer cooperation with European secret services, tighter European gun laws and faster deportation procedures. She ruled out any additional military engagement against IS, stressing also that Germany was not at war with Islam.
Those hoping for a sea-change in immigration policy were disappointed. Merkel stressed that Germany needs to adhere to its core principles of respect for the human dignity of all and to continue to offer political asylum. Sticking with her policy on the welcome of refugees, she simply repeated her 2015 mantra: "We'll manage".