Jakarta saw its biggest protest in years on Friday, prompting president Joko Widodo to cancel his planned visit to Australia.
Some Western media report that the rally of some 200,000 people marching in protest against the Chinese-Christian Jakarta governor Basuki Tjahaja Purnama, popularly known as Ahok, was a "show of strength" and a sign of radical Islam "taking hold" in Jakarta.
Indeed, there were many Muslim organisations that joined the rally, demanding Ahok to be jailed for blasphemy for "insulting Islam" over his comments criticising his opponents for using Koran verses against him. Groups such as the Islamic Student Association (HMI), the Islamic Mujaheedin Assembly (MMI) and Hizbut Tahrir Indonesia all went along in the rally. The hardline Islamic militia group the Islamic Defenders Front (FPI), notorious for violent thuggery and attacks against minorities, organised the rally and was the loudest and most visible on the scene.
But the reality of the November 4 rally in Jakarta is much more complex than growing Islamic radicalism in Indonesia.
Racism, the political agenda of Purnama's opponents in the upcoming gubernatorial race, and discontent from the urban poor over Purnama's policy on forced evictions all factor in the protest turnout in addition to religious motives to defend Islam.
Who is Ahok?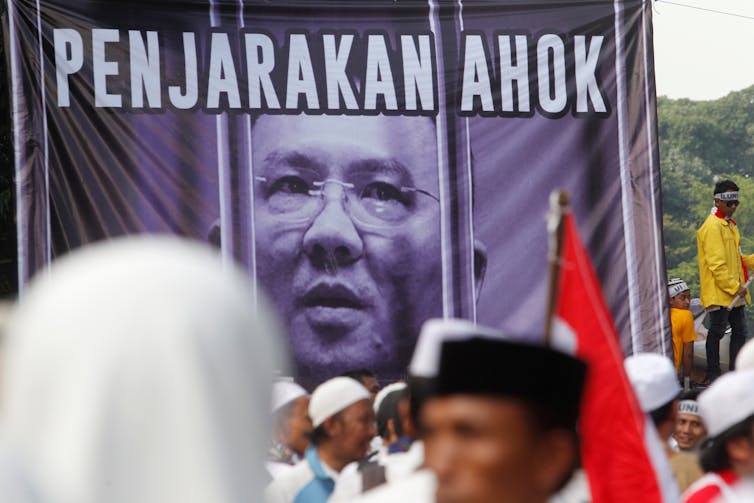 Last week's rally was not the first protest against Ahok. FPI organised a rally in October 16, attracting thousands, after a video of Ahok criticising his political opponents for referencing a verse in the Koran to prevent people from voting for him went viral. He is running for governor in next year's Jakarta gubernatorial election.
Ahok has apologised. But FPI reported him to the police for blasphemy, punishable with up to five years in prison under Indonesian law. The rally on Friday demanded the police to jail Ahok.
Ahok became the first Chinese Indonesian Jakarta governor when Jokowi left the seat after winning the presidential election. He was Jokowi's deputy governor.
Ahok is an outlier in Indonesia's politics, which is dominated by the Javanese Muslim majority. His ethnicity and religion make him a double minority in the world's most populous Muslim majority. He also doesn't come from Java, where Jakarta is located, and where national government administration in centred. He was regent of Belitung Timur in the Bangka-Belitung Islands. Before holding leadership position in the Jakarta administration, he was a member of parliament with the Golkar Party. He is a "rural kid" who came to the "capital".
The gubernatorial election in February 2017 will be Ahok's first time running for Jakarta governor. The PDI-P (Indonesia's Democratic Party of Struggle) has endorsed his candidacy. But prior to that, Ahok managed to collect 2 million Jakarta ID cards as proof of Jakartans' support for him to run as an independent.
Like his predecessor Jokowi, Ahok has become a symbol of merit-based politics. His governorship is proof that Indonesia has come a long way in its democracy after the collapse of Suharto's regime.
Former education minister Anies Baswedan and the son of former president Susilo Bambang Yudhoyono, Agus Harimurti Yudhoyono, are also running for Jakarta governor.
Racism, rivalry and discontent
The protesters who joined the rally have various motives. Some are influenced by their disappointment with Ahok's policy in forced evictions. Some protest due to their racist sentiments against Chinese Indonesians. Some genuinely want to defend Islam.
The YouTube video of Ahok's criticising the use of Koran verses against him, which brought the wrath of Islamic groups in Indonesia, was posted by a man believed to be a supporter of Ahok's opponent in the Jakarta governor race.
Islamic groups quickly took the bait. A video of FPI's leader Habib Rizieq inciting people to kill Ahok surfaced not long after and went viral.
Accusing Ahok of blasphemy not only benefits the interests of Islamic groups, but also the political interests of his opponents and the economic interests of the urban poor.
Under Ahok's leadership, thousands of urban poor have been displaced due to forced evictions in Jakarta to clean up settlements by the river banks. The poor are traditionally close to PDI-P, which declares itself to be the party of "the little people". PDI-P support for Ahok's candidacy as governor does not sit well with the victims of evictions.
During the rally, anti-Chinese sentiments were palpable. There were chants to "kill Ahok" and "crush the Chinese". But this anti-Chinese sentiment is not rooted in radical Islam. As a global religion, Islam doesn't care about race. The anti-Chinese sentiment is partly a result of institutionalised racism against the Chinese that hasn't been resolved to this day. The Suharto regime banned expressions of Chinese culture and politically segregated the Chinese, a policy that was also present during the Dutch colonial rule.
Friday's protest had "Defending Islam" as its slogan, but it is clear that various interests are behind the movement against Ahok. Rally organisers cunningly used the Islam card, which, judging from Friday's rally turnout, does have currency among some Indonesian voters. Social media messages from rally organisers exploit Muslim religious identity to lure people to join the protest against Ahok. Chain messages in Whatsapp that suggested if one didn't join the protest their faith in Islam was weak were circulated prior to the rally.
But playing this card is dangerous. Islam is transnational. It speaks to conservative Muslims who would march in a peaceful protest as well as violent jihadi groups such as Islamic State (IS).
We can already see the result. On social media, Indonesians who joins the rebel groups in Syria are posting picture of Ahok's coffin. Radical Islam may be gaining ground from this episode, but it's not merely of their own doing.