Despite the Leave campaign's pledge to "take back control" of immigration, as Brexit inches ever closer, one of the many questions the government has so far left unanswered is how the immigration system will change once the UK leaves the EU.
Labour made a first foray into this debate in a speech by the shadow home secretary, Diane Abbott, on September 14 in which she called for a "simpler and fairer" immigration system. She spoke a few days before the publication of a highly anticipated report from the Migration Advisory Committee (MAC) on the impact of EU migration on the UK – which the government was awaiting before announcing changes to its own immigration policy. The report recommended a post-Brexit immigration system that gives no preference to workers from the European Economic Area, with a focus on "enabling higher-skilled migration".
At the heart of Abbott's speech was a plan to build rights into the immigration system. She said Labour would aim to right the wrongs of successive Tory governments on family reunification, scrapping minimum income requirements that currently mean that a migrant needs to earn over £18,600 before they can bring their spouse. This is a welcome move and one that naturally dovetails with Labour values.
But those seeking magic solutions to the looming immigration questions that come with Brexit will have been left disappointed.
Abbott understandably stated that any trade deals the government agrees would determine the future immigration system, stating: "Those trade deals, and the immigration component of them will come first." She added that Labour would not give any special treatment for EU citizens and that: "A fully qualified doctor from Pakistan will be treated just like a fully qualified doctor from Poland, and vice versa."
Immigration agreements that flow from trade deals aside, Abbott said that Labour's policy would be "Brexit-ready" by overhauling the current system and introducing a "completely reformed work visa policy" to simplify it.
This is a common theme; for over 20 years successive governments have tried to simplify the archaic immigration system. Labour's points-based system was introduced in 2008 to do precisely this, replacing the previous 80-odd legal routes with the current five tiers. The Conservatives have since complicated this system; removing the flexible points element and instead introducing eligibility requirements to all visa tiers.
Ironically enough, the system Labour is now proposing is similar to the 1990s work permit scheme, which had much more flexibility in the types of jobs workers could acquire. As ever with immigration debates, we go full circle.
Labour shortages
The most contentious part of the plan, according to right-wing media responses to Abbott's speech, was that the reformed work visa system would not be underpinned by skills or income requirements. This means Labour would allow mid-low skilled migrants to enter the UK to take up jobs where labour or skills shortages are rife. The UK already has a low-skilled visa route (Tier 3) available in law, but it has never been opened.
Abbott made the explicit link between under-investment in training in the domestic workforce and the resulting need to substitute these gaps with migrant workers. The UK has high demand for migrant labour in low and mid-skilled sectors because pay and working conditions are poor, contracts are precarious and there's little career progression. Coupled with austerity-driven policies, such as the scrapping of nursing bursaries, this has left the labour market with shortages that often only migrants are willing to fill.
Labour should be applauded for finally conceding this. Abbott's rhetoric suggested the party might adopt a more holistic immigration policy which actually responded to labour market and education policy in a joined up way, including "working closely with the Ministry of Labour for a common cause of collective prosperity". Former Labour leader Ed Miliband started to move in this direction, but he never quite followed it through.
Abbott proposed that workers would be able to switch employers. This could be a problem as it will presumably require employers to demonstrate that the worker is being recruited for the exact same occupation they were permitted to enter the country on. In an infamously chaotic and under-resourced Home Office, the idea of extra red tape for a new widespread system seems fantastical. If Labour is to do anything progressive on immigration, simply getting the Home Office to be fit for purpose would be an incredible, although massively challenging, legacy.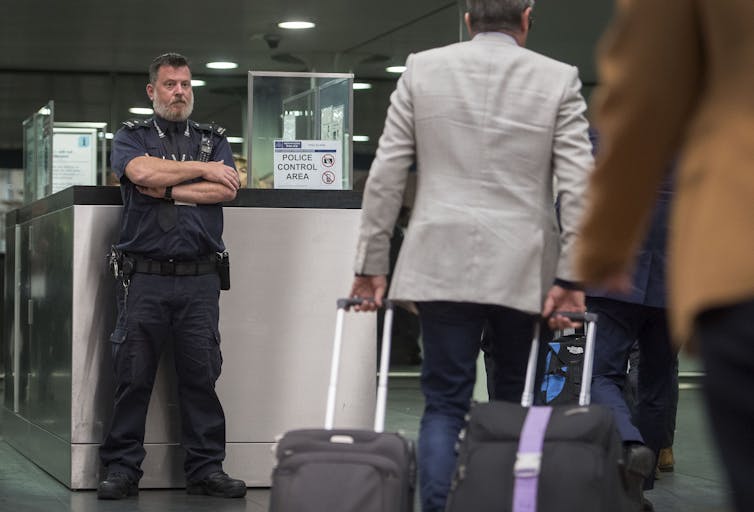 Windrush and boundaries of illegality
Labour is proposing to scrap the deluded net migration target, the abhorrent hostile environment policy and the unworkable 2014 Immigration Act which outsources immigration control to landlords, NHS staff and others. Abbott spent much of her speech rightly criticising the government over the recent Windrush scandal, stating that Labour would: "Treat the entire cohort of the Windrush generation as they should be treated – as British citizens."
---
Read more: Windrush generation latest to be stripped of their rights in the name of 'migration control'
---
Abbott said Labour would also increase efforts to prevent illegal migration by investing in the UK Border Force and police officers. Yet here, she tied herself in knots. The deplorable Windrush scandal transpired precisely because the lines between legal, illegal migrants and citizens are blurry. For example, a migrant can easily shift from regular to irregular by working one extra hour a week longer than they are supposed to under a student visa. Exploited migrant workers – who Labour want to protect – can also easily fall into illegality through no fault of their own. The notion that the divisions between illegal and legal migrants are clear cut is at best ignorant, at worst calculated. Politicians across the spectrum seem to find this basic point incomprehensible.
So while Abbott rightly talked about being fair and humane to Commonwealth and EU citizens and maintaining a tough stance on illegal migration, she's somewhat missed the cause of the Windrush scandal in the first place. As EU citizens may also fall into illegality after Brexit as the UK eventually decides their status, this is a policy point worth chewing the fat on.