Like salsa, tango and tacos, football has become synonymous with Latin America. Brazil, the futebol nation, has won more FIFA Men's World Cups than any other country. The 2014 tournament in Brazil was defined by Colombian James Rodríguez's grace, his team mate Juan Cuadrado's verve, Neymar's back, Costa Rica's spirit, Luis Suárez's bite, Lionel Messi's craft and, more than anything, the collective disbelieving slump of Brazil as their team were drubbed, dismissed and denigrated, 1-7, live on television to the entire world.
At the Women's World Cup, it's another story. After the group stages of the tournament in Canada, the only Latin American survivors were Brazil – drawn forward by the momentum of their prodigious stars Formiga and Marta – and Colombia, amazing against France, tripped up by England and lucky-losers propelled into a match-up with the United States in the last 16. Now Brazil have been bundled out of the competition in a shock loss to Australia.
The explanation of the disappearance of Latin American teams in the early rounds lies in a familiar story of underinvestment and institutional neglect. Incredible talent is not, on its own, enough to bring about success.
Cup clash
Let's pause for a moment to reflect on the fact that CONMEBOL, the FIFA-affiliate which coordinates football in Latin America and the Caribbean, organised its men's tournament, the Copa América, to take place in Chile on almost exactly the same dates as the Women's World Cup. This tells you all you need to know. The arrival in Chile of celebrities such as Arturo Vidal, Alexis Sánchez, Radamel Falcao, Lionel Messi and Neymar, usually found at their European clubs , has created a media frenzy that leaves little oxygen for the women's game.
Reports on the Women's World Cup on Latin American sports websites are to be found only deep in the marginalia, with few exceptions. But CONMEBOL and its friends in the media may be missing a trick here: interest levels in the Women's World Cup in Brazil and Colombia, are on the rise.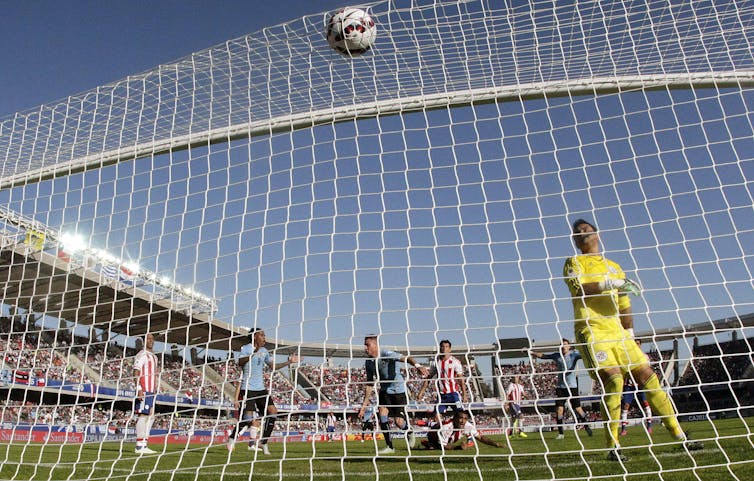 History of neglect
The decision to deliberately clash Chile 2015 with Canada 2015 did not surprise anyone. Football institutions in Latin America have historically undermined and neglected women's football since the early 20th century, starving clubs and national teams of the resources they need to compete.
The financial and administrative hurdles placed in their way by their very own promoters show how threatened the men in charge have felt as women move from the stands to the pitch. Brenda Elsey and Joshua Nadal, who are writing a book on the subject, called Futboleras, told us that that amazing players like Marta and Formiga have flourished despite "embedded institutional sexism", not because of support from their FIFA-flush federations. In comparison, Scandinavian teams have found it easier to leverage resources from their federations.
Prejudices about women and football are certainly not restricted to Latin America. When we organised a social media discussion about how to watch the Women's World Cup, we received the same messages that have been used since the 1920s, about how women are not strong or skillful enough to play "proper" or "exciting" football.
Social media and pub "experts" bemoaning a lack of "strength" in footballers appear not to have noticed the global evolution of the game away from the crash and bash centre-forwards of the 1950s. And the skills on display at the Women's World Cup from Colombians such as Lady Andrade, are clearly as good as anything the men's game has to offer.
Global inequalities
A good football match played by men is as good as a good football match played by women. Similarly, men and women can both create, with depressing regularity, boring games. Martin Samuels in the Daily Mail notes that "Men's football is allowed to be lousy. And when we have genuine equality, women's will, too".
The financial travails of the women's game and individual women footballers remind us that the culture we hold dear cannot be extricated from global and local inequalities.
If we only give value to the meaning of men's football, it is because our models of citizenship continue to see men's participation in society as more valuable than women's. Every Daniela Montoya screamer and every Lady Andrade step-over shows that there is no reason why that should be the case.