Back in 2012 the Which? Breakfast Cereal Report identified worryingly high amounts of sugar in 50 of the most popular breakfast cereals. Three years later and a new survey by campaign group Action On Sugar reveals that some products contain even more sugar than they did back then. Too much sugar has been linked to a host of health problems including obesity, diabetes, and rotting teeth – so much so that some experts think it's the biggest threat to human health – so why do we keep buying?
We are born with a slight biological preference for sweet food. But as soon as we are born, and probably even before, our preferences change by the foods we are given. Give a baby sweetened milk and the next week it will want it even more. Give a child a breakfast cereal with sugar in it, and they will grow to like extra-sweetened cereals. More and more sugar goes into our food because we've grown used to it.
I am yet to see a child sit at the breakfast table with a pot of sugar and a spoon digging in. This is where the power of marketing comes in with its bright colours, happy looking families, bold print and associations with all things good. Added vitamins and minerals to make it seem part of a healthy, active and fun lifestyle is just an add-on. "Hot spots" in supermarkets allow companies to pay more to have their products at eye level and advertising of "child friendly" foods on TV so when we shop with our children they pester us to buy them until we give in – anything for a quiet life.
We know more about the health risks and frankly, we can do without so much sugar. The survey shows cereal manufacturers aren't tackling sugar. In fact, the amount in some cereals has actually gone up in the last three years. Worryingly, six out of ten of the worst offenders are categorised by Action On Sugar as children's cereals. And 14 of the 50 of the cereals surveyed contain a third or more of sugar.
In the survey, a bowl is taken to be 30g – 6g more than you would get in small Kellogg's Variety Pack. But we all know it is easy to eat more – and the amount of sugar in the cereal doesn't include any additional sprinklings made at the table.
The full data is available here.
---
The five worst offenders:
1. Aldi Harvest Morn Choco Rice
With 39g of sugar per 100g of cereal, one 30g bowl of Harvest Morn Choco Rice contains almost half the guideline 25g maximum adult daily intake of free sugars. Action on Sugar says this is around three teaspoons of sugar – the equivalent of 7.5 Cadbury Fingers. Worryingly, the amount of sugar in this cereal has gone up by 18.2% (6g) since the Which? survey in 2012 and falls into the category of a children's cereal.
2. Kellogg's Frosties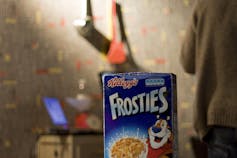 They're not so great after all. With 37g of sugar per 100g of cereal, this cereal also has an equivalent three teaspoons of sugar per 30g bowl – have a second bowl and you're up to six. Frosties are based on a sugar coating, and Frosties are consistent compared to the 2012 survey: the amount of sugar in the cereal has stayed the same.
3. Morrisons Honey & Nut Corn Flakes
This supermarket home-brand cereal has 36.3g of sugar per 100g of cereal. In 2012 the amount was 33.6g, meaning that sugar in the recipe has gone up by 8%.
4. Sainsbury's Honey Nut Corn Flakes
Neck-and-neck with Morrison's comes another home-brand cereal with the same corresponding amount of sugar: 36.3g per 100g, the equivalent of three teaspoons of sugar per 30g serving, up 8% since 2012.
5. Kellogg's Crunchy Nut
Another Kellogg's staple that has not increased its sugar content since 2012. But with 25g of sugar per 100g, it still makes it into the top five.
Best of the rest
Some cereals have seen a lowering of sugar in the recipe. While Aldi's Morn Choco came in at number one for sugar, its Harvest Morn Crunchy Nut Corn Flakes have seen a 19% reduction of sugar from 34.4g per 100g of cereal to 28g. Honey Monster Puffs, previously called "Sugar Puffs", have seen a 17% reduction in sugar from 35g per 100g of cereal to 29g.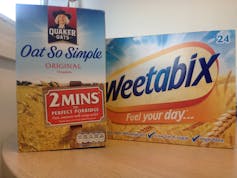 The cereals with the least amount of sugar were: Nestle Shredded Wheat, with 0.7g of sugar per 100g of cereal and no change in the amount of sugar since 2012; Quaker Oatso Simple Original, with 1g per 100g of cereal; and Weetabix, which has 4.4g of sugar per 100g of cereal.
In the category of children's cereals, Kellogg's Rice Krispies had the least sugar with 10g per 100g of cereal. Overall the plain cornflakes category had the least number of cereals containing sugar.
The solution is to all this sugar in cereal is obvious. We have to stop asking or they have to stop providing. Without government intervention, it's down to parents to ignore the pester power, read the labels and go for the healthier options – maybe using some of the handy smartphone apps out there that help you compare healthier options. But it would be nice if the government could give us a helping hand.