Two hundred years ago the bones of Robert Burns were dug up along with the coffin in which he had been laid to rest in 1796 in Dumfries in south-west Scotland. This was in preparation for the re-interment of Scotland's national poet beneath a mausoleum being built as a more fitting memorial.
The workmen present stood bear-headed in the cramped graveyard of St Michael's church, "their frames thrilling with some indefinable emotion, as they gazed on the ashes of him whose fame is as wide as the world itself". Barely two decades after his death, Burns had already become a secular saint.
Yet his legacy was still very much up for grabs at the time – unlike today. Now that it is time once again to toast Burns' immortal memory on January 25, both in Scotland and around the world, how does our perception of him now compare to then? And how did Burns make the journey from Edinburgh drawing rooms at the turn of the 18th century to his global superstardom today?
The battle for Burns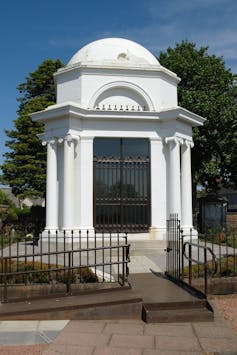 The Dumfries mausoleum was the first of numerous Burns memorials that studded the towns of lowland Scotland by the end of the Victorian era. Most were statues, erected in an informal race between Scotland's urban elites to have one. Overseas, above all in Canada, the United States, Australia and New Zealand, Scots settlers and their descendants soon followed suit. Why?
The answer is far from straightforward. The sentimental appeal of Burns' writing was part of it; his preservation in verse of a rural Scotland that was fast disappearing. But alone this will not do. It doesn't explain why from the time of his death onwards, his legacy has been fought over.
Much has to do with establishment fears about where the cult of Burns might lead. Terrified by the prospect of revolution and radical violence in Scotland inspired by songs such as A Man's a Man, his first editors elided poems and sections of them that were toxic in their assertion of human dignity regardless of rank, title or wealth.
Tories in Scotland and further south then quickly adopted the poet, recognising the same danger. The likes of Lord Sidmouth, Professor Charles Wilson and the Earl of Eglinton promoted poems such as The Cotter's Saturday Night as a model of stoicism and Presbyterian piety for the country's rural poor to abide by.
By the mid-19th century this championing of Burns had spread to the newly ascendant manufacturing and commercial classes and artisans. Disciples of the Scottish reformer Samuel Smiles, they urged working people to emulate the bard on the grounds of his belief in independent living. He was seen as a credible example of how with hard work and the grace of God success and fame could be achieved – earning him the moniker the "heaven-taught ploughman".
Other sections of Scottish society had other designs on Burns by then. Moderate Presbyterians and non-believers drew on anti-clerical satires such as Holy Willie's Prayer to help liberate the people from the nation's theocrats, the inheritors of John Knox's Reformation. By the later Victorian era Burns was becoming a socialist icon, leading the way for communists to commandeer him in the 20th century.
But on one issue there was no conflict. The most remarkable day in Scotland's social history was January 25, 1859, the centenary of Burns' birth. Without precedent, work in every city and town and hamlet ceased and celebrations were held.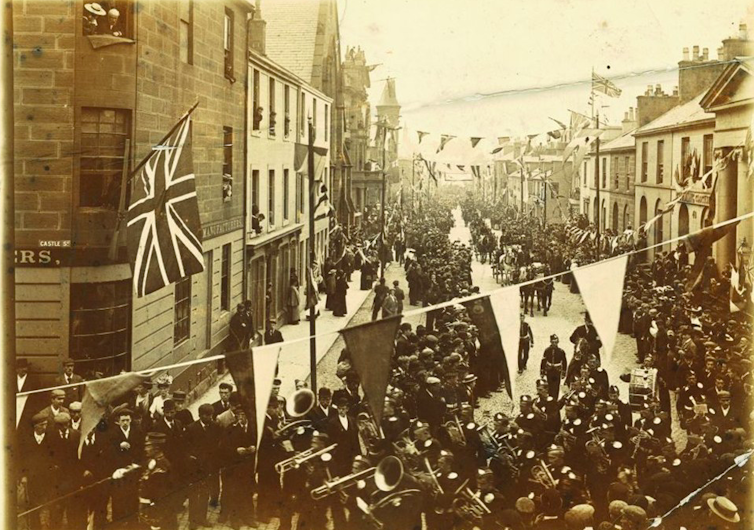 The reason is clear. As The Scotsman reminded its readers at the time, the "chief characteristic of Burns was his Nationality … he was utterly and intensely, before and beyond everything, a Scotchman".
There were those who believed Burns had rescued Scotland from oblivion – above all through his work as a collector, adaptor and writer of Scottish song, the nation's genetic code. If Scots felt alienated within a union in which England was politically and culturally dominant, Burns offered them a sense of pride and self-respect that in turn fuelled the emerging Home Rule movement.
Scotland the what?
Burns' legacy as a moving force in Scotland's history has now dissolved. He has become a malleable symbol of the nation, functioning partly as a tourist attraction whose familiar face can sell shortbread, whisky, ales and tea towels. As usual, nationalists and unionists and other factions will claim him as one of their own – but mainly by judicious selection from his works and no little credibility stretching.
At the best of the Burns suppers, attendees will be reminded that Burns spoke for no one party. He spoke for humanity itself, warts and all. Right now, in the wake of Brexit and the inauguration of President Trump, that is precisely why he is still worth reading.