After years of rising anxiety, China's push for dominance in the South China Sea is still rattling nerves among its neighbours, and in the world beyond. Beijing's territorial claims and its military assertiveness have inflamed tensions with Vietnam, Malaysia, Brunei and the Philippines, all of whom lay claim to territory on which China is now planting its flag.
The US, for its part, has openly accused the Chinese of militarising the region, pointing to satellite images showing that artificial islands China has constructed are now host to radar stations, air strips, and anti-aircraft missiles.
Washington is pushing back on Chinese influence with Freedom of Navigation patrols and an increased military presence, and recently announced that a carrier group would begin operating in the contested area. The US is also seeking to strengthen its defence ties with allies in the region. Obama has made commitments to bolstering Philippine defence through an Enhanced Defence Cooperation Agreement. The US's relationship with Vietnam has also grown through a Joint Vision Statement on future military co-operation.
But above all, the US has one particular diplomatic ally in mind: the Association of South-East Asian Nations (ASEAN), which it sees as the crucial diplomatic force that can help take the heat out of the crisis. But the Obama administration's attempts to get the organisation working as an effective bloc have yet to show much promise.
Despite Washington's best efforts, the ASEAN states are increasingly divided over how to deal with the conflict. At a major US-ASEAN summit at the start of 2016, Obama called for ASEAN to present a united stance on the South China Sea, but the talks ultimately yielded only a vague declaration on shared commitments that skirted around China's behaviour.
This failure to reach a consensus on how to deal with China's military expansionism shows just how divided the ASEAN member states are – and that bodes ill for the US's approach to the trouble brewing in the region.
Eye-to-eye
These countries' core interests do not always match, and their relationships with China all have their own complexities. This disunity has been sapping ASEAN's potential for some time: back in 2012, the ASEAN failed for the first time to agree on a joint statement.
By contrast, China has this year declared a consensus with ASEAN members Brunei, Cambodia and Laos, opposing any attempt to "unilaterally impose" an agenda on other countries – a clear rebuke to the US-ASEAN relationship.
The world beyond South-East Asia is deeply disappointed. After the US-ASEAN summit turned out to be a damp squib, there were calls for ASEAN to look beyond national interests for the good of the region. When China announced the 2016 consensus, worried international onlookers fretted that ASEAN's faultlines are being exploited to curb its influence.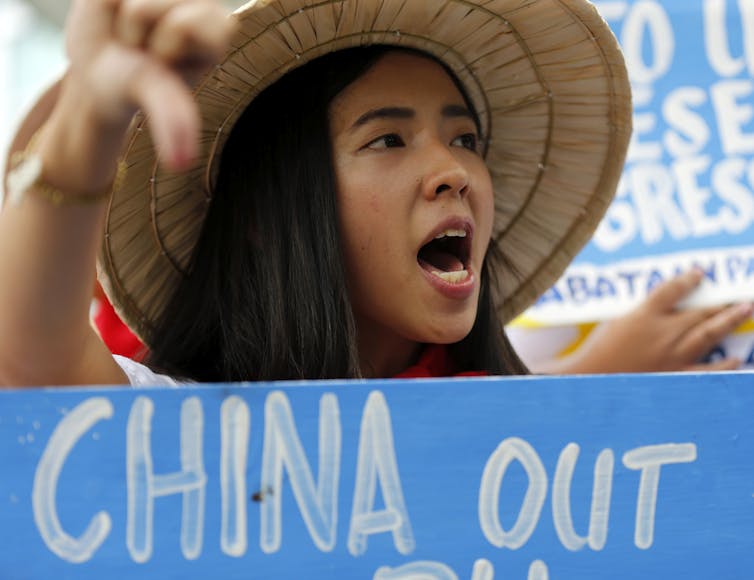 The ASEAN countries seem condemned to choose between striving for a unified outlook where one does not exist, or relying on alliances and bilateral relations outside of the ASEAN framework. The first option is often the one that observers, especially in the West, seem to prefer, apparently convinced that a strong, united ASEAN would be the best counterweight to China.
But accepting ASEAN's weakness might be much wiser. Whatever its utility in the South China Sea dispute, ASEAN is still a crucial mechanism for building trust, something vitally important in a region with an array of issues to deal with beyond the South China Sea. Forcing it to hammer out a consensus where none exists would greatly disrupt that function, and could send shockwaves through delicate relationships on other sensitive issues.
A delicate balance
A little restraint from the US and the West could still leave ASEAN a vital part to play. It has been building confidence among its members ever since the 2002 Declaration on the Conduct of Parties in the South China Sea, which declared a commitment to dialogue with China and to finding peaceful means of dispute resolution.
This was strengthened in 2003, when China signed ASEAN's Treaty of Amity and Cooperation. The hope was that inviting China to abide by the same rules as ASEAN would help build confidence and consensus among the group's members.
So far, the ASEAN states have generally stuck to these principles. If they turn their backs on them, the organisation's chances of playing a serious diplomatic role will be greatly diminished.
The hope is that ASEAN will continue to facilitate discussion with China, creating a snowball effect of co-operation rather than choosing sides explicitly. This path makes more sense than forcing ASEAN's members into lockstep, as the US seems inclined to do. If ASEAN becomes the main focus of efforts against Chinese expansion in the South China Sea, the weak links of trust and co-operation between its divided members could quickly start to fray.