Violence against women in television drama has always been high. But in recent years the graphic portrayal of this violence – particularly sexual attacks and murder of women – is on the increase, and the corpse count is rising.
This type of violence targeting women is often seen in crime dramas such as Silent Witness, Spiral or The Killing but achieves new levels in the fantasy series Game of Thrones. And it is increasingly detailed, intimate and frighteningly authentic.
While violence can of course be vital to a storyline – as part of the plot or context – it does not necessarily need to be seen at every opportunity. And it is this overuse of "crime porn" – where violence against women dominates television drama – that is coming under fire. And not only is it disturbing to watch, but the roles are disturbing for actors to play.
Actress and comedian Doon Mackichan has spoken out about violence towards women in films and TV. In a documentary aired on BBC Radio 4, the actress explained how rape is often used as "a shock device" in TV dramas and how this then "bleeds into our culture". She believes that "the onus is with commissioners who commission these programmes, and with screenwriters who are pandering to the appetite that has been created".
Glamorising violence against women
BBC television drama The Fall, starring Gillian Anderson and Jamie Dornan, was first aired in 2013. It attracted 3m viewers but rapidly came under attack for glamorising violence against women. And the recently launched third season has reignited this debate about crime porn and representations of extreme violence on TV – particularly against women.
Although the literal body count in The Fall is relatively low, the content and imagery of the drama suggests a fetishism of lethal violence against women. And it is no exaggeration to describe parts of the series as an extended rape fantasy. Women are subjected to violence while being both passive and beautiful – allowing murderous cruelty to become pleasurable entertainment.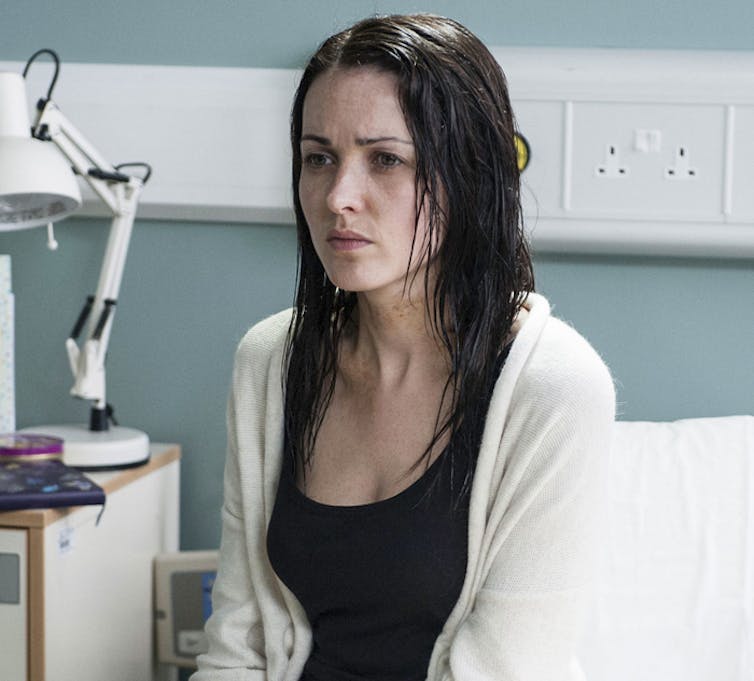 Dornan who plays serial killer Paul Spector laid out his female victims with gentle attendance to the corpse. He is careful – even artistic – as he positions his victims in death. This leads to the female corpse becoming stylised in a manner almost reminiscent of pornography. Because it is no longer enough for women to be merely murdered or raped in television drama. They now need to be mutilated or made into fetishist objects for the titillation of the viewer.
The female victim
Of course, women have traditionally been portrayed as victims in television drama, largely because they embody the "ideal victim". Otherwise known as being pretty, white, young and female – making it seem normalised that women are then vulnerable to violence at the hands of men.
The "ideal victim" helps create "ideal drama" based on hideous crimes. The female becomes a linchpin for compelling shock driven visual tales using extreme, final and often gruesome violence.
But by largely focusing on women as victims of violence there is a disconnect between reality and entertainment. Because although statistically men commit more violent crimes than women, more than twice as many men are victims of violence. But it would seem that violence against men has less value as a plot line – even though it more closely reflects the real world.
Female empowerment
But despite all this, some significant changes have occurred in the types and number of female characters adorning our screen. Strong women are on the rise in television drama. And this mainly reflects women viewers dominating broadcast ratings and the remote control at home.
In this new era of female leads, women are being given greater opportunity to become aggressors. They are increasingly purveyors of violence rather than simply the victim. Ruth Wilson's character Alice Morgan in Luther is an excellent example of this. Morgan is a brilliant female psychopath and murderer who becomes Luther's nemesis and unlikely ally.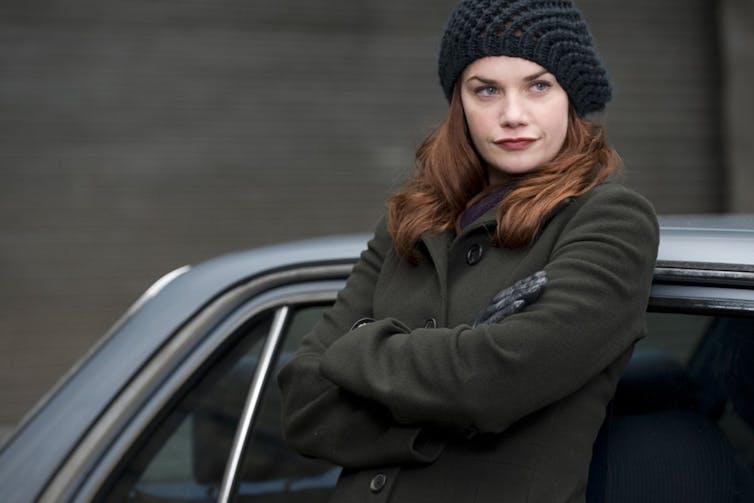 Running alongside female characters inflicting violence is the emergence of strong, empowered women such as DCI Stella Gibson in The Fall. The portrayal of Gibson has even led to The Fall being heralded as a feminist show. But of course, the use of compelling female protagonists does little to undermine the continuing use of women as victims of violence in the crime drama genre.
What is clear is that viewers principally enjoy excellent characters, plot and speculation, so there is often no need for excessive visual violence – when the unseen can be just as disturbing and scary. So given that violence in television drama continues to have a central role in storytelling, maybe it is time to revisit the boundaries of just how much is too much.