Karachi is the most violent city in Pakistan. A total of 1,046 deaths related to terror and militancy were reported there in 2016, and nearly 50% of the city's young people want to leave Pakistan completely.
The violence has various causes, including divisions over politics, religion and ethnicity, as well as organised crime.
More than 70 Christians were killed while celebrating Easter in a park in 2016. The forced conversion of Hindu girls and the marginalisation of community members have been among other factors fuelling feelings of insecurity and isolation for minorities.
For many members of threatened minority communities, places of worship offer solace. They also represent an important lesson for Paksitan's fragmented society. This can most clearly be seen in the religious crossover, known as syncretism, between Hindus and Christians, who both venerate the Virgin Mary in Karachi.
It serves as a vital message of the need to co-exist and create structures that minimise discrimination.
A look back in history
The history of Tamil and Goan Christian devotees in Karachi can be traced back to nearly 50 years ago when A M Anthony, a Tamil Christian, established Saint Anthony's Club at his house on Somerset Street, in the town of Saddar, a neighbourhood of Karachi.
As described to me by his granddaughter, devotees would gather to recite novena, or nine-day, prayers to ask the Virgin Mary for blessings and good health. The Virgin Mary is known as Our Lady of Valenkanni, based on apparitions she is believed to have made in the Indian town of Velankanni, in Tamil Nadu state, 2,000km south of Karachi.
After his landlord objected to the loud singing and recitation, Anthony and his fellow Christians, many of them immigrants from Chennai and Goa, were allowed a hall space in the premises of St. Anthony's Church.
The Christian devotees then invited both Hindus and Zoroastrians to join them in asking for benediction. In this way, novena prayers to Our Lady of Valenkanni became a part of Catholic churches' ceremonial activities across Karachi, and opened up the veneration of the Virgin Mary to new faiths.
For some Hindu devotees, Our Lady of Velankanni symbolises prosperity, aspirations, well-being, while providing answers to their prayers.
The origins of Our Lady of Velankanni
Of course, the home of Our Lady of Velankanni is in the town of Velankanni itself, which also demonstrates the intersection of Hindu and Catholic practices in contemporary religion.
The basilica attracts millions of devotees each year. As in Karachi, these include both Catholic and Hindu residents. Some Catholic devotees from Karachi embark on a spiritual journey to the basilica of Our Lady of Valenkanni to ask the Mother for favours and intercessory graces.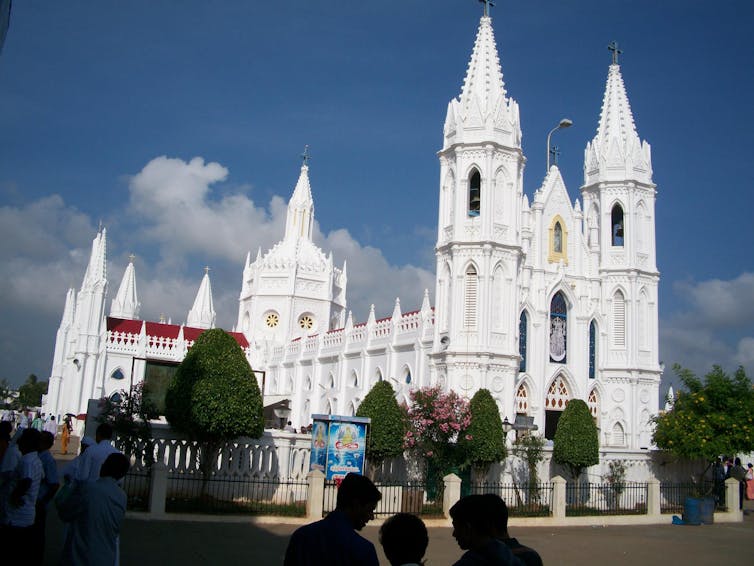 Three accounts of the apparitions of the Virgin Mary in Velankanni have been documented over the years, and subsequently narrated by her devotees.
The first story dates back to the end of the 16th century and is about a Hindu shepherd boy's sighting the Virgin Mary by a pond. She asked the boy for milk for her son, Jesus. The boy readily offered the milk. Locals remain intrigued until the Mother appeared at the site again. Thereafter, the pond was known as "Matha Kulam" or "Our Lady's Pond".
The second event is said to have happened a few years later. A crippled boy in Nadu Thittu was apparently cured by the Virgin Mother after he offered her buttermilk. The Catholic residents of a nearby town then built a shrine in recognition of the healing.
In the late 17th century, Portuguese sailors transformed this early construction into a chapel, based on vows made during rough seas between China and Colombo on a merchant vessel.
Today, Our Lady of Valenkanni has special meaning for both Hindu and Christian devotees because of the miracles she is associated with, including the 2004 Boxing Day tsunami which caused massive destruction in Tamil Nadu. Basilica officials were quick to report this as a miracle, as 2,000 pilgrims were attending mass when the town of Valenkanni was hit. News sources and official disaster reports showed that the basilica was the only building to escape this large-scale catastrophe.
Acts of devotion
Some devotees make offerings to the Virgin Mary through purchases of expensive fabric for a sari. This is associated with the historical and symbolic depiction of the Virgin Mary draped in a saffron sari, a common garb across the subcontinent. There are others who make sari offerings to the poor upon fulfilment of their vows.
One woman I spoke to as part of my research, a Goan Christian born in Karachi, was taught devotion by her grandmother. In 2004 when she was visiting Valenkanni, she prayed to Our Lady of Good Health to be blessed with the gift of a child.
Nearly a year and half after her return to Karachi, she gave birth to a boy. A few years later, she and her family completed rituals to fulfil their vow. She cut off four inches of hair while her husband and son shaved their heads. They bathed in the sea as part of the ritual. These practices are taken from the Hindu faith, showing that interfaith exchanges go both ways.
Since then, the woman has worn a head-covering during prayer times as a lifelong promise to the mother for the graces received through her son.
I heard other tales of devotion from A M Anthony's granddaughter:
There was a lady who would not wear shoes. She would be spotted even at weddings without shoes … Imagine going everywhere barefoot in Karachi's heat. But that is how she fulfilled her vow and everyone knew about it.
Spirituality and togetherness
Annually, hundreds of devotees come together in the premises of churches across Karachi and in Tamil Nadu to hoist a flag bearing an image of Our Lady of Valenkanni and partake in a short prayer followed by other rituals including the distribution of blessed medals by a priest.
The ceremony devoted to Our Lady of Valenkanni occurs on September 8, marking the birthday of the Virgin Mary.
Each year, Our Lady of Valenkanni's statue in Karachi is decorated with fresh flowers and streamers.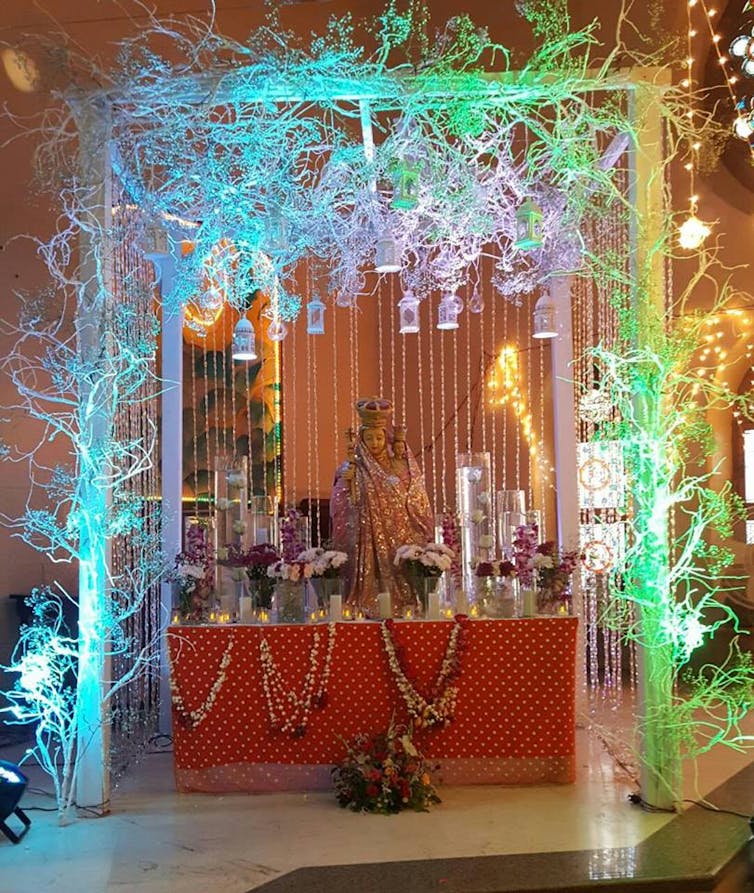 This day sees some members from the Hindu, Zoroastrian, and Muslim communities all venerating the Virgin Mary.
As the parish priest told me, "Mary brings everyone together and it makes sense why you would see Muslims here who can tell you a lot about Surah Maryam." Named after Virgin Mary, Surah Maryam appears in the 19th chapter of the Qu'ran.
"Muslims do not partake in novena prayers, but on September 8, they come here to respect Mary as the Mother of Jesus", Rodrigues said.
For believers, miracles are not just about healing of ailments and turning water into wine. They can be a way of dealing with the dominant, narrow and bigoted narrative prevalent in Pakistan's society.