The state of democracy in Africa is one of the most controversial and difficult questions facing the continent today.
Is Africa getting more or less democratic?

Why have so many countries become stuck in a murky middle ground between democracy and authoritarianism?

How can we design democracy so that it better fits African realities?
Academia, researchers and media commentators all give different answers to these questions. Some would give up on democracy in Africa, seeing it as a dangerous experiment that too often goes wrong. Others believe that the early signs are promising and that if we keep up the struggle for another generation, democracy will become entrenched within African societies.
In my book, I argue Africa should not be thought of solely as a place in which to analyse the fragility of democracy. Rather, it is a continent that has much to teach us about the different pathways through which even the poorest and most unstable countries can break free from authoritarian rule.
Lessons Africa can teach
It is important to place democracy in Africa in its historical perspective to demonstrate how the experiences of the 1960s, 1970s and 1980s shaped the kinds of political systems that we see today.
In doing so, it reveals an often overlooked fact: African democracies are distinctive not because they face so many challenges, but because they have managed to make so much progress. This is true despite the absence of many of the supposed "pre-conditions" of democratic consolidation.
Political scientists have identified a long wishlist of factors that make it easier to establish and consolidate a democracy. Topping the list are a coherent national identity, strong and autonomous political institutions, a developed and autonomous civil society, the rule of law and a strong and well-performing economy.
Adam Przeworski, for example, has famously shown that countries that enjoy a per capita GDP of more than US$6000 when they introduced democracy almost always succeed. Those where it is less than US$1000 almost always fail.
Both in the 1960s and in the 1990s, few African countries fulfilled this – or any other – wishlist criteria. Yet many of them have nonetheless made significant progress towards establishing stable and accountable multiparty systems. This set of countries is bigger than you might think.
Roughly one-quarter of Africa's 54 states are now "free" – meaning that they feature high levels of both political rights and civil liberties – according to the American think tank Freedom House. This includes Benin, Botswana, Cape Verde, Ghana, Mauritius, Namibia, Senegal and South Africa.
In other words, a significant proportion of the continent is democratising against the odds.
How to avoid democratic disasters
While it is very important to recognise achievements of the continent's success stories, it is also important to recognise the way in which elections have encouraged corruption and exacerbated ethnic tensions.
In Kenya, for example, it was the onset of multiparty politics, and the threat that this posed to Daniel arap Moi's government, that led to the rapid escalation of graft and, ultimately, the Goldenberg scandal.
Similarly, it was the threat of losing power in the 1992 elections, when the Forum for the Restoration of Democracy opposition had so much momentum, that led to the instigation of ethnic clashes to displace and intimidate the supporters of rival parties. That violence, we now know, was the forerunner of the post-electoral crisis of 2007-08.
We therefore need to think really hard about how to design political systems in such a way that minimises the risks of democratic disasters. One of my core arguments is that Africa has suffered from unbalanced political systems that have been poorly designed to foster sustainable multi-party politics.
The problem with winner takes all
History tells us that while elements of competition and inclusion strengthen multiparty systems, too much of either can be fatal to the process of democratisation. Let us start with competition.
In places like Cote d'Ivoire and Kenya, winner-takes-all politics and the concentration of power around the president mean that losing parties could expect to be excluded from access to state resources.
Elections, therefore, encouraged the collapse of political order by exacerbating ethnic tensions and giving leaders an incentive to use irresponsible and destructive strategies to retain power – such as the exclusion of rival leaders from electoral contests and the deployment of militias.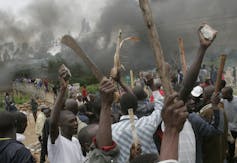 The experience of these countries was so harrowing that it is tempting to conclude that countries should try and be as inclusive as possible. This could be done, for example, by forming a permanent power-sharing government. But maximising inclusion is also problematic because it inevitably stifles political competition, which is the lifeblood of representative democracy.
It is by kicking out bad leaders that voters can hold their governments to account. In Ghana and Senegal, democratic reform was driven by opposition parties, campaigning for freer and fairer elections to improve their own chances of winning power.
Because power-sharing systems guarantee all parties representation in government, they threaten to undermine the very mechanism through which elections can drive democratisation. Excessive inclusion is therefore just as bad for democracy as excessive competition.
The task facing those who draft or adapt state constitutions is thus to decide on the appropriate balance between competition and inclusion. Such balance must allow for sufficient accommodation that all parties feel they have a stake in the system, while also maintaining as much competition as possible in order to promote accountability.
Unfortunately, there is no ideal constitutional template that can be deployed across the continent to achieve this goal. Different countries may require different degrees of inclusion in order to achieve political stability. Judging whether a political system can bear the strains associated with greater competition requires an intimate knowledge of a country's demography, geography and political history.
Given this, it is remarkable – and worrying – just how few African countries feature inclusive political mechanisms that prevent certain communities from losing out systematically. For example, very few states feature meaningful decentralisation. Constitutional change, such as the new political system introduced in Kenya in 2010, is very much a step in the right direction. It locates the country in a reasonable middle-ground between majoritarian competition and forced inclusion.
Although the presidency continues to wield great power, the capacity of opposition parties to check the executive within the legislature has increased – at least in theory. And while there is no provision to ensure representative government, many communities who feel excluded from power nationally have been able to wield it locally by their choice of senators and governors at county level.
Devolution is no a panacea, however. In countries such as Nigeria, the creation of sub-national governments led to heated contestation and often violence as different communities campaigned for the right to be given their own state.
Similar tensions are likely to emerge in the run up to the next Kenyan general elections, especially if the Jubilee Alliance Party fails to build an effective political machine.
Although Nigerian federalism may have exacerbated tensions at the local level, it has eased them at the national level. That reduced the prospects for a second civil war, which is surely a trade-off worth making.
We therefore have good reason to think that constitutional reform like that enacted in Kenya will significantly improve the prospects for political stability – so long as it is respected. Given this, it is far too soon to give up on African democracy.