Now that the new series of Doctor Who has begun, it is worth re-telling the story of the modest motion graphic designer working from a small home studio in Leeds who made international news a year ago. This was the fairy-tale story of Billy Hanshaw, whose homemade title sequence for Doctor Who became a YouTube hit (60,000 views in the first weekend) and was picked up by BBC series showrunner Steven Moffat.
At the tender age of 46, Hanshaw was thrust delightedly into the limelight, picking up a Royal Television Society nomination along the way. In a recent Radio Times poll of top Doctor Who titles, his work for Series 8, with its cogs and coiling Escher-like clock faces, was only beaten to the number one place by the 1963 original. Not bad for a fan.
I write this as a former BBC graphic designer and now academic. My only professional contact with Doctor Who in my BBC days was walking past a rather scruffy old Tardis in the scenic store at TV Centre every morning, and occasionally witnessing the surreal sight of Doctor Who characters in costume ordering drinks at the BBC Bar. I did however meet Bernard Lodge a few times. He was the BBC television graphic designer of the first incarnations of the now iconic television title sequence, and offered me generous encouragement at the start of my career. How times have changed since he sat down with pencil and layout pad to storyboard the original Doctor Who title design.
Everything and nothing changes
The BBC once had a vibrant, world-leading and award-winning graphic design department. The Doctor Who titles were one of the crown jewels of the department. The opening to competition and producer choice in the late 1980s and 1990s eroded the esteem of in-house design and some (not all) of those crown jewels, such as the BBC channel idents, were lost to external competition.
By the time the inevitable sell-off was completed in 2005 with the creation of Red Bee Media, the money was in channel idents, not programme title sequences, so titles had to have prestige to remain in the portfolio. Doctor Who fell into that category, making it attractive enough for Red Bee to pitch for and win the contract in 2009.
It may surprise many that the design process for creating and producing a title sequence is very similar today to when Bernard Lodge was given the job in 1963. The technology has changed, but it still involves researching the project, reading a script, meeting the producer and director, visualising ideas as drawn storyboards (rarely on the back of a proverbial fag packet or napkin), signing off budgets, presenting work in progress as rough edits and renders, responding to client feedback and presenting finished work (and the invoice).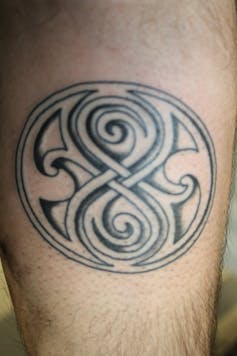 Even though Hanshaw's work was picked up as a complete "finished" work on YouTube, it had first gone through a process of idea generation on paper, test renders and a series of iterations. Once Moffat had secured his involvement, the title design then went through a series of client changes like losing the fobwatch and the seal-of-Rassilon motifs that had appeared in previous sequences (see the comparison in the video nearest the top of the article).
Unlike when Lodge was shooting on 35mm film and waiting for overnight lab rushes to return to Film Despatch at TV Centre, Hanshaw would have been able to render and review in real-time in his home studio. The hardware and software revolution that has come since the 1990s has enabled greater access to what was once the hegemony of television stations and high-end post-production companies.
The democratisation of technology has also had a profound effect on teaching design, and is equally liberating for students. Technical skills are available to anyone with internet access, a computer and software (a MacBook Pro and Adobe After Effects for starters). Nowadays, the reality is that the creative industries are being kept moving by a cottage industry of digital makers and designers.
Weight of expectation
When it comes to creating new Doctor Who sequences, there's not a little pressure involved. You have to follow a long lineage that started with the latest 1960s special effects. You have the pressure of measuring up to the expectations of millions of fans. I've only once before met a proper Trekkie, for instance, and his encyclopaedic knowledge of every episode had me in stitches.
This might explain why the renaissance of Doctor Who in 2005 saw the title sequences tread a relatively safe graphic path: it kept the iconic identity of the police box and the vortex, and left out the face of the lead actor – in keeping with the brief 1990s revival. The logo went through several iterations after that, and a brand identity only really took shape in 2009 when Red Bee devised the "DW" police box shape.
Lucky man, Bernard Lodge: no one wanted to make Doctor Who's titles back in 1963. Producer Verity Lambert came with a wish to use a video effect she had seen, but it was a time to be experimental with no risk attached, since it wasn't expected to go beyond a season.
Lucky man, Billy Hanshaw. He knew Doctor Who well and understood what it is trying to be. His demo was only designed to compliment his professional showreel, in the hope that maybe there would be a few Doctor Who fans out there watching YouTube who would appreciate his vision. These were not in the brand guidelines, but who was the client anyway? The fans, right?
Now that these credits have returned for Series 9 – and maybe for more seasons to come – it is worth reflecting on how much and how little has changed down the years. In a heritage show like Doctor Who that can only feel the burden of its own responsibility, it is reassuring to know that technology can make it possible to spurn conservatism and find the special courage to go out on a limb.