It would be easy to take Facebook's recent earnings as a signal that the advertising world had reached a tipping point. Facebook's results continued to be positive with a 61% increase in quarterly revenue, most of which came from advertising. What pleased investors the most however, was that 62% of this revenue had come from Facebook's mobile ads, quashing the concern that it would struggle to make this transition.
What is interesting from the way that the media and the markets have focused on these results is that there appears to be a growing view that the future of advertising is really all going to be about social advertising and that as a consequence, Facebook will become a dominant force in this market.
The mirage of the changing landscape
It is easy to see how people are drawn to this view as a result of the popularity of two main narratives. First, we are increasingly led to believe that mobile phones are the dominant technology that have effectively replaced computers and TVs. Second, it is a commonly held view that people are spending all of their time on social media instead of watching TV or doing other things on the Internet. Although there are elements of truth to both of these stories, neither are completely true and certainly not to the extent that they have significantly impacted the ways advertisers reach consumers.
Even though Facebook's results were impressive, it is worth putting them into some context. Globally, the advertising market is worth just under $600 billion this year. Digital advertising represents 25% of the overall market and of that market, Google has a 31% share. Facebook's share is just 7% of the digital advertising market.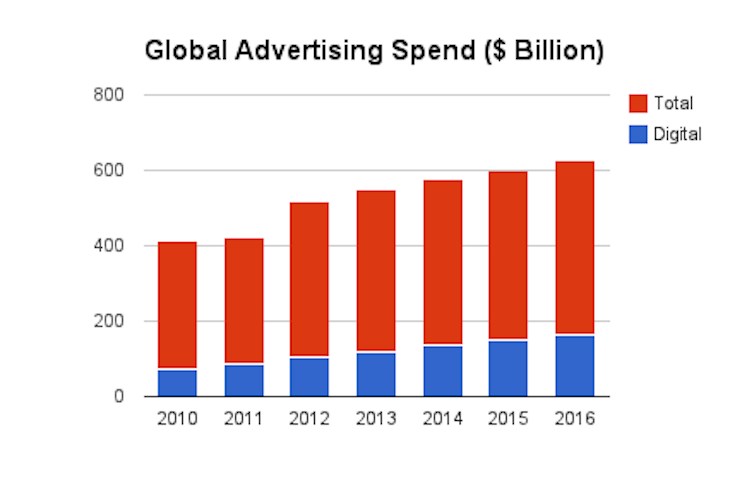 Not all ads are equal
The other thing to consider is that much of Facebook's mobile advertising revenue comes from what are called "app install ads". These are ads for actual Facebook applications like "Candy Crush Saga". The issue here is that although this may be an extremely profitable advertising stream at the moment, it isn't likely to continue growing at the same pace as Facebook saturates its own market.
The real nirvana of advertising of course are true social ads. This form of advertising has been shown to be more effective than regular advertising. They emulate the idea of word of mouth and become a personalised recommendation. The challenge for Facebook is how to increase the number of ads shown in a person's Timeline without users becoming frustrated by the experience.
TV is still king
Despite the claimed 40 minutes a day US Americans spend on Facebook each day, they still spend nearly 5 hours a day watching TV. In terms of access to consumers, TV advertising is going to be a major part of the overall advertising budget for some time to come. Even if this moves online, it is Google with YouTube and companies like Netflix and Hulu that will still command most of that market.
Facebook doesn't necessarily have to be an effective advertising platform to be successful in generating revenue from ads, it just needs to continue to create an environment where businesses believe that to be the case. Also, with control over the News Feeds of its users, it can create conditions where the only way a company can get the attention of consumers on Facebook is to pay for ads. This will work as long as Facebook itself maintains its popularity, which although its growth in users is slowing, is likely to be for some time yet.