The corruption scandal engulfing FIFA is the same old song. The question is whether the repeat button can be dismantled. Michel Platini, head of European football's governing body UEFA, Europe's peak footballing body, has a colossal choice to make; one with far reaching ramifications. Should UEFA stay or go?
UEFA is in a quandary. To stay as part of FIFA tars UEFA with the same brush – even if no European official is caught in either of the current investigations by US and Swiss law enforcement officials, which has indicted 18 people.
Corruption has continuously dogged FIFA since Blatter's predecessor, former president João Havelange, transformed it from a small office on the edge of Lake Zurich into a billion-dollar industry with murmurs of scandal dogging every step. The continual barrage of accusations means that everyone perceives corruption to be endemic in FIFA.
Influence from within
Members from UEFA have attempted to exert pressure on FIFA and Blatter – so far, with little effect. As a result of the arrests and Blatter's re-election, FA vice-chairman David Gill has refused to take up his position as a vice-president on Fifa's executive committee. Platini threatened a boycott of European nations from the World Cup, while the FA's chairman, Greg Dyke, has reiterated that England could boycott the 2018 World Cup.
UEFA's dilemma is that if it backs out (as Gill has done) then it further alienates its members from the rest of the world and reinforces the perceived arrogance of Europe. Such a move could potentially reduce their power even more.
Out of the eight vice-presidents and fifteen members, UEFA is actually over-represented on the FIFA Executive Committee. As the founder of the modern game, the UK has one vice-president (which was David Gill until he resigned). UEFA has another two, while every other regional confederation has just one.
In absentia, European members would not even be able to defend the tenuous influence they currently have. They would be unable to prevent what would be a logical response: a reduction of the number of European seats on the executive committee.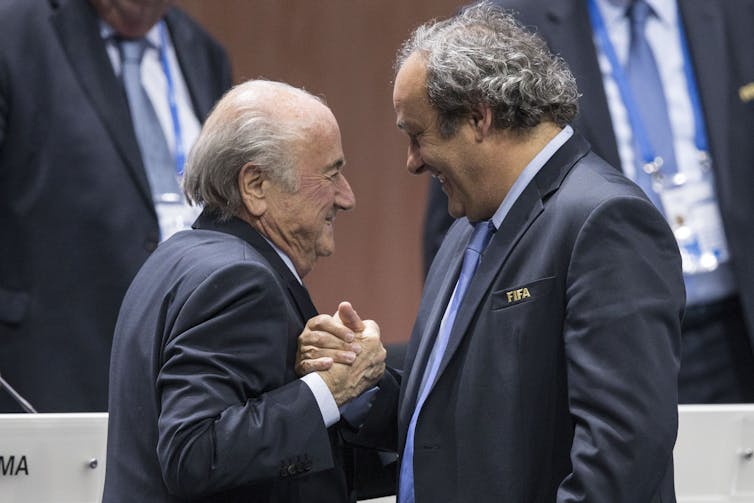 Going it alone
UEFA could go it alone. Arguably it has insufficient influence as things stand – Blatter's re-election over the years thanks to support from across Africa and Asia makes this evident.
So UEFA could secede from FIFA and declare itself the sole authority over European football, drawing on EU legislation to give it additional gravitas and legitimacy. Given that the European nations are the economic engine of the World Cup, this would be a very significant challenge. FIFA can hardly claim to have a World Cup without Europe. This is something Blatter is well aware of and he has announced that Europe can bid for the 2026 World Cup, in contravention of the standard rotation policy around continents.
European officials recognise their nations are among the main box office draws for FIFA's World Cup. A World Cup without Germany, Italy, Spain, England, France and Portugal would not attract the TV audiences, even though the majority of viewers don't reside in these countries. There have been reports that Europe could host its own World Cup – a European Championship where the top countries from other continents are invited.
Or UEFA could establish the Champions League as the legitimate rival spectacle to the World Cup. While this doesn't involve national teams, there has been a growing trend of fans identifying with their club over their country. A new global Champions League could expand on the existing one to include the national league champions from other nations. Imagine the television audiences for quarter final fixtures like River Plate vs Barcelona, Bayern Munich vs Fluminese, Gamba Osaka vs Juventus and Chelsea vs Club América.
It is these clubs that actually employ the players. They pay the wages and assume the risks of injury even when their athletes play at the FIFA World Cup. Unlike cricket and rugby union, players are not centrally contracted to national governing bodies. This gives the clubs and UEFA by extension more power over FIFA.
The political, economic and logistical challenges of seceding would be enormous. But they are not insurmountable, nor are they unprecedented. The premiere international baseball tournament in the world is run by Major League Baseball and not the International Amateur Baseball Federation. If UEFA is to see reform, its members must have the courage of their convictions and either establish a separate tournament or fully commit to FIFA and set about reforming FIFA from within. What's needed now is firm action, not just more threats.