The Trump administration and congressional Republicans have undertaken a wide-ranging effort to shrink the federal government's regulatory footprint. Much attention has focused on high-profile targets, such as the Environmental Protection Agency. But this trend also has major implications for other agencies.
One example is the U.S. Nuclear Regulatory Commission, which oversees safety across a complex, privately owned network of nuclear power plants, used fuel storage facilities and other sites related to civilian uses of nuclear energy.
As a researcher studying communication in energy and environmental settings, I have followed the NRC's work with particular interest since 2011. The agency and the system it regulates exemplify what some scholars call a "high reliability organization" – one that cannot be allowed to fail, because the consequences would be grave.
As studies have shown, failures of external oversight were key factors in the disasters at Chernobyl in 1986 and Fukushima in 2011. Those examples show that there is good reason to assess how today's anti-regulatory climate could affect the NRC and nuclear safety in the United States.
An industry in flux
The NRC conducts risk-related research and develops and enforces rules for the design and operation of nuclear facilities nationwide. Today it is grappling with major challenges that will shape the future of nuclear power in the United States.
The U.S. nuclear industry is struggling economically to compete with renewable energy and cheap natural gas. Older plants are nearing the end of their 40-year licensed operating lifetimes, while at least 15 reactor construction projects have been canceled or suspended since 2010. The four still in progress have been delayed, and now face possible cancellation.
In response, the industry is relying on 20-year license renewals for existing reactors, which allow them to operate for up to 60 years. As of December 2016, the NRC had approved 87 renewal applications.
Now the agency is preparing to consider applications for "subsequent license renewals" that would extend reactor lifetimes to 80 years. This prospect poses new challenges. Notably, the NRC needs to analyze the safety implications of operating geriatric plants and develop regulatory rules to manage issues such as structural and operational risks.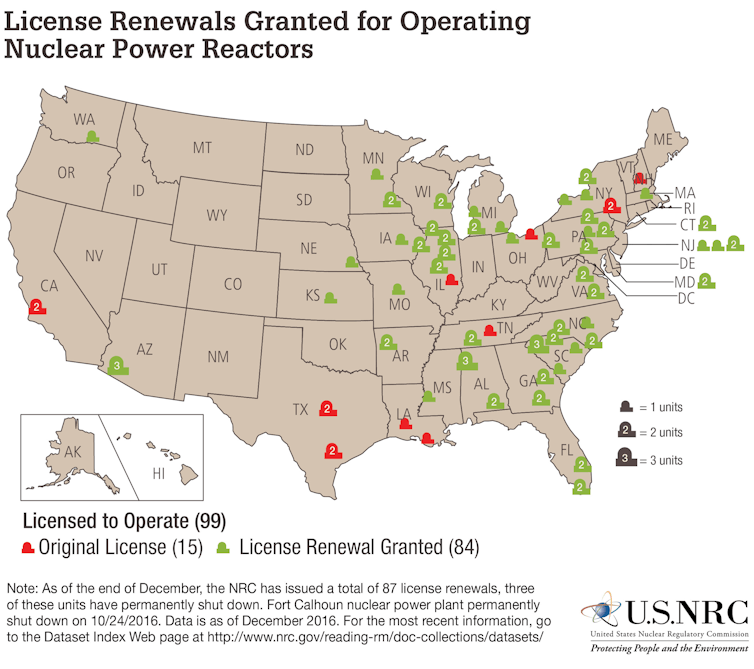 At the same time, the industry is promoting new reactor designs, which advocates say will be safer and more cost-efficient than current plants. The NRC is building a framework for reviewing and licensing these untested new technologies – an enormous and safety-critical task.
Highly radioactive used nuclear fuel, which is accumulating at reactor sites across the nation, poses additional challenges. As onsite storage capacity fills up, two private companies have applied for licenses to develop "consolidated interim storage facilities" in Texas and New Mexico that could hold used nuclear fuel for up to 40 years.
Authorizing such facilities would require changes to the Nuclear Waste Policy Act, which currently allows only permanent disposal of used nuclear fuel. Nevertheless, the NRC is already engaged in new risk analysis and public communication issues related to these projects.
Used fuel now held at power plants would need to be packaged and moved long distances, secured safely for decades and ultimately moved again to its final disposal site. Communities are also concerned about whether current or interim sites could end up as long-term locations for "stranded" nuclear waste.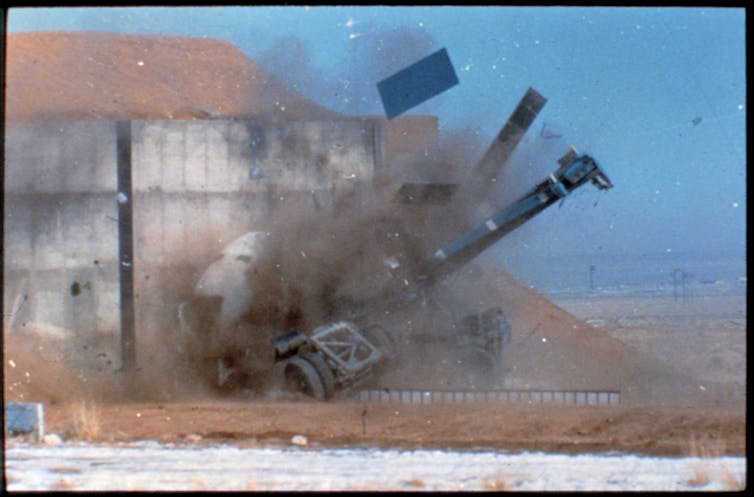 Meanwhile, the administration's 2018 budget blueprint proposes reopening the licensing process for a permanent nuclear waste repository at Yucca Mountain in Nevada. President Obama ended work on licensing Yucca Mountain in 2010, so the NRC would need to reorganize its staffing and resources to resume work on the project.
Anti-regulatory challenges
The current anti-regulatory climate could affect the NRC in multiple ways. Broader executive and legislative developments, and a recent agency leadership change, provide early clues. For example, an executive order issued in January requires federal agencies to eliminate two rules for every new rule they create.
Because the NRC is formally designated as an independent regulatory agency, it might be exempt from this order. However, asked in March about that possibility, NRC Chair Kristine Svinicki responded ambiguously that although the agency is "in some ways beyond the reach" of such orders, she wants to "look to the spirit and intent" they express. It is hard to see how the NRC can develop new regulations for so many emerging activities and keep the U.S. nuclear industry operating safely while slashing existing rules.
Meanwhile, in Congress, Republicans have sought since 2011 to pass the "Regulations from the Executive in Need of Scrutiny" (REINS) Act. This measure would require agencies to get congressional approval for "major rules" with substantial economic impacts.
When the House passed the latest version of the bill in January, New York Democratic Rep. Jerrold Nadler sought to exempt the NRC due to its safety-critical role, but his amendment was defeated.
Leadership transitions
Three days after the presidential inauguration, the role of NRC chairman was transferred to Commissioner Svinicki, a nuclear engineer and former Senate staff member regarded by some critics as particularly friendly to the nuclear industry. Although nuclear insiders learned of the transition quickly, the usual public press release was absent.
The new chairman, who serves as the agency's sole official spokesperson (working through staff), has espoused a commitment to public transparency but has not always acted accordingly. For example, although up-to-date archives of speeches and testimony by the other commissioners are provided with their NRC website biographies, a recent look at the link for Commissioner Svinicki showed none more recent than 2012.
Svinicki's appointment will expire on June 30, and the NRC cannot normally operate without a three-member quorum, so action on her reappointment or replacement will soon be needed. Two additional seats on the five-member commission remain open. This will be an important time to look closely at the backgrounds and qualifications of nominees.
To regulate the industry effectively, commissioners must have a firm grasp of the technical and administrative complexities of nuclear safety. Watchdog groups have called on the NRC to enforce safety regulations more aggressively and to promote greater confidence that staff members can bring problematic issues to light.
Perhaps most importantly, commissioners must demonstrate a firm commitment to regulatory independence and openness. Avoiding "recreancy" or "capture" by the regulated industry is crucial for effectiveness and public legitimacy.
In this context, the Trump team's approach to filling key positions in science and technology agencies and the broad funding cuts proposed for those agencies are troubling. Many nominees have deep ties to regulated industries such as energy, finance and pharmaceuticals.
An essential regulatory mission
As a specialized agency working in a highly technical area, the NRC does not usually receive much public or media attention – except when nuclear failures occur at home or abroad. Although there have been more close calls in the United States than is generally understood, NRC oversight has been crucial to the industry's overall positive safety record.
A high reliability organization is not automatically a highly reliable organization. Reliability is an ongoing accomplishment involving continuous learning, sustained vigilance and a strong system of checks and balances. Moving forward in an anti-regulatory climate, with so many complex challenges facing the agency, it is essential to ensure independent leadership, public transparency and adequate resources to support the NRC's mission.