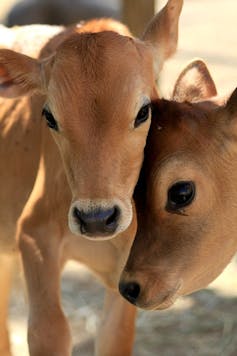 For only the second time in history, scientists have eliminated a disease from the face of the Earth, saving billions of dollars and boosting food security in the process.
Rinderpest, a deadly cattle disease that has plagued herds for centuries, has been officially eradicated, the World Organisation for Animal Health and the United Nations Food and Agriculture Organisation announced last week. Smallpox is the only other disease that has ever been successfully wiped out.
"This is a huge achievement," said Professor Martyn Jeggo, director of the Australian Animal Health Laboratory at the CSIRO, who has been part of the effort to eradicate rinderpest for 17 years.
"This disease has devastated large areas of Africa and also Asia, though initially it originated in Europe and has caused large numbers of losses there."
Scientists developed a vaccine for rinderpest, which causes fever, diarrhea and lymphoid necrosis in cattle, in the 1950s but outbreaks had continued to linger in Kenya and Somalia.
The last outbreak was in 2002 but it was not until late June that authorities were able to announce it had been completely eradicated, after processing reports from hundreds of countries.
"The eradication program is estimated to have cost $5 billion but in the last 25 years, it has probably saved, in losses to the livestock industry, around $250 billion," Professor Jeggo said.
Coordinating with authorities in developing countries and ensuring the vaccine was correctly administered on a large scale were key to the success of the program, he said, and provided lessons in how to tackle other infectious diseases.
"Elimination of these diseases which really do affect food supply is becoming more and more important. This isn't just an achievement in saving a few cattle – it's also creating a more food secure world."