Urban redevelopment in India over recent decades has had particular implications for women. While the economic deregulation of the 1990s opened up new possibilities for work, leisure and relationships, it has also led to new stresses. Cities such as New Delhi have become sites for experimentation, autonomy and aspiration for women. Yet against these images of emancipation can be juxtaposed everyday risks and vulnerabilities.
Contradictions abound in a space that values the woman's body as a liberalised commodity. Women are under constant scrutiny: for what they wear, how they behave, where they are going, who they are with, at what time of day or night. They are under pressure to conform to familiar boundaries of tradition and class. Challenging these boundaries carries the risk of psycho-social dissonance and assault of various kinds.
Perhaps it is no coincidence that the increasing number of women working in the IT industry – or socialising in bars and restaurants – arose in tandem with the rise of cultural nationalist politics in India. Following the rape and murder of young student Jyoti Singh in New Delhi in December 2012, some held that responsibility for violence against women should be attributed to "western lifestyles". Public debates have also focused on other forms of the "outsider" as a source of fear and hostility on Delhi's streets, naming rural migrants a "menace in society".
Bearer of tradition
Clearly, violence against women in Delhi is not a new phenomenon that has arisen out of economic liberalisation and urban redevelopment. Yet the intense focus on the death of Jyoti Singh and subsequent cases is indicative of a cultural shift. This young woman, from a provincial background but "aspirational", represented what "world class" Delhi was supposed to afford women: safe access to public space and a cosmopolitan lifestyle.
Such attacks highlight the contradictions held within the body of the woman. She must embody the progressive city but also remain the bearer of tradition measured by skirt lengths. The presence of young professional women in Delhi's public spaces may be desirable to legitimate claims of "global city" status. However, in reality, this access is conditional and based on maintaining a cultural order inflected by a moral discourse of respectability.
As writers such as Shilpa Phadke argue, women must manufacture purpose in order to access the city, they cannot just "loiter". Much of this purpose is non-sexualised conduct such as engaging in family activities or shopping in the new mega-malls.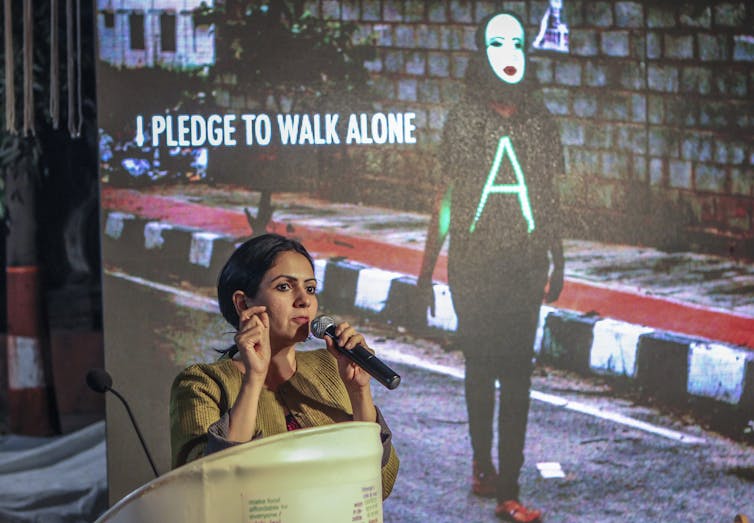 Women navigate the city "giving back" through aggressive language, evading stares, reclaiming spaces such as rooftops and parks. They seek safety in numbers, knowing when to wrap a scarf more tightly around their head or cover their knees when sitting. These appear to be everyday skills to cope with the city and to manage its discomfort.
While in these actions women may appear fragile, they are in fact asserting a place in Delhi, especially when reassured by anonymity or the protection afforded by socio-economic capacity such as owning a car. This is an understanding of Delhi opposed to the computer-generated images of independent, happy women in new condominiums that look down from advertising hoardings throughout the city.
Clearly, women are not necessarily timid or immobile in the face of Delhi's aggression. They are taking part in producing space and seeking out pleasure. There are limits, but these limits can be stretched. Roaming may be curtailed for some who have to remain in the line of sight of home, and choices restricted at times by the pressures of respectability. Yet, women have the capacity to generate ambiguity through their presence, disrupting cultural rules that attempt to demarcate a woman's place in an unequal city.