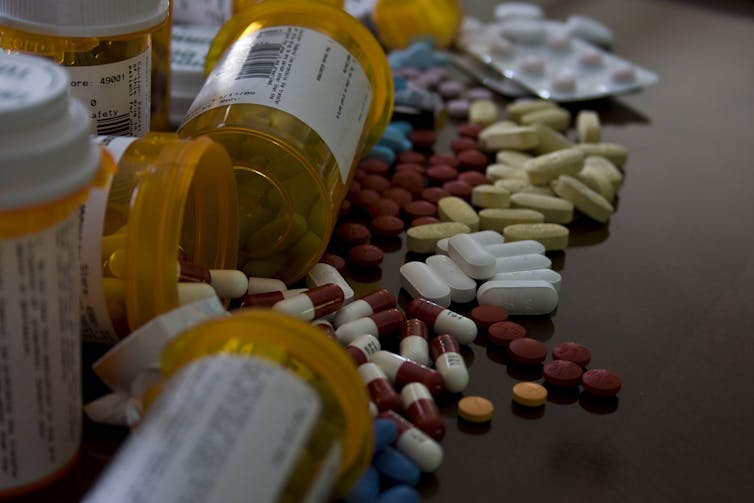 The furore over US pharmaceuticals giant Pfizer's attempted takeover of UK rival AstraZeneca continues. AstraZeneca has now rejected Pfizer's "final" offer, as it says the proposed deal "undervalues the company and its attractive prospects". This is fine – the law empowers shareholders to pursue the best return on their investment – but what about the other big stakeholder in a major business in an important industry: the public?
Some have suggested that such mergers of large corporations should be subjected to a public interest test.
There's no single definition of the "public interest". Laws, such as those relating to Freedom of Information, prioritise the public interest but let judges decide on its meaning. In practice, judges have often applied a common sense understanding of the term, to prioritise the welfare of those directly affected by the decision and society generally.
This same principle could be applied to the Pfizer case. To pass the public interest test, a big merger would have to safeguard jobs, maintain competition, protect tax revenues, and ensure that the new company was socially responsible.
Well, I've applied the public interest test to the deal: Pfizer does not come out well.
Job protection
Pfizer has promised to keep one-fifth of its combined research and development (R&D) in the UK though it admits that jobs would be lost elsewhere. Pfizer has reneged on previous job assurances. The sale of Pfizer's R&D facility in Sandwich, credited with developing Viagra, resulted in the loss of 1,500 jobs.
The price of previous Pfizer takeovers has been paid by workers. Since 2005, some 55,000 jobs have disappeared at various Pfizer units. All this helps to meet market expectations of earnings and performance related remuneration targets for executives. Employees provide blood, sweat, brains and brawn to enable companies to generate profits, but have no say in the takeover bazaars.
Prices and choices
Last year, Pfizer and AstraZeneca reported global sales of US$51.5 billion and US$25.7 billion respectively. The combination of the two would create a new giant with plenty of resources to lobby policymakers and subvert public choices.
The merger would reduce competition and possible incentives for innovation. It would reduce choice of medicine suppliers for hospitals, the elderly and the unwell. Drug companies already exploit their market power and have overcharged the National Health Service (NHS) by millions of pounds. The UK's Serious Fraud Office has been utterly ineffective in bringing drug companies to book.
Tax revenues
Pfizer benefits from investment in social infrastructure, but does not like paying taxes. For the period 2010 to 2012, it had global profits of $43 billion, but paid no US corporation tax. This caused the US Securities and Exchange Commission (SEC) to ask the company to explain its accounting practices. In particular, the SEC was curious about the fact Pfizer recorded high profits abroad but losses at home, when 40% of its total sales and 50% of its assets are in the US.
For the period 2010-2012, Pfizer had sales of around £5 billion in the UK. It paid £118m in corporation tax, though the UK government gave it £184m in tax credits. The labyrinth of nearly 200 subsidiaries in tax havens, such as Jersey and, Delaware, is central to Pfizer's global tax strategy. In common with many other companies, it uses royalty payments and intragroup pricing techniques to shift profits to jurisdictions with low tax rates, or even no taxes at all.
Social responsibility
Pfizer has been a repeat offender. In 2004, a Pfizer subsidiary paid a fine of US$430m to settle charges that it illegally marketed epilepsy drug Neurontin. In 2009, Pfizer paid a fine of US$2.3 billion – about three weeks of its sales revenue – to resolve criminal and civil liability arising from the illegal promotion of painkilling drug Bextra and three other medicines for purposes not approved by the US Food and Drug Administration.
In 2012, the SEC charged Pfizer for bribing health care professionals in Bulgaria, China, Croatia, Czech Republic, Italy, Kazakhstan, Russia, and Serbia to obtain regulatory and formulary approvals, sales, and increased prescriptions for the company's pharmaceutical products. Pfizer paid US$60.2m to settle the charges. In December 2012, Pfizer reached a US$43m settlement with 33 US states over allegations of fraudulent marketing and sales of its drugs Zyvox and Lyrica. In July 2013, another Pfizer subsidiary paid a fine of US$491m relating to unlawful marketing of the immunosuppressive drug Rapamune. Pfizer said that the offences occurred before its acquisition of the subsidiary.
In May 2014, US regulators fined it US$410,000 for not having proper air pollution controls to prevent leaks of methylene chloride gas. Pfizer has admitted carrying out tests for Viagra that involved removing the foreskins of the anaesthetised dogs and then giving them shocks with electrodes inserted into the centre of their penises. People for the Ethical Treatment of Animals (PETA) claims that in 2011 alone Pfizer experimented on 51,682 animals. It claims that thousands of animals were subjected to painful experiments and were denied pain relief.
What to do?
Pfizer's practices are unlikely to easily pass any robust public interest test. Perhaps it is no different from any other company as it relentlessly sacrifices employees, consumer care and social welfare to pursue private profits.
There is no easy cure for these institutionalised processes, but we could start by empowering employees to approve takeovers of all large companies, as they always bear the cost of merger games. This would be consistent with Section 172 of the Companies Act 2006 which requires directors to have regard for the interests of employees.
A public panel of stakeholders should apply the public interest test to see whether the protagonists ought to be accorded further privileges. This panel should have regard for employment, taxes, customer care and social welfare, among other things. If it did its job, such a panel would ensure a deal that didn't serve the public would never even make it to a vote in AstraZeneca's boardroom.