Last month, Canadian-American architect Frank Gehry delivered a defiant middle finger to a Spanish journalist who asked if his designs were "just about spectacle".
It's a criticism that has dogged Gehry and his iconic buildings – that they are more sculpture than architecture, that they are "logotecture" perfect for branding purposes.
In Spain, Gehry was adamant:
in this world we are living in, 98% of everything that is built and designed today is pure shit.
So will the new A$180 million Dr Chau Chak Wing Building at the University of Technology Sydney (UTS), become a cultural icon putting UTS on the world map of tertiary institutions? Or will it instead foist another eyesore on Sydney to rival its brutalist UTS Tower?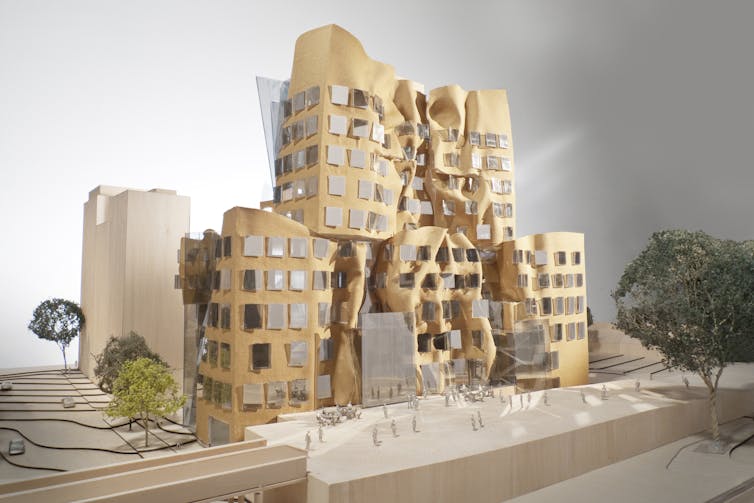 Iconic buildings are recognised cultural indicators of soft power. Every one of his clients is after the Gehry-icon effect. But with any Gehry building that's pushed the limits comes controversy.
Back in 2012, columnist Mike Carlton dubbed it "a rain-sodden clump of cardboard cartons left out for a council clean-up". Germaine Greer basically called it an insult to the colonial buildings which apparently inspired it.
Only recently Fairfax critic Elizabeth Farrelly said it was "bad Gaudi".
But the "brown paper bag" is the Pritzker prize-winning Gehry's first building in Australia and with the "starchitect" status come great expectations.
Professor Roy Green, Dean of the UTS Business School, set the bar high when he told the Sydney Morning Herald it would be "the second most iconic" building in Australia.
The then UTS Vice Chancellor Ross Milbourne went even further:
We've got the Opera House, and it's hard to say we are going to beat that, but from what I've seen we'll have an equally outstanding icon at this end of Sydney.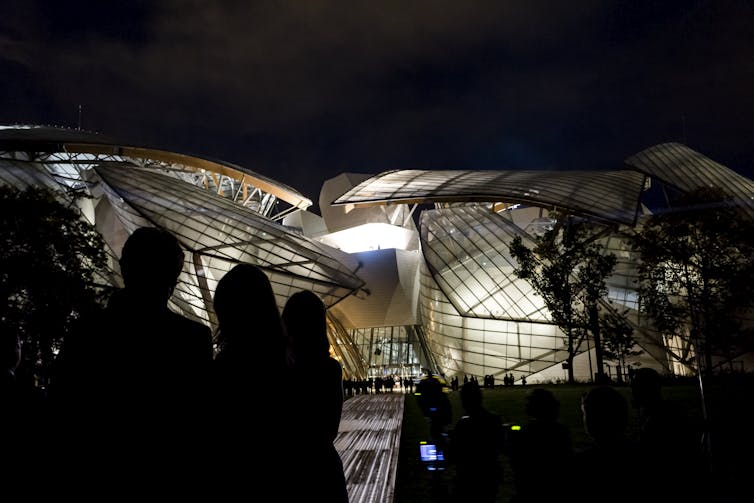 Only weeks before Gehry's appearance in Spain, he launched Fondation Louis Vuitton, a new art museum in Paris commissioned by the billionaire head of the luxury brand LVMH, Bernard Arnault.
It sits in a park of the Bois de Boulogne, its twisting, gigantic glass sails eliciting mixed reviews: from "masterful" and a "radiant tour de force" to "architecture of over-indulgence" and "he doesn't know when to stop".
The 85-year-old Gehry has no intention of stopping.
Anointed "the greatest architect we have today" by the late godfather of modern architecture Philip Johnson, he is busier than ever, with his first London project – the futuristic Battersea power station apartments to Germany's tallest residential tower in Berlin, the new Facebook headquarters and other projects from Abu Dhabi to Venezuela.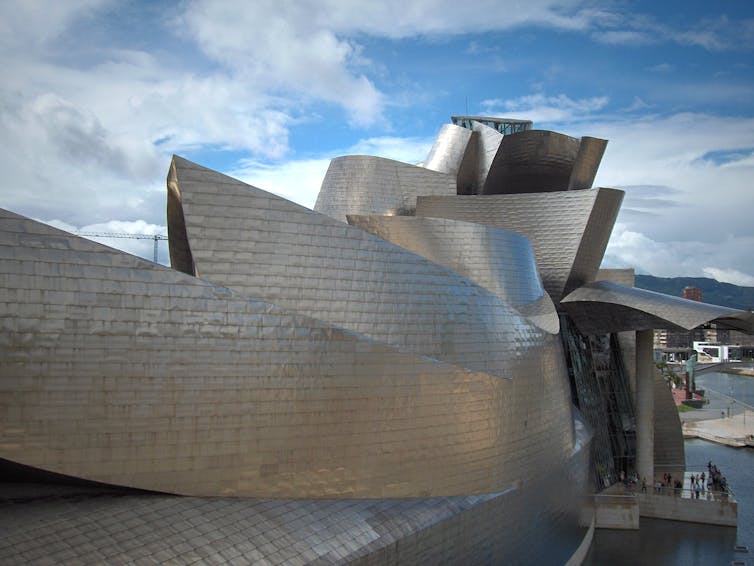 It all began back in the 80s when the obscure industrial town of Bilbao proposed building a Guggenheim museum and giving Frank Gehry free reign.
As Frank Gehry told a public meeting at UTS in 2011, what they really wanted was an architectural icon that would pay dividends.
They asked for the Sydney Opera House, they said they wanted it and the Minister of Commerce and the President of the Basque region said it was a business decision and they wanted to achieve what the Sydney Opera House achieved.
He delivered a titanium surrealist structure that shocked the locals:
In Bilbao they wanted to kill me – in the paper they said kill the American. I was worried. I thought they meant it.
According to Johnson, Guggenheim Bilbao "is the greatest building of our time".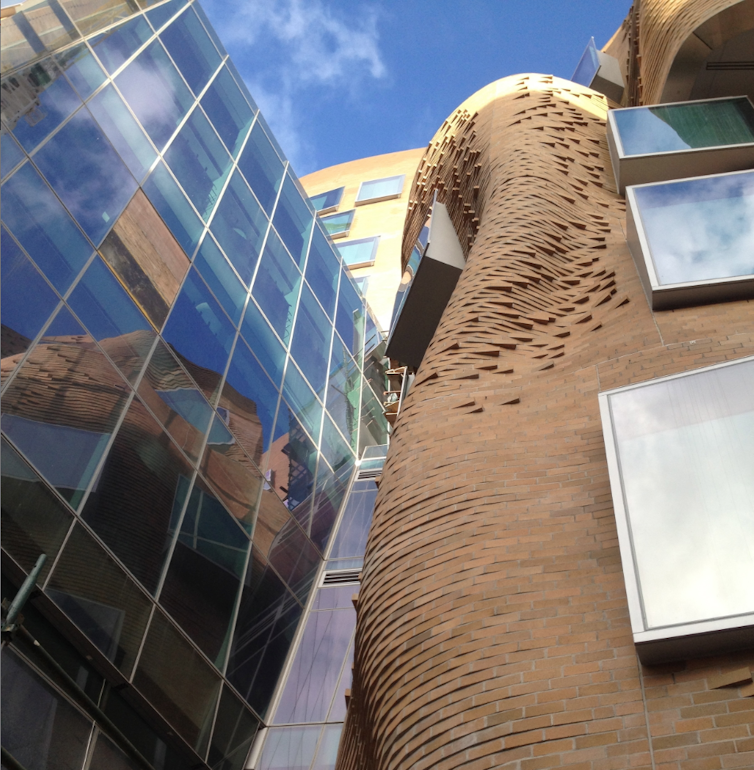 In the lead up to its official launch with Frank Gehry in February, UTS has been hosting VIP tours showcasing its jewel in the crown.
I was on the same tour as Don Bianchino of Bianchino & Associates, a Sydney-based architectural and design firm. The building, he told me, was "better in the flesh":
I think at the end it will be a breath of fresh air. I don't think I could personally describe this building as a refined elegant building; it's quite crude in some ways, but that's what makes it iconic or will be iconic I think.
At a cost of A$180 million it averages at about A$9,780 a square metre. Bianchino says you can build a good quality commercial building for around A$6,000 and a residential one for about A$3,000 per square metre. He thinks this is the sort of building only an academic institution can afford.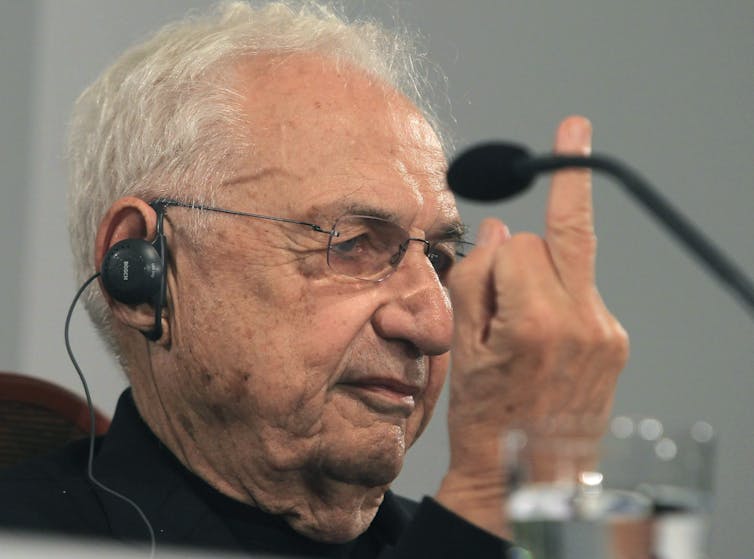 In an interview commissioned three years ago by UTS for their archives, Gehry said most of the buildings that business occupies are counterproductive to the results they demand.
The building is a straight-jacket. Most commercial buildings are pro forma; in my experience there has been a fear of exploring the unknown and risk … but (this) leads to banal buildings you see all over the world since the war and can pick them out, the same version ad nausem.
The link between the built environment and performance is a growing area of research by architects and neuroscientists.
This year's Nobel Prize in Physiology and Medicine was shared by researchers who discovered cells that constitute a positioning system in the brain, an important bridge between the two disciplines.
Perhaps Frank Gehry knows something the rest of us don't.
At one point in the VIP tour "Frank's fingerprint" is pointed out, a Dr Seuss-like sharp curve in the brickwork where Gehry pinched the model to get it just right.
Whatever future generations might think of the building, Don Bianchino says:
I think the engineering and the build-ability of the design is something that we marvel at – how the hell did they do this?