Allegations of cocaine supply by rugby union and league players at Queensland clubs have stimulated public debate about the off-field expectations of athletes and the responsibilities of sporting bodies to monitor this.
In this debate, what seems least understood is the contrast between illicit drug policy in Australian sport and that of the World Anti-Doping Agency (WADA). While all of these stakeholders are interested in the health and well-being of athletes, they diverge in terms of drug detection and treatment.
In recent years, professional athletes have been subject to testing for illicit substances, though the rationale for doing so is unique to sport. Organisations like the Australian Institute of Sport, the Australian Rugby Union, the National Rugby League and the Australian Football League pay for testing independent of WADA, and with broadly similar aims:
Risk management: athletes who use narcotics out of competition are at risk of a four-year WADA ban should such substances be detected in competition.

Brand management: negative publicity associated with players using illicit substances compromises the reputation of a club and a sport.

Player management: possession of illicit drugs is against the law; use (or supply) can therefore be treated as a crime.

Health management: there are health risks associated with the use of narcotics; sports that test for these substances argue that they have a holistic duty of care to ensure the well-being of their athlete employees.

Rehabilitation management: if athletes test positive to narcotics out of competition they are treated under a medical model that emphasises behavioural change under the supervision of addiction experts. Each sport has a number of confidential "strikes", allowing players some opportunity to alter their conduct. If not, they are suspended. Ultimately they can be dismissed.
These interventions have been driven by individual sports, not WADA, which only tests for narcotics in competition where it regards them as performance-enhancing substances. Although WADA requires out-of-competition testing of athletes, the list of drugs it seeks to detect are the classical "performance boosters", such as steroids, EPO and blood doping.
From this perspective, narcotics have no cumulative value out of competition in terms of performance-enhancing attributes. However, while WADA has no policy interest in the use of illicit drugs by athletes out of competition, it will prosecute any sportsperson it deems to have supplied a narcotic as an anti-doping violation. This is intriguing to say the least.
In 2010, the playing future of Geelong AFL player Mathew Stokes was in the balance. Police had charged him with trafficking cocaine. The severity of this allegation was later dropped to use, largely because the amount in question was one gram. In court, Stokes received a 12-month good behaviour bond, while the AFL sidelined its employee for seven weeks and fined him A$5000.
Stokes has learnt from his conduct and rebuilt his life and career. Imagine, though, if he had been found guilty in court of trafficking?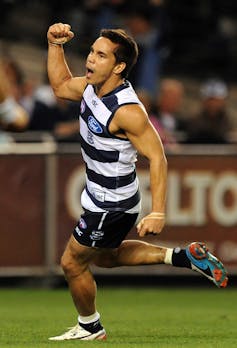 This is obviously a much more serious criminal matter. But it is also where WADA takes an interest. Although WADA does not test for narcotics out of competition, and is therefore not part of any process to militate against their use, it sees itself as an authority in terms of penalising what it regards as supply of illicit substances out of competition.
Just as intriguing, in legal terms WADA operates under a lower standard of evidence than courts of law. If we assume that those athletes charged in Queensland are found by the court to have used, rather than trafficked, a narcotic, the standard is "beyond reasonable doubt".
WADA has the capacity to view the same case in a different light: this is because the burden of proof it works with is "comfortable satisfaction". This means that even if a court of law decided that the athletes were only guilty of use, WADA – and sport's peak legal body, the Court of Arbitration for Sport – could deem that the players were guilty of supply, and therefore ban them from sport for four years under the WADA code.
WADA is overwhelmingly a mere spectator when it comes to sports trying to militate against athletes' use of narcotics out of competition. But it nonetheless looks on from the sidelines in case there is an opportunity to punish offenders.
It is ironic that sports that do test for illicit substances out of competition are often demonised by the public for "not doing enough" to prevent the use of narcotics by athletes. Perhaps that gaze ought to be directed at WADA. While WADA has the "health of athletes" as one of its mantras, it is doing nothing to assist sports that are trying – and sometimes failing – to help their employees avoid narcotics or change their behaviour.
Testing for all banned substances in and out of competition sounds expensive. Yet according to ex-ASADA CEO Richard Ings, it could be done easily – and more cheaply – than the existing system of WADA and sports testing separately. While any such move would need the support of athletes, it is a debate well worth having.