If you're about to, or have had, surgery in a public hospital, you may have wondered which doctor was actually operating on you. Was there one, or several? And what kind of training and expertise did they have? Would a junior doctor be allowed to cut you open and stitch you up?
In Australia, training of medical students to become junior doctors, and of junior doctors to become specialists, all occurs in the public system. This means some junior doctors may be involved in your care, but what they can or can't do is limited to their level of training and qualifications.
The person in charge of your care in the operating theatre is a consultant surgeon. They have years of education and training in their specialty and supervise the more junior staff. They will most likely be operating on you, but may require assistance from specialist registrars, residents and interns.
Here's what the team of doctors looks like.
Medical students – generally observers
Medical students are university students doing coursework to become a doctor. They are commonplace on hospital wards and will often be present in the operating theatre.
As medical students are in a purely training role, their scope in surgery is limited to helping with paperwork and daily ward activities, including ward rounds. They can only ever perform these duties under direct supervision of a qualified medical practitioner.
There are no specific guidelines on what medical students are allowed to do in a hospital. But in the operating theatre a student is generally just observing.
They may be able to assist with minor, low-risk aspects of care when the senior medical staff deem this appropriate. This might include putting in drips, placing simple skin dressings, and taking basic observations.
Interns – can assist in surgery
Interns have completed their university medical training and are in their first year of being practising doctors. The Medical Board of Australia – the body governing doctors and their scope of practice – gives interns provisional registration.
Interns can only work in directly supervised settings. They often rotate through specialties provided by the hospital (including surgical teams). But they cannot perform any surgical procedures in the operating theatre alone.
They may, however, be called on as a surgical assistant to hold instruments and provide an extra pair of hands. Their involvement is often limited to that of an assistant, so they may retract tissues, suction bodily fluids or pass instruments. This is all done under the direct supervision of the consultant surgeon and registrar.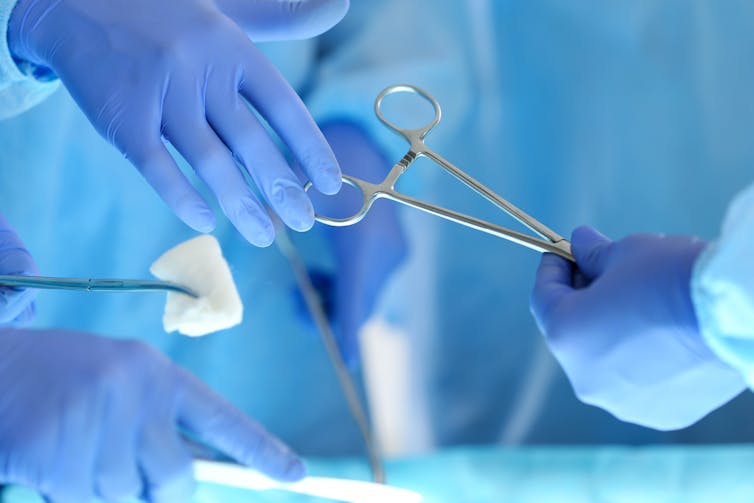 Residents – can do minor procedures under supervision
Residents are junior doctors who have completed their internship and hold a general registration. They do not have any specialist qualifications. You may interact with residents more frequently if you are staying at the hospital overnight, as they are often involved with general care on the ward.
There are senior residents (who can also be called senior house officers, or SHO) and junior residents (junior house officers, or JHO). Senior residents have typically completed a number of years of rotations in a variety of specialities, but have not yet decided on a medical specialty.
A senior resident performs the same duties as a junior, but has more experience and exposure. They may be capable of doing a job two interns may normally be required to perform.
Like interns, residents can't perform surgical procedures in the operating theatre alone. But senior residents who are interested in becoming surgeons may play a role in minor parts of a surgical procedure. They could suture a surgical wound under the supervision of a senior registrar or consultant, for example.
Again, there are no definite guidelines as to what minor duties a resident or intern can perform in theatre. This decision is based on the experience of the junior doctor, the level of complexity of the case, and the clinical judgement of the consultant supervising surgeon.
Registrar – can perform surgery under supervision
Registrars are senior doctors. They have chosen a specialty and committed to training and working in that specialty only. A surgical registrar may be doing advanced surgical training through their relevant training college. A registrar would typically be registered as a general medical practitioner.
The Royal Australasian College of Surgeons provides surgical training across nine surgical specialities including neurosurgery, plastic and reconstructive surgery and general surgery. The Royal Australasian College of Dental Surgeons provides advanced surgical training for dual qualified oral and maxillofacial (includes the mouth, face and close structures) surgery.
Other surgical colleges provide training to other specialty surgery programs such as opthalmology or obstetrics and gynaecology.
The term "registrar" and "resident" can be confusing as some countries such as the United States use them interchangeably to refer to specialist trainees in their advanced surgical program.
Specialist registrars are responsible for making major decisions about patient care. They will usually be the doctor who admits patients to the hospital from the emergency department and who has the skill to perform a full surgical procedure under consultant supervision.
Registrars usually do an intensive four to six years of an advanced surgical training program. As a surgical registrar advances through their program, they will develop independence in certain procedures and the degree of supervision they require will diminish until they can operate competently and independently.
Consultant – in charge of your surgery
A consultant is the most qualified doctor in the hospital. Consultants have completed their specialist registrar training and are fully qualified to perform surgery independently, without supervision.
A consultant surgeon has typically done four to six years of medical school, an intern and resident year, and then five to seven years of advanced surgical training. Consultant surgeons have specialist registration.
Some consultants will do further fellowship training in a highly specialised aspect of surgery either in Australia or internationally.
Consultants, above all, are teachers, providing surgical guidance to registrars under their wing. Consultant surgeons are ultimately responsible for making decisions about patients with complex conditions, such as cancers or complex reconstructive surgery, or when a patient's condition is unstable.
They are always present and available if more junior members of the team need support or assistance in theatre.
Simple surgical procedures such as fixing a simple fracture, are often done by a senior surgical registrar or consultant surgeon. More complex surgical procedures, such removing head and neck cancers (which would include removing the cancer and lymph nodes as well as reconstruction) may require more specialists, and there may be multiple consultant surgeons looking after you.
The number of doctors and surgeons will vary with the degree of difficulty of the surgery. Generally, your postoperative care will be provided on ward rounds with the registrar, residents and interns.
It is important to be well informed about the people who will be looking after you while you are in hospital. Public hospitals are teaching and training centres, but you should always feel comfortable asking what each person's role is in the team responsible for your care.