More children are being held in immigrant detention centers in the U.S. than ever previously recorded, according to The New York Times.
The number of immigrant children in detention has risen to about 12,800, the Times reports, a significant increase from 2,400 in 2017. Here are 4 stories from our archive that will help readers understand some central issues around immigrant detention:
1. Legal challenges
Since President Donald Trump took office, there have been numerous legal challenges to his administration's policies on immigration, including on immigrant and child detention. In July, a federal court ruled that detention centers could no longer give drugs to treat psychiatric symptoms to children without the consent of a parent or guardian.
Immigration scholar Kevin Johnson writes about several cases in U.S. history that set legal precedents in disputes over detaining immigrants and protecting their rights. For example, a class action lawsuit filed by immigrants in detention in the 1980s argued that moving detainees away from major urban areas deprived them of a right to counsel. The court agreed and ruled in their favor.
Johnson writes: "The long history of detention has an equally long history of legal challenges. These are likely to continue in the Trump administration, which has made detention a cornerstone of its immigration enforcement plan."
2. Standards for children and families
One case in particular stands out as more relevant to today's debate about detaining children and families. The Flores case was filed in 1985 and led to what's known as the "Flores settlement." This contract between the government and the plaintiffs set standards for holding children and families in detention, which courts continue to use today.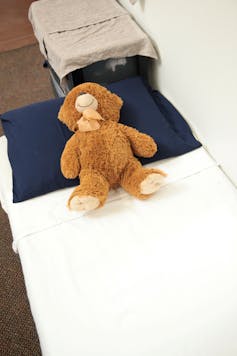 For example, the agreement says that the government must release immigrant children after 20 days of detention.
In a separate analysis, Johnson explains the case and why it has had such a lasting impact.
3. Who's to blame?
Critics have blamed the Trump administration for the inhumane detention of immigrant children. However, public policy professor Susan M. Sterett argues that the contractors who provide the detention facilities are also to blame for suffering children.
Although government contracting is not new, the contracts themselves rarely garner attention from the public. There are many reasons why the government uses contracting services. In this case, it is likely because the contractors can act more quickly than the government to provide housing for detained children, Sterett writes.
"[The government] hands nonprofit groups, for-profit businesses and local governments US$1 billion a year or more to house nearly 12,000 children. This money is dispensed through government contracts that do not always gain much public attention," Sterett writes.
4. Echoes from the past
This episode in U.S. history is not unique. In the 1990s, thousands of Haitians fleeing violence started the journey toward the U.S. to seek safety. Presidents George H.W. Bush and Bill Clinton responded by authorizing their capture and indefinite detention at a military base at Guantanamo Bay in Cuba.
Scholar A. Naomi Paik writes about conditions on the base: "Under the stress of imprisonment with no end in sight, some refugees fell into despair. The most dire cases purposely hurt themselves or attempted suicide. Children also endured the camp conditions that nearly broke grown adults."
As information emerges about conditions in today's detention centers, the parallels to the past may be instructive.
Editor's note: This story is a roundup of articles from The Conversation's archives.