A century ago, when Europe was tearing itself apart on the fields of Flanders, it was possible to speak in regional dialects that together described a collective experience of modernity. Today, as visual cultures are transmitted instantly and globally, it is far more difficult to talk about regional styles, let alone assess the role of artists in rationalising a historical moment in which political power is both vested in, and deserting from, the European vision of shared diplomatic responsibility.
So in what sense can we talk now about a European vision? If there is a unifying message to be found in EuroVisions: Contemporary Art from the Goldberg Collection, on show at the National Art School Gallery, it might be that the great power of contemporary art is its ability to create and exchange dialogues, rather than dictate narratives.
The exhibition presents 64 works across a diverse range of media by artists born or working in Europe, from the collection of Sydney-based patrons Lisa and Danny Goldberg. It is the second major travelling exhibition to be mounted from the Goldberg collection, the first being 2014's Stars + Stripes: American Art of the 21st Century.
It is easy to be seduced by the celebrity of the artists represented in EuroVisions – amongst an A-list roster including Anish Kapoor, Rachel Whiteread, Antony Gormley, Urs Fischer, Ugo Rondinone, Sarah Lucas and Rudolf Stingel, there are no less than seven Turner Prize winners.
In spite of this, EuroVisions is largely devoid of the brash spectacle that often trails in the wake of high-profile contemporary collections. This is a diverse and substantial private collection. But it is so because it is united by an interest in the material substance of art objects, the human trace of their making, and the simple pleasures that flow from a communion between us, the viewer, and the marks left by others on the world we share.
As a collector's show, while to some extent it takes the temperature of the contemporary European art world, EuroVisions does not overreach by making grand claims. There are relatively few works that deliberately announce themselves as "museum pieces" through their scale or installation; rather, the most satisfying encounters in EuroVisions are its most intimate.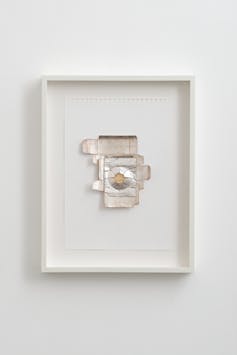 A pair of small, framed sculptures by the English artist Rachel Whiteread sit quietly in a room dominated by the huge, menacing faces of Urs Fischer's slick and seductive Al Dente 2016. Yet these two works by Whiteread – an artist better known for her vast, large scale sculptures cast from architectural edifices – better held my gaze. These are humble works, human even, in a way much contemporary art is not.
In Untitled (Amber) 2012 an unfolded box covered in parts by silver leaf casts soft shadows onto a spiral-bound paper page. The paper's perforated short edge is intact; the artist has carefully unwound the binding before mounting the sheet and ruling two faint lines across the page.
In Untitled (Blue Leaf) 2016 a corrugated papier mache form, covered with blue aluminium leaf, creates plays of light through the imperfections of its surface. Their success as works of art is because they remember why we make art at all.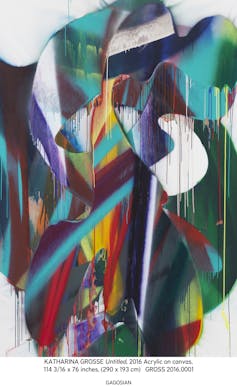 Even in the exhibition's bolder moments, this appeal to our most attuned senses remains. Katharina Grosse's Untitled 2014 demands our gaze through its size and riotous colour palette, but keeps our attention through the complex layering of its surface, through which we relive the vigorous physical processes of masking and ripping that produced it. In Grosse's paintings, we can embody the activity of her creation through our gaze.
We see the same trace of maker on material in Rudolf Stingel's Untitled 2012, in which the scrawls of visitors to his 2007 retrospective exhibition at Chicago's Museum of Contemporary Art and New York's Whitney Museum have been transformed into an electroformed metal plate in a process of conceptual alchemy.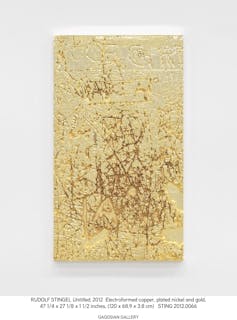 It is humble and, clearly, ostentatious. Some of the scrawl translates to beautiful cuts in the surface. There is some readable text – mostly names and initials – and someone has drawn a smiley face in an "O", all of which is preserved.
A product of Stingel's process is the memorialisation of the public life of a museum in its works. He visualises – ironically as it turns out – the agency of the viewer in creating culture in the spaces they inhabit.
A similar conceit animates Nicole Wermer's Turner Prize-winning Untitled Chair – FXR-2 2015, in which a fur coat draped over a Marcel Breuer Cesca chair represents the mundane act of claiming public space as personal, such as a diner might do in a restaurant.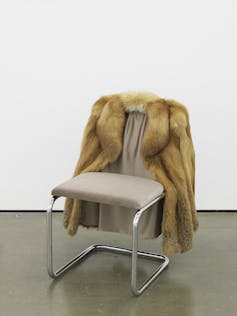 Sceptics might read Werner's work as a synecdoche for the private collection exhibition as a whole. In her foreword to the catalogue, Melissa Chiu, director of the Hirshhorn Museum on whose board Danny Goldberg sits, opines that collecting contemporary art is the "acquisition of work that is untested … not yet been written into art history". This is true, but it is also true that collectors and patrons have always been historians in the making.
So what is EuroVisions' contribution then? The challenge and opportunity for Australian viewers and artists, as my colleague Oliver Watts writes in the catalogue essay, is how to "access this work in friendship and collaboration? How, when presented with all this name and fame, do we resist being infantilised?"
The solution is a familiar one and also immunises against cultural cringe. It lies in ridding ourselves of the assumptions that cultural value is measured merely by media, stylistic or market influence alone, and equally, that histories are written from some sort of nostalgic cultural origin that no longer exists, or never existed at all.
It lies in extending our reach and engagement with the world as actors, even at a time in which our old Euromerican friends build fences against neighbourly exchange.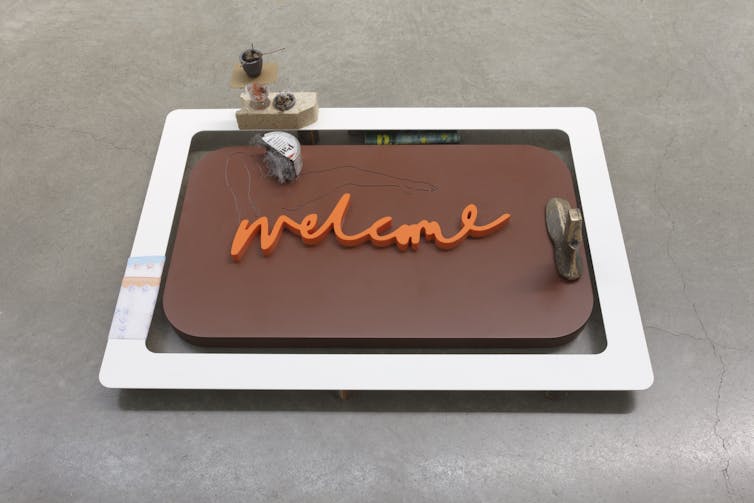 And in this, EuroVisions does us a valuable service. It is offered with a generosity of spirit and a desire to converse, rather than to lecture or perform.
Its best moments are inquisitive and intimate. It presents us with one more launching pad from which to engage in a global conversation, through which the vast talents of Australia's cultural practitioners might be directed to contribute to the dialogues of our times.
EuroVisions: Contemporary Art from the Goldberg Collection is on public display to 5 August 2017 at the National Art School Gallery), located at Forbes Street, Sydney NSW. The exhibition is free of charge and open Mondays through to Saturdays, 11.00am to 5.00pm.
Curated selections of the exhibition will be further presented at: Heide Museum of Modern Art, Melbourne, 24 March – 19 August 2018; Canberra Museum and Gallery, Canberra, ACT, 17 November 2018 – 24 February 2019 and Bathurst Regional Art Gallery, NSW, 12 April – 2 June 2019