Arnaud Mercier, president of the board of directors of The Conversation France, spoke with Stephen Brady, Australia's ambassador to France, about Australia's role in the fight against terrorism, and his own country's approach to creating a multicultural society.
Arnaud Mercier: Did the Australian people feel a particular solidarity with the people of Paris after the November attacks?
Stephen Brady: The attacks on November 13 affected Australians very deeply. There was a huge outpouring of emotion that hadn't been seen since the Charlie Hebdo attack and, before then, not since 9/11. All around the country, in cities and in towns, major public buildings were lit up in French colours – the Sydney Opera House, Parliament House in Canberra, in Brisbane. There was an immediate public need to express solidarity with France.
One of the reasons for this, I think, is that nearly one million Australians travel to France each year. That's huge given that there are only 24 million of us. So, it wasn't a distant event. Most Australians would identify with France through our shared values that were threatened, but they could also visualise the arrondissements where the attacks took place; they could visualise the stadium. They had a sense of the deep revulsion.
The Australian prime minister, the leader of the opposition and two ministers have since travelled to Paris. All have insisted that they go to the Bataclan and the areas around. You can be cynical about such gestures, but I can say that I've been with politicians for decades and have never seen such profound anguish and disgust. They were really expressing the whole country's sorrow and solidarity with France.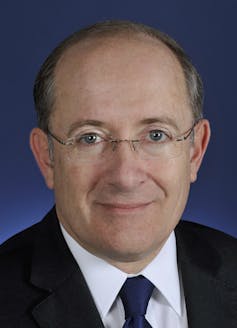 What is Australia's current level of participation in the fight against Islamic State (IS)?
Until recently we were the second-largest contributor militarily in Syria and Iraq, and now we're the third. France has overtaken us. It's not perhaps recognised that the Australian contribution is that significant.
Australia is supporting the air operations over Iraq and Syria. That involves 400 personnel. We have six F-18 Hornet aircraft, a refuelling aircraft and an early warning and control aircraft.
In addition, we have about 300 people training regular units of the Iraqi army as part of the US capacity-building mission as well as a couple of dozen advisers to the Iraqi counter-terrorism service. The Australian contribution proportional to our population is actually very significant.
Why is this for so important for Australia? The Middle East is so far away, after all.
It's important because IS is an evil … I won't even dignify it to call it an ideology. It's a group that seeks to impose its world view on people through violence and intimidation. And it's a terrorist group that wants to establish a religious tyranny. And that tyranny is contrary to the precepts of Islam itself.
The Australian government has been steadfast in the fact that a values-based society like Australia needs to demonstrate, in practical terms, to fight, to provide the defence materiel that is required.
What co-operation is there between France and Australia in this area?
The most tangible military asset that links Australia and France is a KC-30 aircraft that allows the French Rafale fighters to refuel.
But, just as importantly, we're working very closely in counter-terrorism. We were already working closely after the Charlie Hebdo attack. Our prime minister came to Paris in April and, in discussion with French President Francois Hollande, they agreed that there would be even further intensification of those intelligence links.
And now, after November 13, there's a recognition that there can't be any gaps. We need to share, and we are sharing. And that's one of the most important aspects of our bilateral relationship.
You've experienced terrorism in Australia, sadly. So what protections and legislative measures were taken after, for example, the shooting in the café in Sydney?
The attack in Sydney was in a café that any person in Sydney on that day could have been in – like in Paris. After the siege, a review was called for, and a number of measures were implemented. These included tightening immigration procedures, extra efforts to counter violent extremism in the community, and better ways of liaising with community groups.
But the most important has been at the legislative level. Legislation has been passed that will remove Australian citizenship from dual nationals who are involved in terrorist conduct overseas or who are convicted of terrorism in Australia. All the major parties agreed that this legislation was required.
The Australian parliament is now considering even further national security legislation which would extend the "control order" regime and simplify the procedures for monitoring – like in France.
We're constantly reviewing our laws in this area. We constantly have to see if our legislation meets the demands of this situation.
In France there is debate about the equilibrium between civil liberties – our principles – and the necessity of action to fight terrorism. Is Australia having the same debate?
In any free society there's going to be tension between civil liberties and the need to fight terrorism. The nature of this struggle makes it imperative that in healthy democracies there's a debate, and the media play a critical role in that.
Australia and France are two of the great success stories of modern times, so such measures will always be subject to debate – as they should. But the first responsibility of government is to make sure that its people are safe. Your government and the Australian government are seeking extra powers to protect their citizens from further attacks. Debating the issue in public is the best guarantee of getting the balance right.
The state of emergency in France has, in my opinion, been successful. It has provided at a critical time the capacity for French authorities to act and we can see good results.
You know well that the goal of Islamic terrorists is to create a divide in our multicultural society, particularly between Muslims and people of other religions. It's clear that in France there exists Islamophobia. Is the same problem present in Australia?
The best way I can answer this question is by telling you something that our prime minister has said, including to French Prime Minister Manuel Valls when they met here several weeks ago. He said that the Muslim communities in Australia and France are our most important asset in the fight against terrorists.
And, for all freedom-loving nations, the message is clear: we want to preserve the values that underpin our democratic societies; we have to work with each other to defend and protect those freedoms. There is nothing to be gained and a lot to be lost if we single out a particular group.
Australia sees itself as the most successful multicultural society in the world, and as such we value the contributions of each community to our national life.
Governments can't win this battle alone. Community leaders and groups have a key role in denouncing extremism. They have a key role in teaching unity in diversity, and that's how Australia acts. We have to have mutual respect instead of hatred.
And Islamic leaders, like everyone else, have an important and a vital role in the deradicalisation of possible extremists. We have to be careful in how we approach this discussion. In France there's clearly an even greater sensitivity because of the size of your Muslim population. But we need to be clear that IS is trying to create a wedge in our societies, and we have to avoid falling into the trap of allowing ourselves to be separated.
IS theorised this.
Yes. Anyone who singles out a particular group, such as the Muslim community, plays into IS's hands. It wants to create a religious tyranny, one that is contrary to what Islam itself is about. It's a notion that's rejected by the vast majority of the Muslim community in Australia. The vast majority celebrate being Australian and celebrate what our being Australian means and our way of life.
The issue of radicalisation itself, particularly among young people, is a very complex one. We're all struggling to understand what it is that would make a 15-year-old radicalise in a matter of weeks.
We are committed to supporting communities that are on the forefront of prevention, and it will be absolutely essential that the Muslim communities in France and Australia continue to actively participate in promoting the values that underpin what it is to be a French citizen and what it is to be an Australian citizen.