With its 17 million people, Mexico State, which encompasses the outer suburbs of sprawling Mexico City, tends to have an impact in national elections that goes far beyond its borders.
The behemoth central state, which accounts for some 14% of Mexico's population, commands significant resources and is President Enrique Peña Nieto's political bastion.
All eyes were on it during the June 4 gubernatorial elections, which pitted the upstart left-wing party MORENA, founded by Andrés Manuel López Obrador (aka "AMLO" locally), the firebrand former governor of Mexico City and two-time presidential candidate, against Peña Nieto's Institutional Revolutionary Party (PRI).
In the end, MORENA's Delfina Gómez, came within three percentage points of her opponent, Alfredo del Mazo, but failed to break the PRI's stronghold. The narrow result, which MORENA immediately contested, sets the stage for a tumultuous 2018 presidential election.
Elections AMLO lost
Though the PRI won the gubernatorial election, it faced fierce competition this time around. The crowded field included political heavy hitters such as Josefina Vázquez Mota, of the centre-right National Action Party (which won the presidency in 2000, bringing Mexico its first-ever non-PRI government). And Juan Zepeda from the Revolutionary Democratic Party, a centre-left party born in the 1980s as a splinter of the PRI. There were also several independent and minor-party candidates.
Surveys had long predicted a two-way race between Gómez, a former teacher and mayor of the city of Texcoco, and del Mazo. The tight margin of victory – and López Obrador's subsequent cries of fraud – will amplify the stories of malfeasance that plagued the last weeks of the campaign.
Among alleged scandals, Vázquez Mota's family was accused of financial fraud, Gómez was said to have demanded payment from former staffers to benefit a local party boss and even Obrador's closest circle was alleged to be involved in an illicit transfer of funds.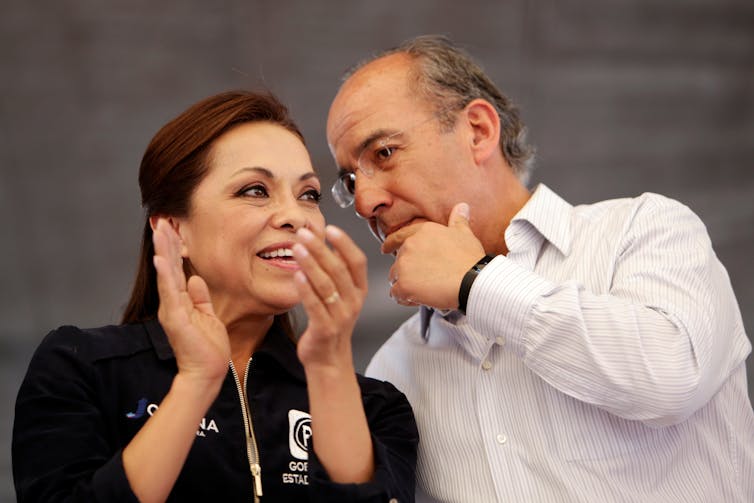 All these accusations, and the illegal behaviour that may or may not underlie them, diminish Mexicans' trust in elections and divide the electorate between winners and losers, accusers and accused.
Still a winner, of sorts
López Obrador, a practiced populist, is talented in making lemonade out of lemons. He may well be able to capitalise on Gómez's defeat by repeating a local version of the national scandal he orchestrated after his own presidential defeat in 2006.
To some, that months-long protest polarised public opinion and confirmed that he posed a danger to Mexico's democracy, as PAN leadership then claimed. But, among his base, it garnered him wild support.
Obrador will surely be running for president again in 2018 in his third attempt to capture the office. And Delfina Gómez's strong finish shows that MORENA is a force to be reckoned with.
Currently, surveys give Obrador the best chance of winning the 2018 election. When compared to any other possible candidate that pollsters can think of, including ex-president Felipe Calderón's wife and some high-ranking PRI officials, he comes out at least 5% ahead.
But he has been in this favourable position before and still narrowly lost two presidential elections (2006 and 2012). If elected, Obrador has promised to end corruption and to govern for the poor and underserved.
In a country with the poverty rate of 46% and average trust in government of 5.1 on a scale of 10, such changes would be welcome.
Other policy proposals are tougher. Obrador has also suggested referenda on recent decisions legalising marriage equality and adoption by same-sex couples, and wants to raise the minimum wage and retirement pensions without raising taxes or increasing the deficit.
He also plans to hold a referendum to potentially roll back recent energy reforms that allowed private investors into the oil market, which had been state-run since the 1930s.
Such promises have fueled comparisons between AMLO and the late president of Venezuela, Hugo Chávez. And this makes markets – and many Mexicans – jittery.
AMLO v Trump
Obrador's rise has always come with rabble-rousing, both after he lost the 1994 Tabasco governor's race and when demanding reparations for environmental damage caused by oil spills on indigenous lands.
At a 2006 campaign event, he repeatedly said to then-president Vicente Fox (PAN) to "¡Cállate chachalaca!" (Shut up, you cawing bird!). This elicited laughter from the crowd but dismayed more serious observers. It also led the PAN to first liken Obrador to Hugo Chávez..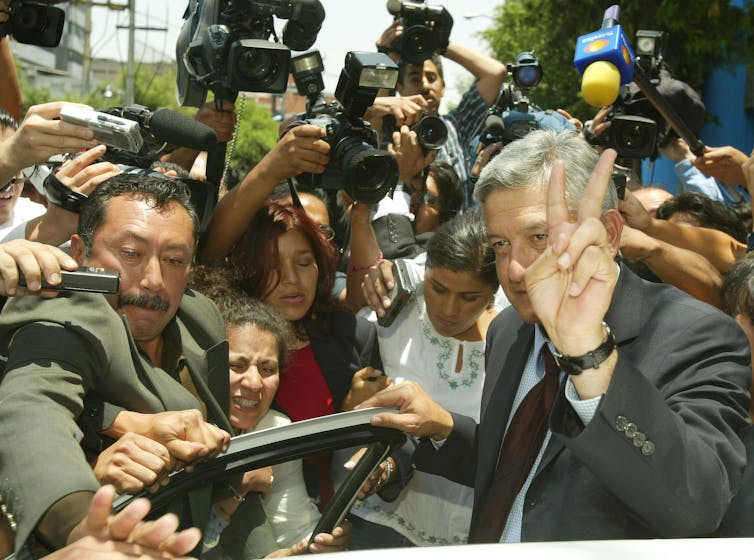 Ultimately, Obrador lost to the PAN's Felipe Calderón by less than 0.5%, about 250,000 votes. He called on his supporters to protest the results, for weeks blockaded Reforma Avenue, one of Mexico City's main thoroughfares, and, eventually began calling himself the "legitimate president of Mexico".
But current events and political strategy have conspired to tame AMLO's fire. His response to losing to Enrique Peña Nieto in 2012, this time by more than 6%, was much less angry.
More recently, the rise and eventual election of US President Donald Trump, with his anti-Mexico rhetoric, served to boost Obrador's prospects, as he has been riding the rising tide of Mexican nationalism.
Touring the US in Februray 2017, he defended Mexican immigrants and proposed to reduce the northward flow by improving living standards in Mexico after "three decades of neo-liberal governments".
But the firebrand, anti-establishment AMLO must also tread carefully to avoid any comparisons with the firebrand, anti-establishment Trump, who has become odious to Mexicans.
This may have inspired his shifting position on the North American Free Trade Agreement (NAFTA), which Trump has threatened to repeal. In 2006, AMLO promised to restore import tariffs on American corn and beans. Now he says he will wait to take a position on NAFTA after winning the election.
In Washington, the prospect of an AMLO victory next year seems to have sped up NAFTA negotiations. The Trump administration knows what Peña Nieto wants in a trade deal; who knows what AMLO thinks?
An uncertain economy?
Some financial analysts believe that an Obrador presidency could bring economic instability to Mexico and beyond. The exchange rate of the peso, with its sensitive barometric properties, concurs.
On Mexico State's election day, it registered the probable victory of MORENA, rising 11 cents after polls closed, only to drop 21 cents when preliminary tallies handed victory to Del Mazo.
The candidate has said that he's no Chávez and that businesses have nothing to worry about. In keeping, his party is carefully calibrating its image.
Recently, MORENA hosted the Venezuelan ambassador, who expressed her gratefulness for the party's solidarity with the Bolivarian regime on Twitter, only to later delete the tweets. Obrador's party denounced the whole event as fake and underscored MORENA's non-interventionist foreign policy.
Some supporters will miss the old firebrand when López Obrador makes his third run for the presidency. Can he square their desires with the sensibilities of the peso?