The Australian Sports Commission has announced the funding of national sport organisations and individual sports for 2014-15. Overall Olympic funding enjoyed an increase of about A$750,000. Paralympic sport suffered a $250,000 decrease.
One sport, ParaRoos soccer for people with cerebral palsy and acquired brain injury, shouldered the bulk of the cut with a $175,000 decrease.
On first reading, this decision would seem a heartless outcome for the ParaRoos. To fully understand this outcome, however, we need to examine how federal sport policy determines funding.
The funding rules explained
Australia's Winning Edge and the Sports Tally are the strategic planning and analysis documents used for elite sport performance targets and funding.
Australia's Winning Edge 2012-2022 states that it wishes to move Australia's high-performance sport "from world class to world best" through:
consistent and sustainable success for Australian athletes and teams on the world stage;

greater levels of accountability for performance results;

improved governance structures and contemporary reporting and monitoring of performance;

engaging, uniting, inspiring and motivating all Australians.
The background to the document identifies that Australia's Olympic and Paralympic performance has slipped since Beijing 2008. This has resulted in fewer gold medals, fewer medals, fewer top eight performances and a lower conversion rate of top-eight performances to medals.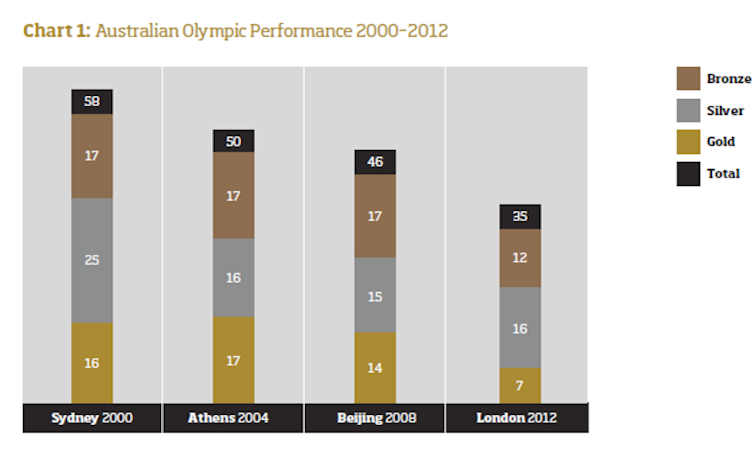 The story is similar for non-Olympic sports. The measures here for "sustained success" are annual numbers of world champions in priority sports. These are also declining.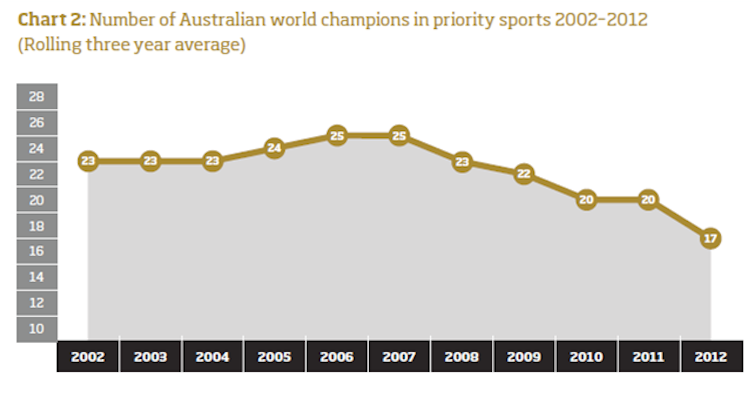 In an exercise in transparency and accountability, the Sports Tally assesses each sport's international performance on a scale from 1 – "underperforming" significantly below expectation without apparent solutions – through to 5 – "excelling" and setting a standard for others.
Under this regime, the ParaRoos' success is assessed not whether they are world class (top ten) but world best (potential for top five) or potentially world best.
As ParaRoos coach Paul Brown identified in a petition he set up, this has led to a devastating decision:
I was recently told Australia's National Paralympic Football (soccer) team will be NO MORE! … The Australian Sports Commission has cut our funding to $0.00 … A heartbreaking move they clearly knew was dangerous both socially and politically, and the reason I was asked to stay quiet about it. They knew this was discrimination against our disabled athletes and, in fact, the proposal put forth by Football Federation Australia on our behalf was doomed from the start, due to their prioritising of able-bodied football.
Pros and cons of mainstream administration
Since 2010, no overall organisation has been responsible for disability sport in Australia. Most sports have been mainstreamed. The Australian Paralympic Committee directly governs some Paralympic-specific sports and a smaller number of sports are administered through Australian Athletes with a Disability.
While the mainstreaming of sport has generally been regarded as a welcome trend, it does place disability sport in direct competition with other versions of the sport being governed by national sport organisations.
So, for example, Football Federation Australia (FFA) has responsibility for the ParaRoos, who are in direct competition for resources with the Socceroos and the Matildas. The FFA would have put a case for the ParaRoos to the Australian Sports Commission. Once they decided to cut funding, the ParaRoos have nowhere else to turn.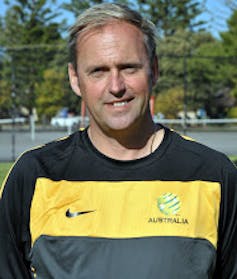 Despite Brown's impassioned plea, under the Sports Tally the ParaRoos were assessed as 1, underperforming and unlikely to qualify for Rio 2016. Powerlifting was also identified as an underperforming 1. Paralympic cycling and rowing on the otherhand were identified as 4: performing above target in all areas and being outstanding sports.
The Australian Paralympic Committee has also made some decisions about strategically developing boccia through a national competition. While the team may not win a medal in Rio, it is expected to perform strongly in Japan 2020.
Formula uses narrow definition of success
The strategic direction is logical and the Australian Sports Commission has set out a clear rationale. But the question must be asked: is this the way that we want to measure "success" in sport?
The commission has relied on very narrow measures of success. These have become even narrower with Australia's Winning Edge seeking to move from world class to world best.
To meet these benchmarks, both Olympic and Paralympic sports have relied on talent identification schemes rather than networks of community-based sport development for the Australian population.
The Australian Paralympic Committee's talent identification scheme brings together potential athletes in a variety of regional settings and tests their physical attributes.
The relatively small number (less than 5%) with superior performance potential are selected for intense development programs. The rest are left to go back to their communities with no, or at best limited, pathways for participation.
A report by the Australian Sports Commission and the University of Technology Sydney, Getting Involved in Sport, documented the significant constraints on participating in community-based sport that confront people with disability. Quite simply, there is a major imbalance in resources between those selected for elite training and the relatively poorly resourced, community-based sport sector.
Recognising sport's broader role
Only five years ago, the Crawford Report questioned the focus on elite sport. It proposed a broader definition of success to include national participation and fitness levels.
In particular, the Crawford Report recognised that people with disability, together with youth, seniors, people from ethnic backgrounds and indigenous Australians, required greater access to community-based sport.
Unfortunately, national sport organisations did not respond favourably. After vigorous lobbying, the report's approach was discarded as official policy and soon replaced with the Winning Edge.
We are at a watershed in disability service provision with the rollout in pilot areas of the National Disability Insurance Scheme. The NDIS brings with it new meanings of engaged citizenship. Sport can play an important role in this by creating skills for people with disability to transfer into employment, volunteer work or a more meaningful life.
The NDIS outlines recreation supports that people with disability should expect. It identifies the substantial benefits of involvement in sport for people with disability. These range from social inclusion and self-esteem through to health benefits.
Federal sport policy needs to balance what funding is available to an elite Paralympic minority and people with disability who want to participate at a grassroots community level.