Show me a hit American TV show and I'll look for the straight, white, male lead.
Well, I'm enjoying letting Empire, currently screening on Channel Ten, prove me wrong.
Tracking the Lyon family, headed by black hip-hop star turned music mogul Lucious Lyon, Empire employs the formulae of prime-time dramas – misunderstandings, shady business dealings, betrayal, murder – but electrifies them by foregrounding "risky" elements such as race, sexuality, and class. Australian audiences will have to wait some weeks to see the final episode of the series, which screened in the US last week.
Lucious, diagnosed with ALS and given three years to live, is frantic to cement his legacy by taking his music label public and appointing a worthy heir from among his sons – Andre, Jamaal, and Hakim. But there are more complications than he anticipated, including the show's well-hailed X-factor, Cookie (Taraji P. Henson), Lucious' ex-wife, ex-convict, and mother of his sons.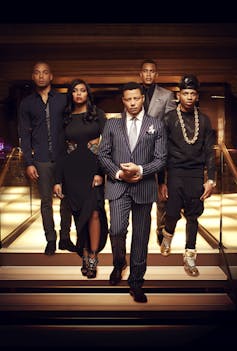 Empire's almost exclusively black cast and black and gay co-creator Lee Daniels, combine to create a highly-charged drama where the usual machinations of families grappling for power are played out within a specifically raced context. The show's focus is the hip hop industry.
This allows it to remain razor sharp in its commentary on the racial issues surrounding it, including longstanding allegations of its connections to violence, sexism, and misogyny.
In one episode, Lucious is coached on how to respond to criticism that an artist's lyrics inspired a murder. The repeated instructions to not "appear defensive" or "combative" so as to remain palatable to a white audience make for a startlingly honest examination of the prejudices that surround hip hop in particular, and the black community in general.
The show's choice to place multiple queer characters at the centre of its plot also allows it to interrogate the music industry's homophobia. Queer characters are usually a token presence on major network shows and queer characters of colour are even rarer. In this context the character of Jamaal and the intersection of his blackness and queerness feels monumental.
A plot twist revolving around another character's bisexuality doesn't feel forced but rather throws into contrast the heteronormative scripts of other shows. And while Empire's use of transphobic language has yet to be interrogated, it's deliberate self-reflexivity doesn't rule this out as an eventual possibility.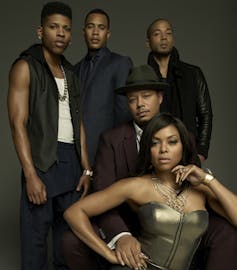 Empire is effectively proving that diversity isn't a dirty word. It's black, it's queer, and it's not apologetic about that. Most importantly, it's showing that doing so isn't just about earning a pat on the back from critics; it's good business sense.
The 2015 Hollywood diversity report was scathing in its analysis of the presence of minorities in both American film and television. While Hollywood's "diversity problem" was on full display at the Oscars this year with no non-white actor or director being nominated for any award category, an argument could be made for things being better on TV.
Shows such as Scandal, Orange is the New Black, and How to Get Away With Murder (with lead roles for black actors and creators) and Fresh of the Boat, The Mindy Project (Asian leads and creators), and Jane the Virgin (Hispanic leads) have all garnered attention recently.
But the fact that Kerry Washington's casting in Scandal marked the first time in almost 40 years that a network drama had a black lead actress speaks for itself. Even with the encouraging signs listed above the broader picture is still lopsided, with only 6.5% of total roles on broadcast TV going to minority actors.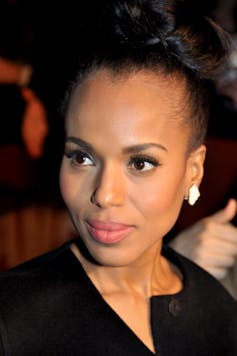 Even when shows do have multiracial casts the problem with content still remains. Sut Jhally and Justin Lewis' analysis of The Cosby Show showed how white audiences viewing the show's portrayal of an upper-class black family believed that black families in general had the same opportunities that whites did and that economic disparities were a product of individual actions rather than systemic racism.
Sarah Nilsen and Sarah E. Turner identify the trend of "diversity casting" as a strategy by TV producers to deflect charges of racism. By picking a multiracial cast but choosing to ignore socio-cultural differences completely in the content of the shows themselves, producers neatly sidestep controversial issues.
So while it is important to underline the imbalance in casting, it remains vital to realise that a mere presence on the screen is not enough.
It's easy then to see how Empire is breaking new ground in casting, content, and platform. The fact that it's on Channel Ten is important as prime-time broadcast TV remains a conservative market, with more experimental programming usually found on cable networks such as HBO or newer distribution models such as Netflix. Empire also broke a 23-year TV ratings record to become the first series to ever grow in total viewers over each of its first five telecasts.
Dee Lockett analyses these figures and acknowledges the show's successful targeting of black viewers (62%) but points out that part of the appeal of the show is that, unlike Scandal, Empire is a show essentially about race and racial relations in America. In her words:
Empire is attempting to envision a society in which a complicated relationship to your blackness is more a rite of passage than a character flaw.
TV executives are no doubt scrambling to duplicate Empire's success. Perhaps the most radical thing they could take away is not to leverage demographics or tick the check-boxes of an imagined checklist, but to increase diversity because it demands better storytelling. Because audiences are signalling that this is exactly what they want.

Season one of Empire is currently airing every Sunday at 10 pm on Channel 10.