The Indonesian government has confirmed that it will not suspend military cooperation with Australia after a top general said earlier in the week that ties between the two nations would be cut. The incident is just the latest episode in a rocky relationship between the neighbours.
On January 4, Indonesian Military Chief Gatot Nurmantyo declared the suspension of Indonesia-Australia military cooperation, apparently because an Indonesian special forces commander trainer found materials at an Australian teaching facility that were insulting to both the Indonesian military and the state's ideology of Pancasila.
Pancasila, from the Sanskrit word for for "five", panca, and the Javanese for "principles", sila, is the name given to the official founding principles of the Indonesian state. The principles are: "The one God system (monotheism), just and civilised humanity, the unity of Indonesia, democracy and social justice for all."
The incident is part of the ups and downs of the Indonesia-Australia diplomatic and military relationship that dates back to 1945 when Indonesia first declared independence from both Japan, which had occupied the country in 1942 and the Dutch, who had colonised it in the 18th century.
Neighbourhood blues
In September 1945, Australian waterside workers imposed "a black ban" on all Dutch ships destined for Indonesia in Australian ports. Later, Australian government showed sympathy for its northern neighbour in the Dutch-Indonesia conflict, even while officially maintaining impartiality.
Since then, however, the relationship between Australia and Indonesia has been rocky at times, depending on what Australia has perceived to be in its national interest. Australian public opinion opposed Indonesia's desire to incorporate West Papua into the nation in the 1950s, for instance, and a low-level separatist conflict continues in the province.
Australia initially supported Indonesia's invasion of East Timor, but after the fall of president Suharto in 1998, then-Australian prime minister John Howard proposed a referendum on the issue of independence for East Timor.
This led to the secession of East Timor from Indonesia. And the violence that ensued led Australia to send troops to East Timor under the auspices of the United Nations' INTERFET (International Force East Timor).
Defence cooperation between Australia and Indonesia has improved drastically since then: both countries need each other. For Australia, Indonesia is an important nation for its security and economic objectives as the country is its gateway to Asia.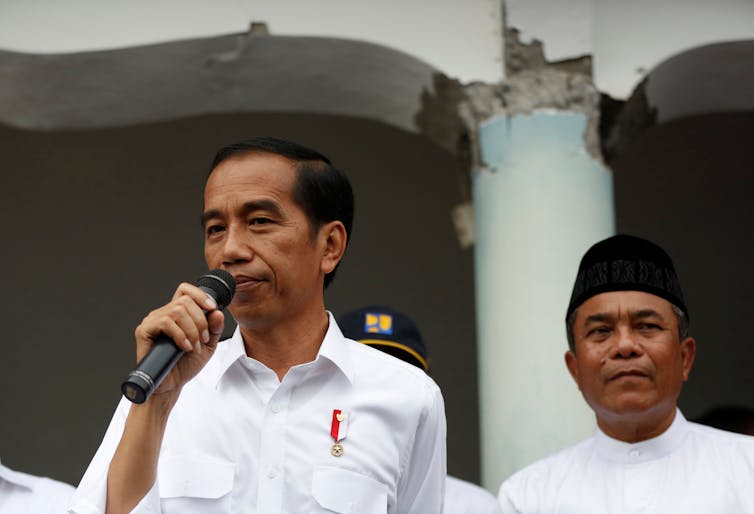 Indonesia, on the other hand, needs Australia as a strategic partner to modernise and further professionalise its military forces. Every year, Indonesia sends more than a hundred officers to Australia for training and education.
Yet the distrust engendered by Australia's intervention in East Timor lingers, and remains the root of current problems in the nations' relationship. It still hovers in the background despite improvements in economic, military, and diplomatic relationship.
Hidden agendas?
General Gatot Nurmantyo is the perfect embodiment of this lack of trust. In March 2015, for instance, he suggested that Australia's meddling in East Timor's secession from Indonesia was part of a proxy war to secure oil.
In December 2016, he ominously warned of Australia's desire to take over the Masela Oil Block, which is close to Timor-Leste (as East Timor has been called since gaining independence) and Darwin. He also noted that Indonesia is currently surrounded by Australia, New Zealand, Singapore, and Malaysia, which all of which used to have problems with Indonesia.
Many Indonesians share similar discomfort, though it might not as extreme as General Nurmantyo's. Despite assurances from both US President Obama and Australia's then-prime minister Julia Gillard that the goal of stationing 2,500 US troops in Darwin from 2017 was to counter China – and not to threaten Indonesia or the Southeast Asian region generally – many Indonesians still believe there's a hidden agenda concerning both US and Australian interest in Indonesia's abundant natural resources and Papua.
Given this background, it should be no surprise that a homework assignment for an Indonesian Special Forces language student to write an essay supporting the argument "Papua should have independence because it was part of Melanesia" would touch a raw nerve.
It confirmed General Nurmantyo's worst expectations about Australia's intentions, including that Indonesian officers training in Australia would be indoctrinated and recruited as spies.
Contradictory messages
At the same time, General Nurmantyo's reaction caught other Indonesians completely off guard. Indonesian military's spokesman, Major General Wuryanto, for instance, stated that the reason for the temporary freeze was technical matters (masalah teknis) and not due to insulting Pancasila.
Even the normally nationalistic Indonesian Defence Minister, Ryamizard Ryacudu, played down the incident, saying that it was an isolated personal act that the Australian government had regretted. And he noted that Australia had apologised for the incident, which actually happened in mid-December 2016.
To add to the confusion, a tweet from the presidential staff office suggested that the temporary halting of the military cooperation between Australia and Indonesia was only on joint training, education, officer exchange, and official visits.
Later, however, in a letter that was followed by a press conference by Wiranto, the Coordinating Ministry for Politics, Law, and Security, stressed that the relationship freeze was limited only to language courses.
Work to do
It seems from the different responses of several government ministers that General Nurmantyo's decision to halt the military cooperation was abrupt, and that it came without any warning or coordination with other ministers – or even the military's own spokesman.
The relationship between Australia and Indonesia is clearly very important for the Indonesian government, given the response to General Nurmantyo's announcement. It would have been simple for President Joko "Jokowi" Widodo and the rest of the cabinet to simply reaffirm what General Nuryantyo had proclaimed. But they value Indonesian-Australian military ties, and so Jokowi and the rest of the cabinet went into damage control mode to limit the fallout.
Finally, the incident shows that trust between Australia and Indonesia remains fragile, since a language class writing assignment could cause such an outrage. Indonesia's wounds from East Timor's secession are clearly still very raw.
Coupled with the uproar over revelations in 2013 that Australia wiretapped then-president Susilo Bambang Yudhoyono in 2009, which led to suspension of cooperation between the two countries, it shouldn't be surprising that Indonesia remains wary of Australia's intentions.
Clearly, both the Australian and Indonesian governments still have a lot of homework to do to build trust between their nations.