The people of Indonesia had strong hopes that President Joko Widodo (or "Jokowi", as he's known) would tackle Indonesia's corruption problem. But over a year into his presidency, a Transparency International report suggests that little progress has been made in the crucial defence sector – casting doubts on the success of the anti-corruption push as a whole.
Thanks to party cartels and embedded oligarchs connected to the old authoritarian Suharto regime, corruption in Indonesia remains a critical problem after 20 years of democracy. In 2014 82% of Indonesians rated it as a very big problem, and 71% thought it had increased. That put Indonesia 107th out of 175 countries in that year's Transparency International Corruption Perceptions Index.
So why has progress been so slow?
Jokowi came to power in 2014 on a platform of reform, with corruption high up the agenda. He was seen to be the first presidential candidate without links to either oligarchs or party cartels. Instead, he was backed by a grassroots movement and even seen by opposition as "clean, honest, humble and populist". His record as governor of Jakarta supported this.
Despite this, problems arose early on. In a telling showdown between the police – popularly perceived as corrupt – and the Corruption Eradication Commission (KPK) over the nomination of Budi Gunawan for police chief, Jokowi faltered.
Poor compromises
The KPK revealed that Budi had previously been accused of corruption, but not only did Jokowi decline to intervene, the police moved to criminalise the KPK, which had been seen as having made a successful start in combating corruption. The KPK has traditionally focused on high-profile culprits while the police have targeted lower-status officials. And now it's been badly weakened, targeting the most influential corrupt figures will only get harder.
Only after it was too late did Jokowi intervene with a weak compromise. Budi was dropped from consideration for police chief, though he was eventually sworn in as deputy instead. But by this point the damage was done; Jokowi seemed unwilling to protect the KPK. Instead of making a strong stand, he's ended up demonstrating just how difficult the task he's set himself will be.
This doesn't mean there's no hope. The defence sector, for instance, has taken small but significant steps in the right direction, introducing anti-corruption training and moving towards a gratification management system to prevent bribery.
Jokowi has always been a proponent of online services that decrease the potential for corruption by instituting transparency, and this has led to the creation of an e-procurement system for the Defence Ministry and the Indonesian armed forces (TNI).
Better oversight and transparency limits the involvement of expensive brokers driving the prices of procurement up. But the extent to which the new system is actually being used is unclear, particularly when it comes to the biggest procurement contracts, which are the most susceptible to corruption.
Baby steps
These issues are by no means limited to the defence sector. They indicate just how difficult it's been to make even a little progress, and how hard the struggle ahead will be.
Areas such as forestry exploitation are still major problems; as was made all too clear by the recent South-East Asian haze crisis, which was caused in large part by illegal forest fires. Patronage networks grounded in corruption are standing in the way of solutions, and there is apparently no impetus to dismantle them.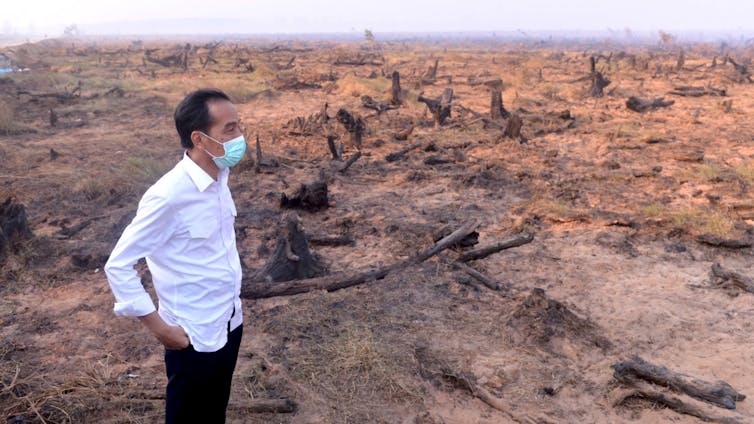 The sorry lack of political will shown in the KPK-Police saga represents how reform of the police sector may also be problematic. There is increasing concern that any significant anti-corruption efforts will stunt economic growth, as increased caution delays investment and development.
Ultimately, the problem is simply a reluctance to put significant reforms in place. Jokowi is increasingly dependent upon those same oligarchs and party cartels whose interests would be damaged, and he often needs to compromise with them. He might be supported by the grassroots, but he needs the support of powerful figures if he wants to really change the state's ways. This is complicated by his focus on economic development.
Jokowi may yet be forced to forget large scale reforms altogether and work on making sure people actually feel the benefit of whatever gradual and incremental progress is made. It's too early to dismiss Jokowi's anti-corruption efforts completely, but Indonesians may need to reconcile themselves to small steps rather than sweeping strides.