In a revealing moment from Inherent Vice, Thomas Pynchon's 2009 "nostalgia-noir" novel, hippy private eye Doc Sportello speaks to a client, Trillium Fortnight, who is able to diagnose the whereabouts of mutual acquaintances through sound alone. "It sounded like they were out on the road, a pay phone on a frontage road off some interstate," she says:
It was the way the voices combined… Not 'voices' voices. Like parts in a musical piece? Kenworth and Econoline van, plus a street hemi, a Harley, and some miscellaneous clunkers.
This "symphony" of sounds can be taken as a figure for Pynchon's novels themselves. His freewheeling and complicated plots (and plots within plots) are held together as a kind of musical whole, in part by what we hear as the novel's "voice".
So not exactly a straightforward story. It's not surprising, then, that Pynchon's novels haven't been coveted by the film business before. Inherent Vice is the first of Pynchon's novels to be filmed. His other works, including his most well-known novel, the vast Gravity's Rainbow (1973), have proved too stern a task for potential screenwriters to take on. All Pynchon novels have a very large cast of characters – some named in outlandish fashion, as with Trillium Fortnight – and take in elements from science and history and paranoid conspiracy stories, presenting an America that imagines itself in the mirror of cinema and television screens.
The complexity of Pynchon's stories is not, in itself, a particular problem for contemporary screen adaptations. The increasing convergence between film and prestige television production now means that novels that use vast canvases can be adapted for screen with no significant loss of detail or complexity. Think of The Lord of the Rings (2001-3) or Game of Thrones (2011-present), or the new BBC version of Wolf Hall (2015). As John Dugdale pointed out in a recent article for The Guardian, Pynchon's books seem to offer themselves up directly for film adaptation, so steeped are they in film and media references. So why is Inherent Vice the first to be filmed?
The answer is that it is the first Pynchon novel to operate on generic territory, although it is the third set in and around California. What Inherent Vice offers to the prospective screenwriter is, in effect, the language of noir, not only in the "voice" of the private eye himself but in the storytelling grammar of crime fiction. Where the characters of other Pynchon novels yo-yo across America, the narrative of detection not only gives Inherent Vice more momentum but also a recognisable generic pattern to translate to the screen.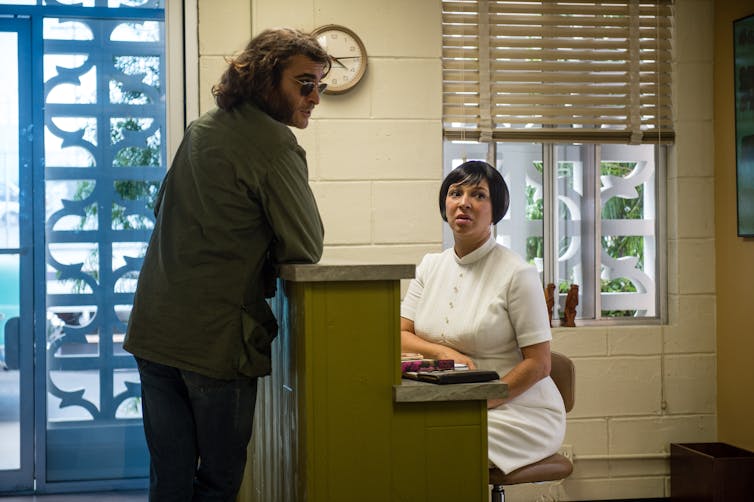 Inherent Vice is full of echoes from Los Angeles noir, from Raymond Chandler to James Ellroy. The main character, pot-smoking gumshoe Doc Sportello, riffs on Chandler's Philip Marlowe but also, especially in relation to Los Angeles' beach communities, on the hip befuddlement of Elliott Gould as Marlowe in Robert Altman's adaptation of The Long Goodbye (1974) and of Jeff Bridges' Dude in the Coen Brothers' stoner-noir The Big Lebowski (1998).
For film noir, voice-over is a way in which labyrinthine plotting can be held together. More generally, it is also a means by which the particular language of the novel can find its way into the fabric of the film. Terry Gilliam's Fear and Loathing in Las Vegas (1998) warped the screen with lurid visions in order to stage Hunter S Thompson's kaleidoscopic 1971 book. Gilliam used voice-over, Johnny Depp speaking lines from the book in order to project Thompson's particular voice and style.
Naked Lunch (1991) is a version of William Burroughs' once-banned book that uses the writer's biography as a means give the film some shape, but keeps several sequences given directly from the page. Crash (1996), adapted from JG Ballard's controversial and sexually explicit novel, uses a very cool and distanced style of filming to present Ballard's own mix of technical language and transgression. These were both directed by David Cronenberg, who used a range of techniques to present such strongly-voiced novels on screen.
Very many "difficult" novels have now been adapted to film, and each one presents a particular challenge, from Tristram Shandy (adapted as A Cock and Bull Story) to Ulysses.
Paul Thomas Anderson, the director of the upcoming film Inherent Vice, uses lines of dialogue from the novel and a look derived from faded Polaroids to present Pynchon's vision of Los Angeles in 1970. In the end, though, it is the Los Angeles crime genre that eases the translation of Inherent Vice from page to screen.
If Pynchon's novel is a "symphony" of voices, then perhaps the task of the adaptation is not only to translate the voice or style of the novel to the screen. It is to add voices, of the screenwriters, director Paul Thomas Anderson, and the actors. It is through this, and through the visual and sound techniques available to the film-maker, that a different "symphony" can be made.