Curators Kristi Monfries and Joel Stern know the value of slow and noisy collaboration. At the Instrument Builders Project (IBP), currently hosted by NGV Studio at Federation Square, Melbourne, you can hear the sound of moisture being added to volcanic ash, "ride" an assemblage of rubber tubing, and play bells with a tattoo machine – all the result of sophisticated interdisciplinary experimentation and deep cross-cultural engagement.
What Monfries and Stern do really well is understand how things, people and noises will work in different contexts.
In Indonesia, they were both struck by the originality of bespoke musical instruments found both in artist communities and for sale on the streets of cities and villages. They put this practice of resourceful creativity at the centre of the IBP and the result is a cacophony of experimentation. The project is shaped by two fundamental characteristics of Indonesian contemporary art, an interdisciplinary approach to making and a visible creative development process.
The curators, as well as many of the artists in the project, have backgrounds in artist-run spaces.
Pia Van Gelder was a co-founder of Serial Space and long time resident of Lan Franchi's Memorial discotheque in Sydney, Andreas Siagian is a co-founder of Yogyakarta art-science collective Lifepatch, and Dale Gorfinkel's work can be found at the Now Now and other DIY festivals.
The first two iterations of the IBP were held in Yogyakarta, Java, in June 2013 and March 2014. During these times the team set up spaces that served as labs, studios and galleries, with public events (concerts, exhibitions, workshops and talks) programed as the project unfolded.
This is a vastly different approach to the curation of large survey exhibitions such as biennales or triennales. These can be important ways to engage a broad audience with Indonesian art, but smaller-scale long-term projects encourage the practices that enable deeper collaboration, between artists, as well as between curators and artists.
The IBP is not about finding artists and showing their finished work. It is about iterative collaborative processes that generously invite audiences in at carefully chosen stages, requiring the involvement of rich networks of cultural producers, audiences and institutions working inside and outside funding structures.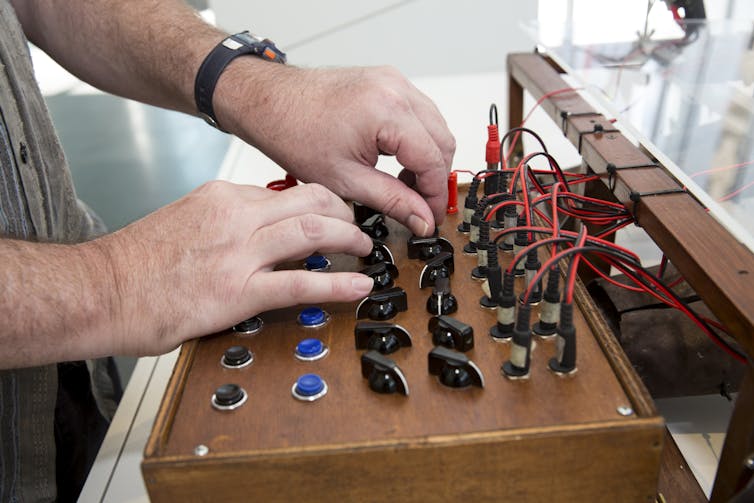 The participants of IBP are not "artists in residence" in the isolated creative-genius sense. The time they spend exhibiting is highly collaborative. At the NGV Studio, the artists have spent much of this month huddled together in a back room over soldering irons, cables, microphones, mixers, and laptops.
While audiences enjoy their instruments in the display area, the artists play, prepare, plan, and sometimes argue, as they produce the next iteration.
The space is somewhere between an Indonesian "sanggar", or studio, where emerging artists traditionally train with mentors, and an urban hackerspace, where peers share technological knowledge, skills and materials. In this way, the works created through the IBP draw on both traditional craft-based and avant-garde approaches and technologies.
Pia Van Gelder's collaboration with Andreas Siagian and Michael Candy to create the "Mountain Operated Synthesiser" is a strong example. The active volcano Mount Merapi, only 28 kilometres from Yogyakarta, became the focus of their experiments.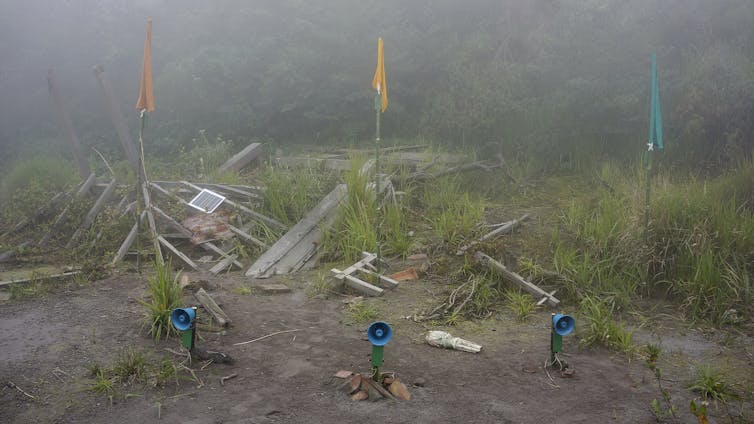 The instrument is played by the mountain itself as changing wind and moisture levels as well as soil conditions activate the synthesiser, producing what they describe as "a chorus that fluctuates with the elements". At NGV Studio, compelling video documentation of the process is presented, alongside an elegant prototype of the system inviting you to "be" the volcano by exposing the sensors to water and air using a fan and hand held mister.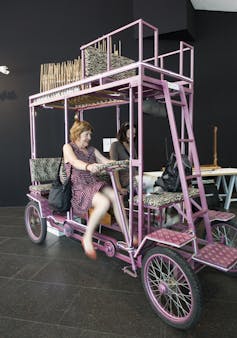 Understandably, much of the IBP work is prototypical. Tintin Wulia's work "Odong dangding prototype" modifies an Indonesian pedicab (Odong Odong) by fitting it with an angklung, a percussive instrument made of interlocking bamboo pipes. This work refers to tradition and also remix – the culture of copying and imitation that produces such fertile ground for collaboration between music, the visual arts and other cultural forms in Indonesia.
On Sunday, the final day of the exhibition, the Odong Odong will lead a procession out of NGV Studio, through Federation Square, along the river and up to the Federation Bells. This bold engagement with public space helps situate IBP within a wider history and trajectory of Indonesia – Australia art cultural exchanges led by artists including the Gang Festival and the work of Wot Cross-Cultural Synergy.
It will surely be a good moment to experience the Instrument Builders Project, as it is unlikely to ever look the same again.

The Instrument Builders Project is on display at NGV Studio at The Ian Potter Centre until November 23. Details here.