It's reporting season, and over the past few weeks some of Australia's biggest companies have been releasing information on how they're travelling. These reports reflect themes of how things are going in key sectors of the economy. Over coming days we'll report on the results of some major companies in key sectors, transport, construction, retail, mining, insurance and banking. Today we look at the insurance sector.
---
Volatility in financial markets globally and competition from smaller "challengers" like Youi (an Australian registered company owned by South Africa's Rand Merchant Investment Holdings) have been driving down big insurance companies' profits, putting pressure on these companies to find ways of cutting costs.
Figures released by the Australian Prudential Regulation Authority (APRA) reveal the performance of the Australian insurance sector as a whole.
APRA figures show that revenue is declining across the sector. For the 110 insurers in the Australian market, bottom line profit after tax declined substantially from a combined $4.1 billion to $2.4 billion in 2015, a drop of 73%.
The total cost of claims made by policyholders was effectively flat for 2015, so the main driver of the slump in profit was the downturn in global financial markets. When policyholders pay their insurance premiums, insurers don't hold these as cash. In fact, of the $119 billion of total assets of Australian insurance companies, less than 2% is held as cash. Instead, a substantial portion – $68.4 billion (57%) – is invested, with over $50 billion held as interest bearing assets such as bonds.
For the 2014 calendar year, investment returns for the sector as a whole were slightly over $4.2 billion, whereas in 2015 investment returns nearly halved to $2.2 billion. In the year ahead there may be more of a threat to insurance companies from investments in the markets.
In the first months of 2016 in Australia, the All Ordinaries Index has fallen nearly 8% and there are indicators that returns for both global bonds and shares may not improve much in the short term. Australian insurers may have to look elsewhere for returns on investments.
Increasing competition
Insurers will need to both increase revenue and decrease expenses to ensure sustainable profitability. The major insurers have embarked on cost cutting plans, which do seem to be having the desired effect.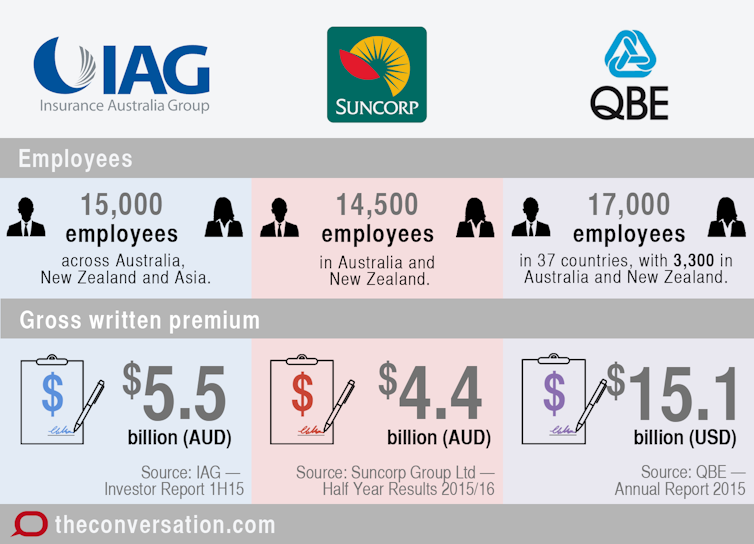 This is important, as challenger companies the likes of Youi and Budget Direct are taking a small, but growing, portion of the $16 billion personal insurance market (which includes home, content and motor), currently dominated by IAG and Suncorp Group. This level of competition is seen in the APRA figures, which indicate that the while total premiums increased by just under 4%, the number of policyholders also increased (by over 4%), so the premium per policyholder actually declined by 1% from $612 to $605.
This increase in competition doesn't necessarily mean a price war in the insurance sector. Gary Dransfield, personal insurance chief executive at insurer Suncorp says his company won't look to recover its lost market share by reducing premiums.
"We don't think that's the way to deal with the competitive environment."
However, if competition continues to intensify, the ability for insurers to increase premiums is somewhat limited.
Technology
Insurers may be able to make savings by improving the use of technology that gives these companies insight into customers' actions. These technologies include telematics and Big Data. Telematics is the use of communications devices to send, receive and store information relating to a remote object, such as a vehicle. Big Data relates to large amounts of data creation, storage, retrieval and analysis. Both of these technologies allow insurance companies to better understand their customers.
Which is important, because the purpose of insurance companies is to collect premiums for those they insure, and to pay out to those few who do have to call upon their insurance protection (i.e. for hail damage to a car, or flood damage to a house). A major impact on profitability is the ability of an insurance company to properly assess and price the risk that the company will have to pay out. This is why the premiums for younger drivers are higher, as they judged to be a higher risk of having an at-fault claim.
More detailed information about policyholders improves the ability of insurance companies to do that, and this can occur in a variety of ways. Rather than simply base the risk of the policyholder on general category information such as age, gender, or the postcode where the vehicle is garaged, factors such as the number of kilometres driven, the time of day and location of the driving, and even speed zones provide valuable insights to insurers.
AAMI's safe driver app uses a smartphone to provide such data, while overseas Subaru is one of the first manufacturers to link inbuilt telematics to provide data.
Gathered information on customers also assists insurers in other ways. In 2013 IAG purchased Wesfarmers' insurance business for close to $2 billion, allowing it to get a better grasp of consumer choices through rewards cards purchases and permitting it to tailor insurance products accordingly.
The insurance sector is inevitably at the mercy of natural disasters – and Australia has experienced increasingly intense storms, bushfires and cyclones in recent years. But it is also facing stormy conditions on investment markets and in the competitive landscape. Those insurers that innovate – making the best use of sophisticated data science and financial tools – will weather difficult times best.