The convergence of technology that has brought together what we now call information and communications technologies (ICT) has transformed our lives. Smart phones and tablets are now a common, almost essential, part of the accoutrements we carry around on a daily basis. Our cars are also getting smarter, with more on board computing power than was used in the 1960s Moon landings.
However, the emergence of smart systems empowered by ICT is now becoming an increasingly important part of our infrastructure. For example, road infrastructure is already being designed to contain ICT systems that will enhance monitoring and control as well as safety. According to the European Union's New Road Construction Concepts (NR2C) discussion paper issued in 2008, the future use of smart road systems is already well developed.
Intelligent Traffic Systems
First generation Intelligent Traffic Systems (ITS) have been trialled around Europe and elsewhere for a number of years. These systems rely on sensors located in the roads and related infrastructure that is used to help manage the traffic flows. Early generate ITS have suffered from high maintenance costs and poor quality and quantity of real time data capture. However, the technology is rapidly developing.
For example, in the area of road freight transportation ICT systems are already beginning to reshape the way this industry works. Trucks are being fitted with ICT systems to assist drivers with route planning and the management of loads and fuel consumption. These systems can interact with the ITS assisting with traffic monitoring, reporting and electronic road tolling. The logistics system is connected to computerised vehicle route scheduling, online freight exchange and telematics designed to assist with control and management. Time, fuel costs and vehicle wear and tear can all be monitored and the data examined for enhanced efficiency.
For the ordinary road user these ICT and ITS technologies are also emerging with the active support of data management giants such as CISCO Systems. In an interesting initiative CISCO has fostered the establishment of the Smart + Connected Communities Institute. This is dedicated to the planning and development of sustainable cities, which will employ ICT systems to build smart infrastructure. For a company like CISCO this will create more opportunities as such cities will require substantial networked ICT plus data integration and management.
Connected cars with personality
In a CISCO White Paper authored by Andreas Mai and Dirk Schlesinger and published last year, the future of the motor car was examined. According to this analysis the younger generation of consumers are more attached to their smart phones than they are to their cars. In response motor vehicle manufacturers are moving to integrate smart phones and tablets into their vehicles.
Korea's Hyundai has already installed iPad and Samsung Tablets into their new Equus range of cars sold in the United States. The addition of such technologies offers drivers the opportunity to remain in touch with their digital world of Twitter, Facebook and SMS while using their cars. This has some clearly significant implications for road safety as drivers are already getting into trouble using mobile phones while driving. However, there are advanced driver assistance systems (ADAS) and vehicle-to-vehicle (V2V) and vehicle-to-infrastructure (V2I) systems rapidly emerging to address this problem.
According to the pundits, these ADAS, V2V and V2I systems will allow the cars to communicate with other cars, the roads and infrastructure and take over much of the driving for the otherwise distracted driver. While this may sound strange, in the field of military aviation this type of technology is already a reality. The Eurofighter Typhoon, for example, already has software suites that essentially control much of the flying for the pilot, allowing the human operator more freedom to engage in the higher order tasks associated with battle planning and tactical decision making. This will be a feature on the new F35 joint strike fighters.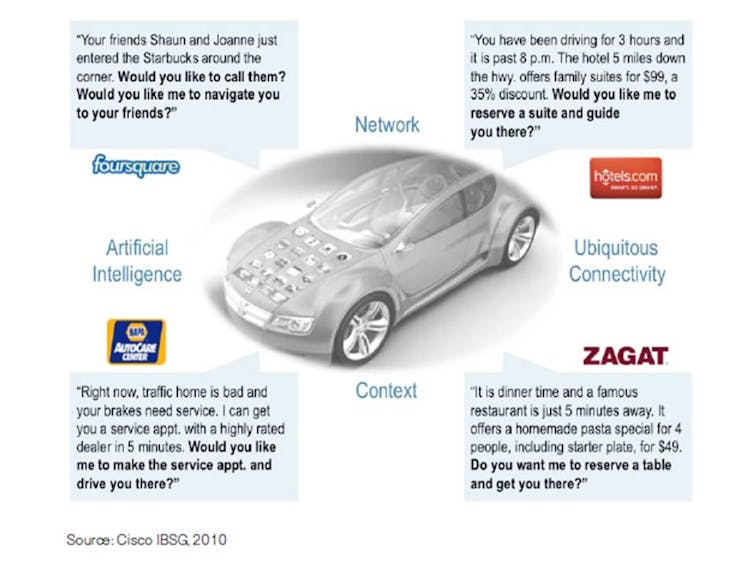 As shown in the image above, the vision outlined by CISCO's white paper is that of an intelligent car, that is more a personal assistant than a vehicle. It will potentially help the driver make decisions, find social and business opportunities and keep both it and the driver connected. This is what CISCO refers to as "ubiquitous connectivity" in which everything communicates with everything on a continuous real time basis.
Changing the business model of the motor industry
If CISCO's vision is correct, the current business model that has applied to the motor vehicle industry to date is going to change. In the past the model has involved a sale to a customer, then some after sales service until the warranty is finished, then the hope that the customer returns later to buy another vehicle. However, with these new ICT systems the most valuable thing is likely to be the data captured and stored in the vehicle rather than the vehicle.
Vehicle ubiquitous connectivity offers a new frontier for car makers just as Apple has done with its iTunes and iCloud solutions. For the average person who owns a smart phone or computer, the most valuable thing is not the phone or computer it is the data stored on it. Documents, photos, music and a host of data that has been built up over years cannot be replaced. This may well apply to the future of motor vehicles.
Smart systems can help the car or truck owner with maintenance, shopping, route planning, safe or economical driving habits and the more personal issues of entertainment and social connectivity. These will require data to be captured, stored and then made available to the owner or driver well after the date of purchase of the vehicle. They may also be the sort of things that owners will want to take with them from one vehicle to another. The artificial intelligence stored in the vehicle's computer, or more likely on the servers of the car manufacturer or service provider, will be transferred from one vehicle to the next, so long as the technology is compatible.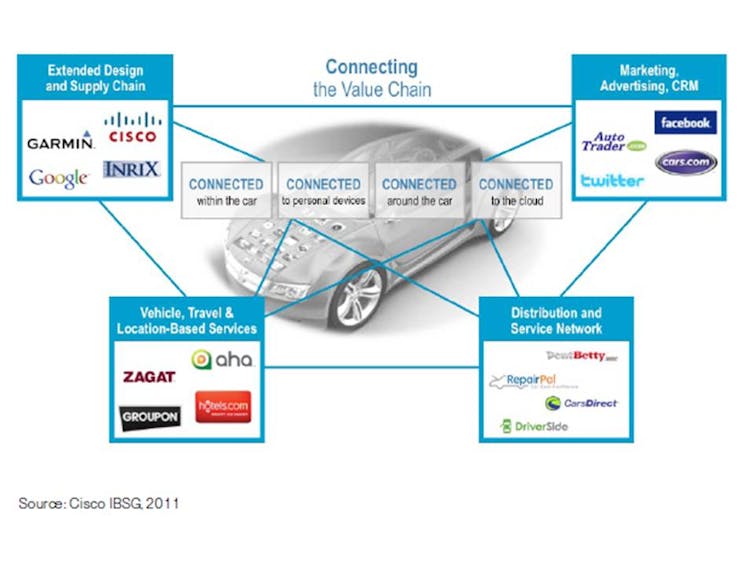 As shown in the illustration above, the car of the future is likely to reshape the value chain and business model of the motor vehicle industry. It may do this by linking a range of services, support and social media communications systems into the product. This would see the customer not so much buying a car, but joining or purchasing a transport device that is part of a wider system of software and communications solutions with ongoing services and revenue streams.
This vision for a car or truck with "portable personality" that has sufficient artificial intelligence to almost drive itself may seem futuristic, but it is based on technologies that already exist. As the CISCO white paper explains:
"Ubiquitous, seamless and secure connected-vehicle operation at high driving speed will depend on an end-to-end architecture that integrates the on-board unit, roadside equipment edge and core of the network data centre, and eventually the cloud."
Australia's infrastructure future
For this smart vehicle vision to become a reality here in Australia there will need to be a significant investment in the upgrading of our road and other transport infrastructure. As I reported in my last column, the view from Infrastructure Australia is not optimistic. As their 2011 report to COAG made clear, Australia's infrastructure networks are barely adequate for current needs. This is imposing "significant, long-term costs" on the economy.
The Infrastructure Australia report called for better, more efficient use of road networks and the efficient movement of road-based public transport. Transport corridor planning for heavy road freight and the national management of motorways were also discussed, and it was suggested that planning calls for dedicated 'freight roads' was misguided when 80% to 90% of projected road traffic would be private motor vehicles.
In relation to the use of ICT-based smart systems, the report noted the roll out of the National Broadband Network (NBN), and the role that ITS technologies could play in the improvement of traffic efficiency and safety. There is already a move towards the introduction of ITS through the National Managed Motorways Program. This scheme involves Queensland, NSW, South Australia, Victoria and Western Australia with the objective of enhancing the efficiency of road transport within Australia's capital cities. It includes a range of ITS technologies and supporting systems design to track and coordinate vehicle traffic. At a potential cost of $4 billion it will not come cheap.
Predicting the future in relation to technology trends is fraught with risk. However, the convergence of ICT, ITS and associated intelligent systems seems highly likely in the not too distant future. Some technology pundits predict a future in which the concept of ubiquitous connectivity will see everything from computers to coffee mugs talking to each other and exchanging data. This will demand an investment in intelligent infrastructure to allow for Australia to keep pace with the globally connected digital world.