No change remains the consensus of the nine members of the Shadow Board in the Reserve Bank of Australia holding interest rates unchanged from February at 3.00%. But rates need to rise significantly within the next 12 months.
The probability that rates should rise in the next six months remains at around 1/3, approximately matched by the risk that rates should be lower.
Although no Shadow Board members consider rates will need to drop by more than 75 basis points at that horizon, some see a risk that rates will need to rise by up to 150 basis points.
Over the longer term, in the next twelve months, the Shadow Board members anticipate that the probability of a rate increase is around ½, with the probability of a fall at around 1/3.
As in February, the Shadow Board's aggregate view indicates an upward tilt in the path of interest rates will be required over the next year.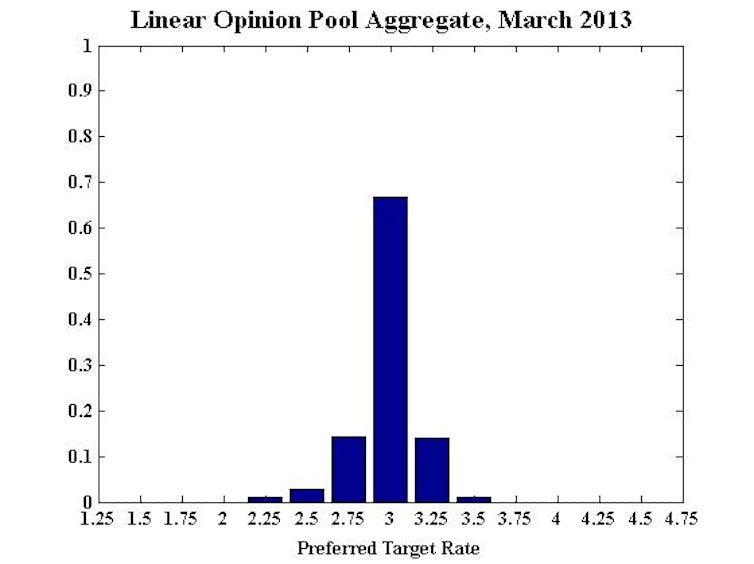 ---
Paul Bloxham, Chief Economist (Australia and New Zealand), HSBC Bank Australia Ltd: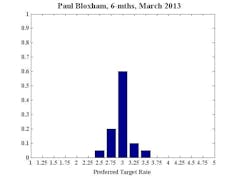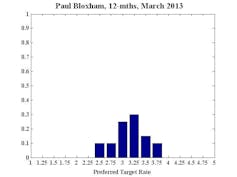 This month brought further signs that already loose local monetary policy is getting some traction. Consumer sentiment bounced, the housing market continued to improve and the Australian equity market rose to a new 4 ½ year high.
Global economic indicators were also generally more positive and financial market sentiment remains significantly better than it was late last year, despite this month's inconclusive Italian election results.
Forward-looking capital expenditure data provided further evidence that mining investment will continue to contribute to GDP growth for some time yet, which should give already low interest rates time to take effect and support re-balancing of Australia's growth from being mining-led to non-mining-led.
I recommend the cash rate is left unchanged this month at 3.00%.
---
Mark Crosby, Associate Professor, Melbourne Business School: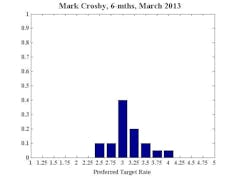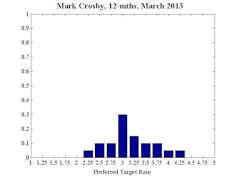 While international factors seem to be settling down there are still potential downside risks emanating from Europe that might point to further falls in rates in 6-12 months. However it seems more likely that slow recovery in the real economy will continue, with interest rates being shifted towards more neutral levels.
---
Mardi Dungey, Professor, University of Tasmania, CFAP University of Cambridge, CAMA: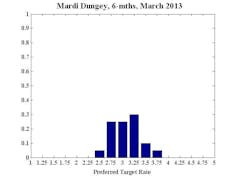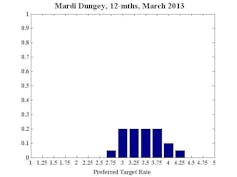 My assessment remains intact from last month.
---
Saul Eslake, Chief Economist, Bank of America Merrill Lynch Australia: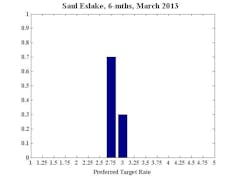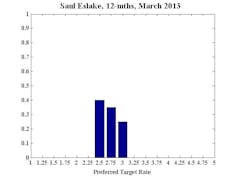 No comment.
---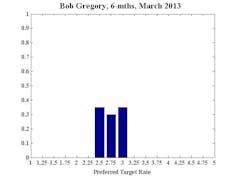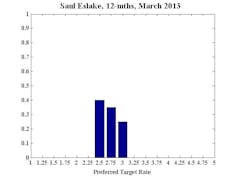 Bob Gregory, Professor Emeritus, RSE, ANU, Professorial Fellow, Centre for Strategic Economic Studies, Victoria University, Adjunct Professor, School of Economics & Finance, Queensland University of Technology:
No comment.
---
Warwick McKibbin, Chair in Public Policy in the ANU Centre for Applied Macroeconomic Analysis (CAMA) in the Crawford School of Public Policy at the Australian National University: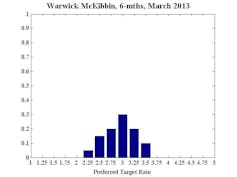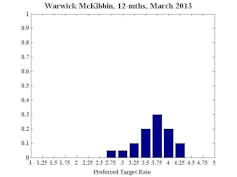 No comment.
---
James Morley, Professor, University of New South Wales, CAMA: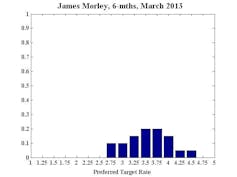 Economic conditions remain about the same as the previous month. Inflation and the unemployment rate remain steady. An apparent improvement in the housing market supports a bias towards raising the policy rate in the medium term.
---
Jeffrey Sheen, Professor and Head of Department of Economics, Macquarie University, Editor, The Economic Record, CAMA: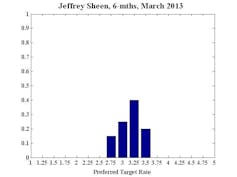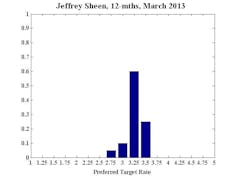 Little change is recommended this month. The only major news on risks is the ongoing failure in the US to avoid fiscal sequestration. Budget deficits now and into the near future have been cut by more than enough to control the US national debt, but the long term problem from unsustainable entitlements on health and social security remains. This has only long term implications for the world economy.
Meanwhile, asset markets are leading the recovery in Australia, suggesting that previous cash rate cuts are working.
---
Mark Thirlwell, Director, International Economy Program, Lowy Institute for International Policy: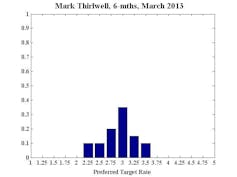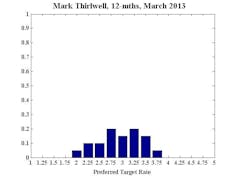 No comment.