The other day Greens leader Christine Milne noticed a tweet saying "Get out of the way Christine and leave it to the big boys".
"I just thought to myself, that is so symptomatic of the certain element of the Australian population that never accepted women in leadership positions and now feel comfortable that they've got their two men back, and they're happy with that."
Milne had a mixed relationship with Julia Gillard. The Greens-Labor alliance (forged by former leader Bob Brown) delivered the minor party great power; in the end, however, Milne walked away from it and attacked Labor.
But in an interview with The Conversation she says: "I find it extraordinary that Kevin Rudd has come back and more or less pretended that nothing happened between him losing the prime ministership and taking it over again.
"He just never refers to prime minister Gillard, sometimes refers to some of the policies, education being one, but virtually none other than that, and pretends that the whole climate package wasn't there.
"But more particularly, the whole issue of women in leadership has just disappeared, as if it never existed. And now you've got a certain sense across part of the Australian population that things are back as they ought to be – the two parties are led by two men and they're out there contesting it.
"I just think there are women out there, people out there, who do want to see more women in politics, and more women in politics standing up for feminist ideals and the advancement of women in society generally. And that's where the Greens offer them not only ethical leadership but actually a demonstration of what a strong female leader can do".
If Milne's Greens do poorly at this election, it will be a blow for another female leader, but a lot more is at stake than that. The Greens' sole balance of power in the Senate is on the line. If the key players in the Senate become crossbenchers on the right of the political spectrum, the Greens will lose their parliamentary relevance (unless there was an unlikely fluke – a re-elected Adam Bandt as a player in another hung parliament).

It's hard going being a Green up for election in 2013. The party reached a high point in 2010, polling nearly 11.8% in the House and about 13% in the Senate. Its current level is 9% in both Nielsen and Newspoll.
There are nine Green senators (their largest number ever) and Bandt in the lower House.
Milne says: "We are obviously underdogs, because we came off a record high in 2010. People don't realise that this was the highest for a minor party since the Second World War."
The Greens are defending Senate seats in Tasmania, South Australia and Western Australia. In the latter two states, their seats are at real risk. "In both cases we'll be fighting out the last seat with the conservatives, so it is really there that we need to hold the seats to prevent an Abbott government getting control of the Senate". She rates their chances of retaining the sole Senate balance of power as more than 50-50. Milne is hopeful that the Greens could pick up a Victorian Senate spot (their candidate is Janet Rice, a transport planner).
What about Bandt in his seat of Melbourne? "It's gong to be a hard campaign" but "there's a real buzz in Melbourne".
Although the Greens have taken a lot of criticism for refusing to compromise on asylum policy, the prospects of Bandt and their Senate candidates have been helped by the Labor and Coalition hardline unity ticket on boat arrivals.
"Certainly [Bandt] is getting feedback – people are coming up to him and saying that's reinforced their vote or that they're changing their vote because of that. But even before that, the polling he's had done recently is pretty encouraging, so I think he is going to do well in Melbourne".
More generally "I think we're well placed going into this election to hold our Senate seats, especially now that Kevin Rudd has moved so far to the right to join Tony Abbott. People who have a more progressive view - particularly on asylum seekers and also on climate - will see there is a very distinct choice between the major parties and us."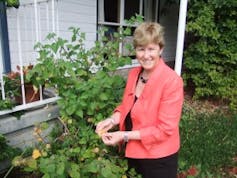 In the last few years "the whole country has become more conservative" – she points to the results in state elections. "It's been a hard political climate for progressive ideas to take hold.
"When John Howard came out with the idea of excising the whole of Australia from the migration zone, people were outraged, people couldn't believe it and of course [Chris] Bowen came out at the time and said it was a stain on the national character. Now Labor has done it themselves.
"But I think the pendulum has now gone so far and people have seen that it's too extreme and we're going to see people pull back, and I think people are going to see this as an election between compassion and cruelty."
She says the issues playing for the Greens on September 7 will be climate change ("the Greens are seen as the party that you can absolutely trust to go out there hard on emissions reduction and to be internally consistent"), the major parties' lurch to the right on refugees, and "the transition of the economy from the old resource-based economy to the new diverse knowledge and service and brains based economy."
Rudd's return has pluses and minuses for the Greens. He will bring back some disillusioned ALP supporters to Labor's fold. But if he prevents a collapse of the Labor Senate vote, that helps the minor party.
Yet Milne has no relationship with Rudd, who's had little time for the Greens. (She notes that Rudd during the last 12 months of his first prime ministership didn't meet once with Brown.) "It is ironic people talked about who was the real Julia. I don't think anyone in Australia has a real insight into who the real Kevin Rudd or the real Tony Abbott are".
Months ago Milne was frank about the Gillard government being doomed. Now she says it's very difficult to say who'll win although she thinks Rudd was right when he said he was the underdog.
In that unlikely scenario of the Greens having a lower house seat in a hung parliament, Rudd would find a potential dancing partner in Milne (though they'd be an awkward couple, assuming he could even be got onto the floor). "I would do everything I can to advance Greens policy through negotiations with a governing party, including an agreement on certain policy positions. The advantages to a minority government when you have got an agreement is a higher level of predictability."
Milne is well aware of the contempt for the Greens in sections of Labor, "particularly coming out of NSW". She's sceptical about Rudd's NSW reforms. "When people talk about the NSW disease that's how people see it and I don't think Kevin Rudd's attempt to suggest that he has moved in and fixed it up is going to convince anybody that there's been wholesale reform. Nor do I think that anybody believes the changes will last beyond the ALP conference".
Asked what she regrets doing or failing to do as leader, Milne suggests she should have walked away earlier from the agreement with the government. "Just thinking back on it, it was obvious to me, coming into this year, that the Labor party had decided to abandon the spirit of the agreement with the Greens. We continued to work within the context of delivering. But it was pretty obvious that Labor had no intention of delivering anything more. We probably should have dealt with that earlier [although] it probably wouldn't have changed anything much from where it did end up" when she made her announcement in February.
Even if the party doesn't do well at the election, Milne does not fear for its future – remember the Australian Democrats went remarkably quickly from a significant force to oblivion - "because this is the century of the environment, globally and for Australia as well. This is the century in which the whole focus is going to be how can we live sustainably on this planet."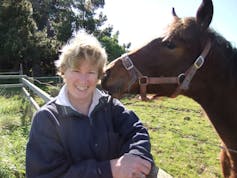 Indeed Milne clings to the Brown dream that some day the Greens will become a major party.
Asked about the challenges of leadership, Milne says it is "quite a different concept from management. So I think my job as leader of the party is to go out there and be able to articulate what the Greens stand for and what the Greens can be trusted to deliver on and to provide the vision for the Greens."
She believes she has been able "to pick up a lot of credibility with rural and regional Australia and also with progressive business. When I set out with the leadership I said there were two areas where I thought we could add to the Green vote and that's because I am from rural and regional Australia, have got a big commitment to the bush, and people know that.
"I've been out there campaigning hard on coal seam gas, and on looking after agricultural land and taking on the supermarkets and local food policies and the like".
Milne says that "when you are leading a party it's a 24 hours a day, seven days a week job … that constant responsibility and awareness of that responsibility is a big thing to carry, especially when you're walking after someone like Bob Brown who had such a high profile and enormous respect, not just amongst Green voters but across the community more generally.
"So I knew that it would be a hard job to do that. I'd been through that once before so I was not unrealistic about what that is like. I took over from Bob as lead of the Greens in Tasmania when he left to contest Denison in 1993.
"So it took just over six months, nearly a year, after Bob left in Tasmania to establish myself as the leader and that's the task I've got leading into the election, to build the profile for the Greens and build my own profile in a leadership sense."
For better or worse, Milne will always be competing with people's memory of the party's iconic former leader.