When Brisbane man Gerard Baden-Clay rang police to report his wife Allison missing on April 20, 2012, he set in motion a series of events that would lead to his arrest, trial and ultimately his conviction for her murder. He has been sentenced to life in prison.
But why did this particular domestic homicide case grab the attention of the media and the public? What made it different from the many other domestic homicides that occur? And how prevalent is intimate partner homicide in Australia?
Intimate partner homicide in Australia
In 2013, the National Homicide Monitoring program released data that showed that 36% (or 185) of all homicides in Australia between 2008 and 2010 were domestic-related.
Of those, 66% (122) were classified as being committed by an intimate partner. However, there has been a 16% decrease in domestic homicides since 2007-08. Unsurprisingly, 143 domestic homicides took place in a residential setting, most often the victim's home.
The most common causes of death in domestic homicides were stab wounds (43%), beatings (36%), gunshot wounds (10%) and strangulation (9%). Of interest are the motives present in domestic homicides. In 49% of domestic homicides a domestic argument was the apparent motive. Other motives, to a far lesser extent, are jealousy (2%), money (1%) and termination of the relationship (5%).
Research conducted by the Australian Institute of Criminology showed that between 1998 and 2008 107 intimate partner homicides were reported in Queensland. While intimate partner homicide may be the ultimate expression of domestic violence, in many cases it is not preceded by any incidents of reported domestic violence. Only one in three of the Queensland cases had an identified history of domestic violence.

The investigation
In any murder investigation, the first 24 hours are crucial for police to move from a low-information state to a high-information state. The information can relate to motives, profiling of the victim, financial background, friends, associates, movements of the victim and suspect, and opportunities for the offence to be committed.
An additional challenge in intimate partner homicide is that often the primary and initial source of information about the victim is the potential offender. This is particularly so where the victim is reported "missing" or there is no obvious cause of death. This can hinder investigations.
Intimate partner homicide poses unique challenges for investigators. In the Baden-Clay case, a crucial issue was actually determining if an offence had been committed or if Allison had merely gone missing and suffered an untimely death. Allison Baden-Clay's body was not located for ten days. When it was, forensic examination did not provide a clear cause of death.
In some intimate partner homicide cases, the crucial evidence is not so much showing what the offender did, but rather showing that the offender lied in their version of events provided to police. In essence, the case becomes circumstantial. This is where motive becomes important.
In many intimate partner homicide cases, physical and forensic evidence will be of little value given the existence of a relationship and the context surrounding the evidence found. For instance, DNA will be of little use in an intimate partner homicide investigation where the victim and suspect live in the same house.
The media imperative
The Baden-Clay investigation and trial have made for great media fodder. It has featured as front-page news both at the state and national level, feeding the public's insatiable appetite for a blow-by-blow description of Allison's mysterious disappearance and the trial itself.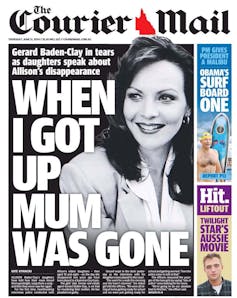 Media stories, in particular crime stories, increase in social value and sell better when they include violence, notoriety, sexual connotations, scandal and children. The Baden-Clay case had them all. Even more enticing were the daily police briefings during the investigation and live blogging during the trial, both of which fit perfectly into the daily news cycle.
It had all the hallmarks of a captivating whodunit case. That there was no obvious cause of death, a glamorous victim, the mistress, the failing financial situation, and to some degree the facade of a happy normal couple only added to the intrigue.
The drip feeding of information both during the investigation and the trial also maintained the intense public interest. For example, so much was made of the scratches on Gerard Baden-Clay's face to the extent that official police photos were displayed in the media in the early stages of the case to highlight how unlikely they were to have come from a shaving accident.
To some extent, this case has proven to be a classic example of trial-by-media. Public opinion has no doubt been influenced by the blanket media coverage.
But this murder was not about sensationalist media stories. Rather, it was about a mother lost to her daughters and other family members. Since the beginning of this investigation, Gerard Baden-Clay has featured as the only plausible person responsible for his wife's death, despite the cause of death being unclear. He has been tried before a jury of his peers and found guilty.
While justice may have been served, there are no winners in this case.
---
Editor's note: On December 8, 2015, Gerard Baden-Clay's murder conviction was set aside and substituted for manslaughter.