Apple has made a series of releases today, including an upgrade to its iPhone and iPad operating system iOS 5, the introduction of iCloud, its cloud storage service and, in the US, its new music matching service, iTunes Match.
For many, it seems the upgrade to iOS 5 has not gone smoothly.
The massive load of everyone trying to update the phone has swamped Apple's servers, resulting in thousands of customers receiving an "Error 3200" message.
Apple support staff have said they are working on the problem, but there's no fix until the server load dies down.
The advice to anyone wanting to upgrade their phones or iPads to iOS 5 is to wait at least a few hours.
But it doesn't stop with iPads and iPhones. It seems the entire Apple support site is suffering similar problems. This has led several people to joke that Apple is experiencing a form of unwitting customer-led Distributed Denial of Service attack. "Error 3200" and "Downloading iOS 5" have been in the top trends on Twitter.
So what will you (eventually) get?
The new features available on iOS 5 have been discussed extensively in the media, and there are a lot of them.

I've used iOS 5 for the past month or two as a developer. In that time, the new features have become second nature and in reviewing this article I was surprised to see how many of the features I now use daily were actually introduced in this upgrade.
These include a new pull-down notification centre that brings all of your notifications into one place. This can be accessed by pulling down from the top of the screen. Notifications (such as text messages) also now appear at the top of the screen of whatever application you are in.
Safari, Apple's browser, has been upgraded. Tabbed browsing has been introduced, as has a reading list, which allows you to save articles to read later, as well as reader view, which eliminates clutter from a page.
And now that everyone else has (or will be) upgrading to iOS 5, I will be able to test out the new iMessage feature.
This is the Apple equivalent of the BlackBerry Messenger feature, allowing Apple users to message each other for free.
It's thought this feature alone is responsible for the popularity of BlackBerry in countries such as the UK. Apple's introduction of this similar feature will be potentially devastating for the BlackBerry MARKET.
What makes the iMessage feature more likely to succeed is its ability to decide if the person you are messaging can receive an iMessage or not. If not, it will revert to SMS.
There are host of other features, including Twitter integration, photo editing capabilities, taking photos from a locked screen (something I have only managed to do by accident) and new apps such as Reminders and Find My Friends (the Apple equivalent to Google's Latitude service.
Your mobile in the iCloud
For those users that used MobileMe, Apple's cloud service, iCloud will not be that much of a change. Unlike MobileMe, the service is free for storage of up to 5GB of documents, music, appointments and email.
The other difference is that the iDisk feature, where any file type could be stored, has now gone. Users who depended on this service will have to use an alternative such as DropBox.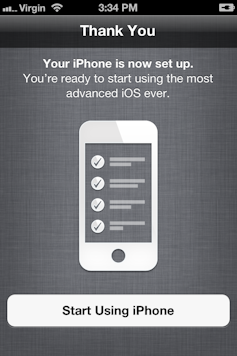 Apple dispensed with the iDisk feature because iCloud storage is directly integrated with the apps themselves. New versions of Apple's word processing, spreadsheet and presentation applications now support iCloud. Other vendors will issue updates of their applications to do the same.
Although the iCloud integration is an improvement from the perspective of simplifying the user's experience with the phone, it does make it harder to share documents with other users.
DropBox, for example, has a feature that makes a document publicly available. iCloud users will still need to use other services to share photos, documents and other app content.
The availability of iCloud as a free service is going to be popular. It brings more seamless sharing of calendars and contacts across multiple mobile and desktop platforms and allows iPhone and iPad backups and automatic installation of purchased apps and music.
iOS 5 brings the ability to synchronise with iTunes wirelessly. This makes a start on breaking the need to plug your iPhone into a PC or Mac.
Is it worth it?
In my opinion, iOS 5 is well worth the effort (and wait) in upgrading. It's another step towards making the mobile platform more usable (and pleasurable to use) and takes us inexorably on to a post-PC future.
What users don't see are the changes made "under the hood" with each of these releases.
From a developer's point of view, there were changes in iOS 5 that made building application easier and less prone to problems.
The success of the iPhone and iPad has been in part due to the devices and their operating systems, but it is also largely to do with the apps that run on the platform.
The verdict? Despite the teething problems many are experiencing, Apple continues to innovate and improve.