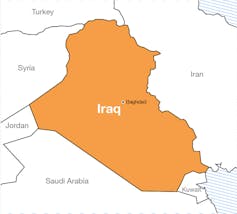 Iraq is an important country to watch in 2017, as a source of instability in the Middle East since the 2003 invasion.
Iraq is a political quagmire. The Iraqi Parliament is made of Sunni, Shi'ite (who make up 70% of parliament), Kurdish and secular political blocs controlled by more than 20 minor groups and patronages. These constantly jockey Prime Minister Haider al-Abadi for ministerial positions and privilege. Governance is extremely difficult.
Further, Al-Abadi faces constant threat of protests and Green Zone sit-ins from powerful pro-Iranian Shi'ite cleric Muqtada al-Sadr, who pressures al-Abadi to appoint a government of technocrats. In recent months, the protests have gained intensity and frequency as people demand faster reforms and an end to corruption.
Al-Abadi's lifeline is his struggle against IS and the current battle to liberate Mosul, the biggest city in northern Iraq with rich oil reserves. In November 2016, US-supported Iraqi government and Kurdish forces launched an attack to recapture the city.
In northern Iraq, the leader of the autonomous Kurdish Regional Government, Masud Barzani, has been building a self-sustaining state for the last decade. He has frequently threatened to declare independence to gain concessions and cooperation from the central Iraqi government. Yet, Barzani knows he needs the Iraqi government and the US-led coalition to liberate Mosul.
For the Kurdish region a liberated Mosul will bring northern Iraq back under the full control of Barzani and one step closer to independence. Barzani also intends to expand his territory by not handing over any region his forces liberate from IS. Barzani may even surprise the world by declaring the independence of Kurdistan in 2017.
Not if Prime Minister al-Abadi can help it. The liberation of Mosul will be a lifeline for his two-year government, especially when he knows that the fall of the city brought down the previous prime minister, Nouri al-Maliki.
Mosul is the only Iraqi city remaining in IS hands. Its recapture would mean an end to IS's political existence in Iraq. IS certainly will not give up the city as easily as it was capured. But, with increased support from Trump, Mosul may be recaptured in 2017.
Even if IS collapses as a political force, for as long as Iraqi Sunnis do not have a significant political voice, IS will be a force in Iraq similar to the Taliban in Afghanistan. Not only that, IS militants will shave their beards and spread across the world to unleash a new era of terrorism.