The Liberal National Party chose an unconventional strategy when it decided make former Lord Mayor of Brisbane Campbell Newman its leader. Newman needs to win a seat in the Queensland parliament if he is to be Premier or even opposition leader.
While projected voting trends show the LNP on track to defeat Anna Bligh's Labor government, Newman himself is struggling in his chosen seat of Ashgrove, with the most recent polls showing him trailing Labor incumbent Kate Jones.
The Conversation spoke to Queensland University of Technology political expert Clive Bean to find out if Newman's strategy is heading off the rails.
---
Are things going to plan for Campbell Newman?
I think they are for the most part but there is one significant hitch in particular which is to do with the issue of the seat he is running in (Ashgrove) and whether in fact he can win that seat which he needs to do in order to become Premier if the Liberal National Party wins government.
It is quite possible the LNP can win government with a swing that would be somewhat less than that required by Campbell Newman to win the seat he is contesting.
There's another point where because information keeps coming out that shows it could be very tight [in Ashgrove], increasingly there are questions to him and other members of the LNP about what their contingency plan is if they win government and he doesn't win his seat.
What are the key issues in Ashgrove?
There is one state-wide issue but that may bite differently in Ashgrove and that is the issue of same sex civil unions, which the LNP has been campaigning against, but Campbell Newman has been equivocal on. He has effectively said he is against it to try and appeal to the regional areas of Queensland but he has also said he probably won't do anything to stop it because that would be too difficult a thing to undo.
That is his appeal to the suburban areas of Brisbane. It is possible, though, that within his own electorate his equivocal stance might count against him.
But overall, my view is that there are not particular local issues in Ashgrove once you take aside all the intense interest and campaigning surrounding the fact that Labor is fighting hard to retain the seat and the LNP is fighting very hard to win it.
In other words there are issues that are affecting the whole of Queensland like the economy, education, coal seam gas and those factors are important in Ashgrove as well as elsewhere but the very fact that Campbell Newman is the candidate makes it a unique situation in that he is running from outside of parliament and that Labor is fighting so hard.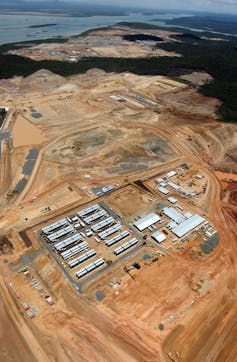 That is the issue itself that makes Ashgrove different, the intensity of the personal and party-based political battle. In that sense, Kate Jones has been a strong local member, the Labor side is playing that up for all it is worth. Campbell Newman has got the personal credentials and appeal that come with being the party leader so the personal draw there is stronger than it often would be.
The personalities of the two major candidates have become a bigger issue than they would in the contestation of most seats.
What happens if the LNP wins the election but Newman loses in Ashgrove?
What happens is that he can't be Premier. It is as simple as that. You have to be an elected politician to be the leader of the government. The LNP would have to choose a leader who then became Premier from among the elected MPs.
Campbell Newman and the LNP generally have steadfastly refused to nominate a so-called Plan B [candidate] on the grounds that if they started saying what might happen in the event of Campbell Newman not winning his seat then they are opening themselves up to doubts that they are confident he will win his seat, and also the allegation of campaigning on potentially false pretences by promoting him as the leader when the outcome might have him absent.
To admit that is in a sense to admit that the LNP campaign is based on false premises. It would also then mean the spotlight would fall very heavily on whoever was nominated as the alternative person, if that is the way they did it.
There are other ways they could paint the scenario whereby they could simply say that a person among the elected MPs would be selected by the other MPs and that would be how the leadership would be resolved.
Will smaller parties like the Greens or Bob Katter's Australia Party have any effect on the outcome or is this a straight two way fight?
I am not sure it is a straight two-way fight, although certainly experience and electoral history do remind us that when major parties get very intense in their campaigning they do tend to exclude minor parties as the attention focuses on them, the stakes are very high and people end up going with the major parties.
I think if there is a third force it will be the Greens rather than Bob Katter's Australia Party. Ashgrove is an electorate where the Greens have done reasonably well in the past. On the assumption that the primary vote for the two major parties might be very close, the Greens may well play a role in the distribution of their preferences even if their vote is a small percentage. It might be enough to make a difference, particularly if their preferences favour Labor, which they tend to do.