When asked, at the close of the second presidential debate, to say something nice about her opponent, Hillary Clinton responded by complimenting Donald Trump's children. They are, she said, "able and devoted."
Parenting has been a central theme of this election cycle. As part of an effort to render Clinton more vibrantly human, the Democratic National Convention focused on her relationships with friends and colleagues, with her mother, and – most importantly – with her daughter and grandchildren. In a similar vein, Trump's children played key roles in the Republican National Convention, providing anecdotes to make him more familiar to American voters.
However, many of Trump's encounters with parents and children have drawn negative attention. His tone-deaf response to two grieving Gold Star parents led many to criticize him as cold-hearted. The candidate was also criticized when he asked a woman at a rally in Virginia to leave when her baby disrupted his speech.
Even before recent tapes and allegations came to light showing Trump boasting of sexually predatory behaviors and ogling young women, his campaign had provided Clinton with enough material to run an ad asking parents across the country whether they wanted a bully in the White House.
Certainly there are reasons to be concerned when a presidential candidate doesn't grasp the basic concept that women are humans – not objects. It is possible to simply assume that such a person would fail to advocate for families and women as president. But such a lack of focus on policies denigrates public discourse and the political process.
I have written about pregnancy and family life in the United States, through the lens of celebrity culture, and teach a course on reproductive law and politics. That research and teaching makes me attuned to the ways that family life is impacted by policies and politics. So, I ask, what are the candidates' policies and positions on issues of importance to families in the United States?
Ability to time pregnancies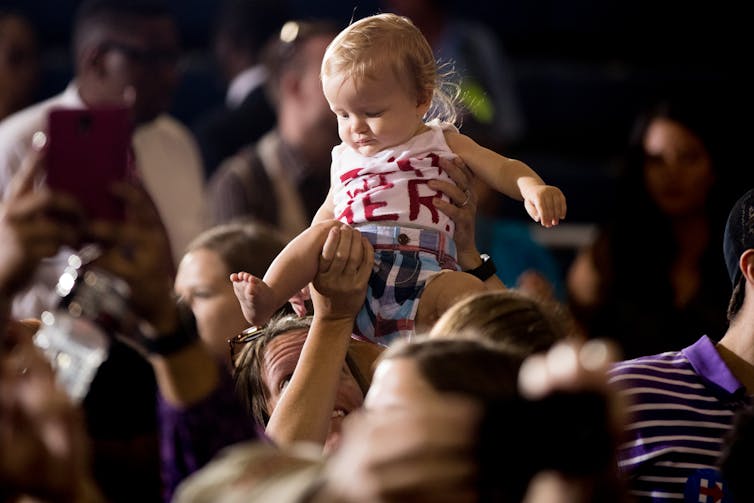 Access to birth control is an important part of being able to plan for pregnancy. As I have previously noted, Hillary Clinton is endorsed by Planned Parenthood and has been a strong advocate for expanding access to birth control for women in the United States. Donald Trump does not have a policy articulated regarding birth control, but he recently said that he does not think prescriptions should be necessary for "the pill." This is a stance many feminists take – arguing that access would be wider if a doctor visit wasn't required.
Access to pregnancy termination services is also a concern for families: 59 percent of abortions in the United States are obtained by women who already have children. Trump has stated that he would appoint justices who would return decision-making about abortion law more firmly to the states. He has previously stated that women who receive abortions should perhaps be punished. In the third debate, Trump wrongly characterized late-term abortion as "rip[ping] the baby out of the womb in the ninth month, on the final day." Clinton views late-term abortion as part of a range of women's reproductive health decision-making. She is an adamant pro-choice candidate, and would appoint justices who uphold Roe v. Wade.
Family leave
Once a child is born, families often must struggle with workplace policies that make it difficult for workers to parent – and parents to work.
Trump's policy proposal is to allow "new mothers" six weeks of paid leave. The paid maternity leave proposed by Trump would not include men, even if they were single parents. It would not include female partners of a woman taking leave or adoptive mothers.
Clinton's proposal is for 12 weeks of paid leave for any person engaged in parental or other family caretaking, regardless of gender, role in the family or adoption status.
Beyond the six-week difference in leave time, there are significant differences in these policies, in terms of who would be able to access the benefit, if enacted.
Child care and early childhood education
The (high) cost and (often low) quality of child care in the United States is a significant problem for American parents. These parents say that presidential proposals regarding childcare are important to them, in choosing who to vote for. Clinton's child care plan is sweeping in its scope. She calls for universal access to pre-K programs and early childhood education, and seeks policy change to raise the quality and affordability of child care in the United States, while increasing the pay of child care workers.
Trump's plan to increase access to early childhood education and child care for working parents is to provide additional care-related tax deductions for families earning less than US$500,000 and an earned income tax credit rebate for "lower-income" families. Trump would extend those deductions to stay-at-home parents, enabling them to "choose the child care scenario that is in their best interests."
Analysts call both plans "pragmatic," but indicate that Clinton's would save families more money on care.
Insurance and health care
Families also report that health insurance and health coverage for parents and children are significant electoral issues.
Donald Trump has vowed to repeal the Affordable Care Act, also known as Obamacare, and replace it with a plan that provides federal block grants to states and stresses the benefits of a free market in insurance and care.
Hillary Clinton has promised to expand Obamacare, to enable "universal, quality, affordable" care for everyone living in the United States. This means that Clinton would extend health coverage to immigrants living undocumented in the United States, something Trump opposes. Clinton has stated repeatedly that she considers reproductive health care and mental health care to both be vital parts of any plan.
Gun safety
Donald Trump has been endorsed by the National Rifle Association and has come out against gun reform legislation that would limit access to certain types of weapons, or particular magazine size.
Hillary Clinton supports Second Amendment rights but also supports gun reform legislation meant to prevent school violence, child gun accidents and domestic homicide. These include provisions such as expanded background checks and denial of right to carry for those who have engaged in domestic abuse. Also included: bans on "military-style" weapons and technologies like trigger locks. The candidate herself identifies gun safety as an issue important to families.