It has been a busy, and often turbulent, time for football. Several FIFA officials were arrested in Switzerland; FIFA announced a raft of new reforms aimed at changing the organisation's system of governance; Chinese investors made their first foray into the English Premier League, acquiring a 13% stake in Manchester City; and now the draw for the 2016 UEFA European Championship in France has taken place.
As football grapples with its sense of purpose and identity, the Euro 2016 draw brings a welcome focus on the game itself rather than on the intrigue of its boardrooms. The prospect of an England-Wales group game, in particular, will have many fans excited. Even so, Euro 2016 speaks volumes about the politics and commerce at the heart of what is supposedly the people's game.
Next year's tournament will mark a first and, potentially, a last. For the first time, the tournament will be played between 24 competing teams, up from the 16 that normally take part. The tournament could also be the last in its current format as the Euros switch to a multi-venue format. In 2020, it will be played in 13 host cities, stretching from Dublin in the west to Baku in the east.
UEFA's President, Michel Platini, has been responsible for both these developments. His view is that an increase in the number of competitors at the Euros is important because there are now more European countries than there were 20 years ago. Moreover, Platini has a long-held belief that European football should be more democratic and not just a fiefdom dominated by the likes of England, Germany and Spain. However, many commentators counter Platini's views believing that what UEFA has instead created is a bloated, cumbersome Euro competition that will ultimately be very boring.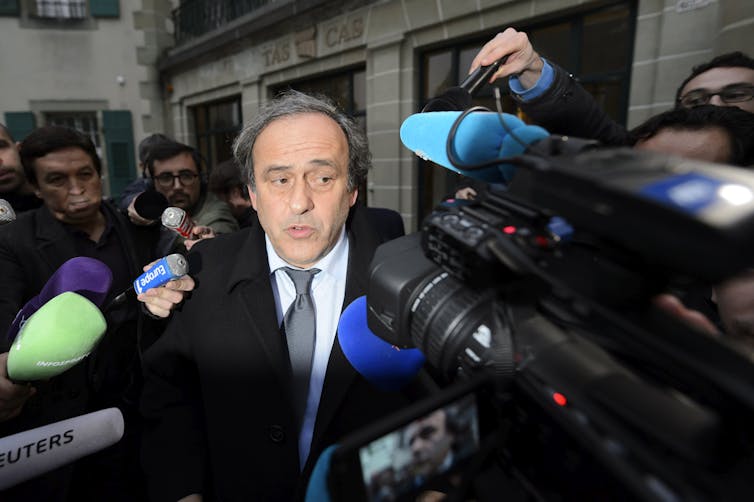 The organisation of 2020 is unusual, although Platini has said that it was a romantic decision to mark the tournament's 60th anniversary. Platini, though, faced a difficult choice at the time that host country bidding was taking place; Europe was in the grips of a post-recessionary chill. Indeed, many people have noted that he had little alternative as there were so few countries interested in hosting the Euros. Still, the concept has its supporters, many of whom believe that it is one way of off-setting the huge cost burden it is for one country alone to host such sporting mega-events.
There may be troubles ahead
Before we get anywhere near Euro 2016 though, let alone Euro 2020, UEFA and football have some major issues to deal with. Not least of these is that President Platini is currently serving a 90-day suspension from football, imposed by FIFA's ethics committee for an alleged disloyal payment authorised by Sepp Blatter. As the draw for next year's matches took place, the Frenchman was therefore absent from proceedings. If the continuing investigation into his activities goes against him, then Platini could actually miss the whole of UEFA's showcase tournament for national teams.
In any case, his home country is an uncertain place at the moment, following the recent terrorist attacks in Paris. Next year, the French will have ten venues to protect and so, instead of being a democratic and open tournament, Euro 2016 could well be stifled by security measures. There is no debating that people need to feel and be safe at football matches. But one suspects that a security lockdown is not what Platini envisaged when France won the right to host the event.
Even so, we can look forward to a tournament that is a reflection of Platini's democratic intentions. Qualifiers Albania, Iceland, Northern Ireland, Slovakia and Wales have never played in the Euros before. Austria and Ukraine are making their second appearances, both only having previously qualified thanks to their hosting of the competition in 2008 and 2012 respectively. Alongside them, Germany will be seeking to maintain its position as Europe's dominant force; Spain will be determined not to fall any further behind its rivals; France will want to win the tournament they are hosting; and England will simply hope.
In spite of Platini's hopes for a more egalitarian Europe (he's the man also responsible for UEFA's Financial Fair Play initiative), there will be an interesting economic backdrop to the games. The 2016-17 English Premier League season will mark the start of its record-breaking £5.14 billion television deal. This means that many of the league's clubs will be present, looking to spend on players, many of whom will be keen to put themselves in the transfer shop window.
Yet wallets won't simply be awash with TV money, there's a new generation of investor now entering European football, too. They will also be looking to acquire talent. The Chinese have been spending lavishly on European clubs in recent months, ranging from the might of Manchester City to more modest clubs such as the Czech Republic's Slavia Prague. There are some conspicuous consumers in China who will no doubt be instructing their coaches to sign-up some of the tournament's best players.
In amongst the mire of corruption, the terrorist threat and the frenzy of player transfers, spare a thought for the Netherlands. The past masters of "total football", and third place finishers at last year's World Cup, the country failed to qualify for Euro 2016. Some people have attributed this failure to ageing players, dubious tactics, divisions within the squad and difficult opponents. Whatever the reason, this reminds us that, irrespective of off-field distractions, winning games is still what football is ultimately all about.