So it's finally here: Google Wallet, a free Android app that turns your (Google) smartphone into a mobile payment system, launched today.
To do this, the company has partnered with Citi, MasterCard, First Data and Sprint. More banks and credit services look set to follow this lead.
The advertisement (see below) featuring Seinfeld's hapless George Costanza gives the soft sell for the new technology: our wallets as they stand are unwieldy, chocked-full of receipts and cards.
How much better would it be if we had a virtual wallet, right there in our phones?
By launching now, Google has stolen a march on PayPal, which has revealed, but not yet launched its own virtual wallet.
But the idea's not new. Virtual wallets – in the shape of a service known as Edy – have been widely used in Japan since 2004.
At the moment, Google Wallet is only enabled on the company's own Samsung Nexus S smartphone, and it's unclear whether the upcoming iPhone 5 will carry the required technology to run the app.
There's been no word from Google about a potential launch date for Australia, which has raised the ire of some Australian tech-heads.
From a user's perspective, the app couldn't be simpler: you tap your smart phone on a reader at a point of sale and the money is debited from your designated account.
For added security, users must also enter a PIN in the application to enable each payment.
How does it work?
The app employs something known as Near Field Communication (NFC), a wireless technology that transmits information between an "initiator" (your phone) and a "target" (the payment terminal).
Like Bluetooth, it's a short-range communication technology. Because NFC uses radio waves for identification purposes, it fits within existing RFID (Radio Frequency ID) standards.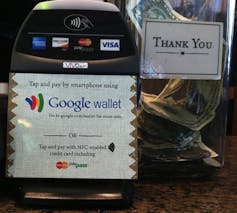 Where NFC differs from both Bluetooth and RFID is its range: it transmits data across very small distances, typically between four and 10 centimetres.
This makes it particularly suitable for busy areas – shopping malls, sporting stadia – where correlating a signal with a transmitting device can be particularly difficult.
The Google Wallet also uses higher-layer cryptographic protocols to establish a secure channel.
Risky business?
You could look at the Google Wallet – as the company might want you to – as a revolution in consumer empowerment. Likewise, you could see it as just another incremental step in the ongoing digitisation and consumerisation of IT services.
But however you spin it, the risks of using Google Wallet go further than simply misplacing your phone.
UNSW Cyberspace law and policy professor Roger Clarke recently reviewed the terms of service for a number of apps that use the cloud.
He found Google, along with LinkedIn, had the poorest terms of use when it came to privacy.
Entrusting your financial transactions to a company that, while championing the slogan "Don't Be Evil", still has a history of serious privacy concerns, might seem questionable.
Simply put, the company wants your information – in this, Google's no different to many big companies currently out there.
Theft
To allay fears of what might happen if your phone is stolen by a spend-happy mugger, Google notes the following: "After adding your Citi MasterCard card to Google Wallet, you can immediately spend up to $100 USD. To access your full credit line, Citi will send you an activation code that you will have to enter into Google Wallet."
In other words, there's a limit on spend unless you are the genuine owner of the phone.
Already, as things stand, if your phone is stolen you need to call your service provider to report it. In the case of a phone with Google Wallet, you'll also have to call your credit card company.
While Google provides the service to use your credit card, it has little to offer in case of loss or theft, merely stating its customers should call their banks.
Should we buy it?
Whatever financial service you sign up for, it's always crucial to read your contract carefully. This is especially important for a new service such as Google Wallet.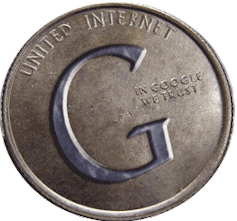 For once, it's important not to just tick the "I accept" box without reading the terms, as we so often do online.
But it doesn't stop there. You will also need to review what the merchant (MasterCard, for example) includes in its terms and conditions, which may be different from a standard contract.
And given Google is a foreign entity, it's also important to clarify what your rights are here in Australia.
We've already seen the clash between Australian law and Google's practices when the company breached the Privacy Act while putting together Street View in Australia.
Before Australians sign up for a Google Wallet (should we be given the chance) we need to know what our consumer rights are, and what the dispute process will be if anything goes wrong.
A Google Wallet might keep serial receipt hoarders like Georg e Costanza happy, but we won't know for a while if it's the game-changer its creators hope for.