Many Australians will go to the polls on July 2 believing the future of Medicare is at stake. In a sense it is – but not because of the government's plans, now ditched under the heat of a campaign, to outsource IT functions.
The greater threats to our national public health system lie in the increasing role of consumer co-payments and the power of vested interests that stifle policy innovation in health.
Mediscare campaign
The Labor Party is heading into the election with its Medicare banner hoisted high. Labor promises that it alone can "save Medicare" from the incremental privatisation that higher co-payments and increased outsourcing may herald.
But while Labor's claims about the need to defend universal health care from creeping co-payments are genuine and important, it is hard to accept the party's recent claim that the Liberals' interest in outsourcing claims and payment services for Medicare and the Pharmaceutical Benefits Scheme (PBS) is an existential threat to Medicare.
While any changes would need to be handled carefully, in reality our antiquated system needs to be modernised in the most cost-effective way possible.
The public, though, is wary about how that modernisation occurs. An Essential Report poll conducted in February asked about the public's attitude to outsourcing:
It has been suggested that the government may outsource the administration and payment of Medicare, pharmaceutical and aged care benefits to the private sector. Would you approve or disapprove of this?
Public attitude to outsourcing of government payment systems, including Medicare, to the private sector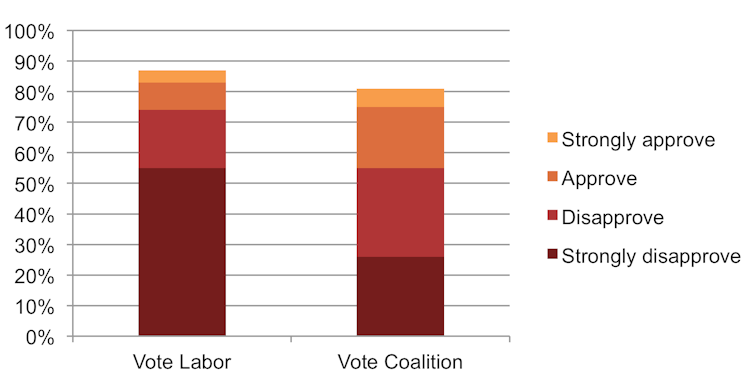 The answer was clear – the public opposes outsourcing but its opposition probably reflects the government's failure to sell the idea rather than a settled view.
Privatising service delivery has been ruled out
The "Mediscare" campaign appears to have been effective, irrespective of its substance. Prime Minister Turnbull has now emphatically ruled out any outsourcing of Medicare services, stating that:
I am making a solemn commitment, an unequivocal commitment that every element of Medicare's services will continue to be delivered by government. Full stop.
Of course, Turnbull may forget this commitment soon after July 2. The dishonouring of pre-election commitments is a proud tradition on both sides of the aisle. Julia Gillard famously reneged on her vow to never introduce a carbon tax. Tony Abbott's raft of broken election promises exceed the word limit for this article. Voters will have to decide whether they believe this prime minister will be different.
Turnbull's words may later be claimed to provide wiggle room, as the original media release also announced that the proposal "does not include the face-to-face services provided by Medicare".
Privatising funding is a greater threat
Outsourcing is only one form of privatisation, and nowhere near the most pernicious. While privatisation of service delivery is now off the table, greater privatisation of funding (that is, the share of health costs met by private insurance or patient co-payments) is still very much on the cards.
The Liberals remain committed to a A$5 increase in Pharmaceutical Benefits Scheme co-payments – a zombie policy that has been stuck in the Senate since 2014.
Although the Coalition has given up on legislating its A$7 GP co-payment, its Medicare rebate freeze is effectively designed to sneak it in through the back door. The freeze means that until 2020, doctors will be paid the same as they were in 2014. With a growing gap between income and costs, they will eventually pass the difference on to their patients.
Both policies, which Labor opposes, will have a real impact on the integrity of the public health system.
The underlying promise of Medicare is universal access to health services irrespective of a person's age, illness or bank balance. While outsourcing IT systems or service provision may not affect this promise, the same is not true of co-payments.
Australia already has a very high level of out-of-pocket costs. Raising them further will have an immediate effect on the ability of people on a low-income to access the care they need.
As skipped GP visits lead to an increasing number of avoidable hospital admissions, costs will rise rather than fall for the health system.
Medicare needs evidence-based reform
Medicare is vital to Australia's social policy fabric. But in order to survive, it needs to be modernised, not preserved in aspic.
Over the past year, substantive ideas to increase the quality and sustainability of Medicare services have repeatedly gone down in flames. Poorly designed policies are being retained for the benefit of private providers, not patients.
Opportunities for improved sustainability and service delivery have been put on the back burner because of fears of political campaigns by owners of pharmacies and other providers.
Meanwhile, government backdowns have led to share price rallies, as we saw when Pathology Australia struck a deal with the government to abandon its Don't Kill Bulk Bill campaign.
We need to remember that every dollar of health expenditure is a dollar of some provider's income.
The long-term solution to Medicare sustainability lies not in higher co-payments but in substantive reform. This includes investing in cost-effective prevention and in a better designed primary care system .