The Grand Final of the ANZ championship this Saturday marks the end of a chapter in the history of netball in Australia, as the trans-Tasman league is wound down. A five-year broadcast deal for a new national league announced in May, will bring the sport to prime-time free-to-air television, and offers netball the chance turn professional.
Has netball finally broken the glass ceiling of professional sport? Might netball challenge some of the ideas about gender that so often curtail the recognition of women's sporting achievements? Is there a story here that feminists can celebrate?
Two academics researching Australian histories and sporting cultures have different points of view:
Disrupts gender norms to produce new fans
Leigh Boucher, lecturer in modern history, Macquarie University
It has long raised my feminist hackles that elite netball doesn't seem to have the centrality in Australian public life that other sporting codes enjoy. Growing up in Victoria in the 1980s and 1990s, I was always struck by the contrast between the adulation showered on Australian rules footballers and the meagre cultural and material spoils that flowed towards state and national level netballers.
The simple fact that netball is understood as a women's sport must at least partly explain this disparity in recognition, in spite of the fact that so many Australians, both men and women, play the game. While codes may quibble over the collection of data, it's clear that netball has a higher participation rate than Australian rules (or either of the rugby codes for that matter).
Netball was invented as a women's version of basketball, with adjustments to the rules to accommodate the restrictions of late-19th century femininity. Understood as a "non-contact" sport, it reinforced social conventions about gender-appropriate physical activities.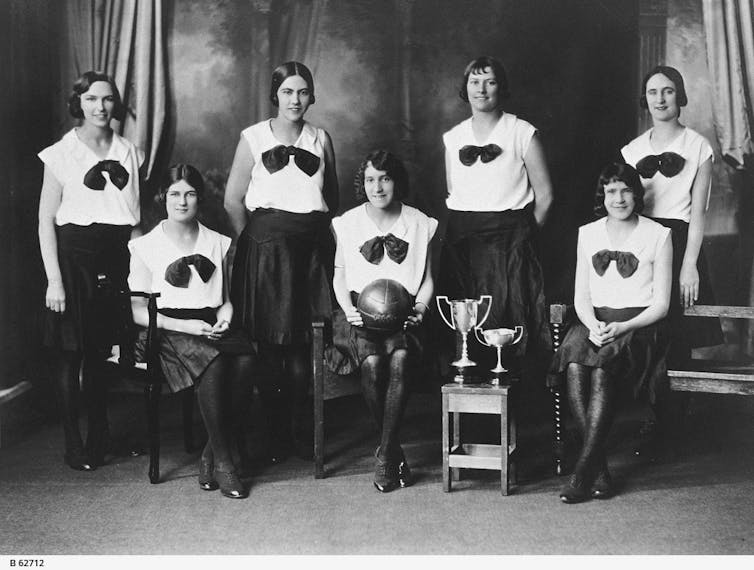 As feminist action challenged gendered ideas about bodily, intellectual and political capacity over the 20th century, the style and rules of netball have slowly changed. Netballers have transformed the game, pushing at the boundaries of these gendered rules to create a contact-heavy, fast-paced and tremendously athletic sport.
However, even as these changes in the game took place, netball struggled to secure the audiences and engagement that men's sporting codes enjoyed. The launch of the trans-Tasman ANZ league in 2008 marked a concerted effort by elite netball to transition to a fully professionalised league – dependent on the possibilities of revenue generation that broadcast deals entailed.
But the efforts to transform netball into what some scholars call a mediasport faced a set of cultural and social norms that often prevent audience development for elite women's sport.
Some attempts to capitalise on the advertising potential of netball's growing recognition have played right into rather restrictive ideas about women in sport. A recent advertising campaign used the Adelaide Thunderbirds to promote ideals of "shiny hair" and "strong nails."
Other advertising campaigns suggest some more complex possibilities for women in sport. The "play like a girl" campaign to promote netball on Foxtel featured Sharni Layton sporting a black eye after contact on the court.
This campaign was not without controversy, but long time supporters were probably less surprised. Layton is a spectacular athlete with one of the strongest defensive records in the league. She has the capacity to turn a match, and takes what can only be described as a fearless approach to the game. Watching her prowl around the defensive third, worry her opponents into making offensive errors and read the play to pull off spectacular interceptions is utterly compelling – this is not a performance that courts ideals of feminine restraint.
The rise and rise of Layton's popularity suggests that support for netball might be growing because of the ways in which it challenges and recasts rigid ideas about gender difference. Layton short-circuits the gender machine, and produces new fans and attachments in the process.
The announcement of a new national league earlier this year was connected to what some have called "the most complete broadcast deal for women's sport globally." This augers an exciting chapter for women like Sharni Layton and Maddi Robinson – who might, one day soon, become household names like David Pocock, Tom Hawkins or Steve Smith.
This would suggest that netball Australia is finally overcoming the profoundly gendered assumptions about interest in women's sport; perhaps the key to doing so was to disrupt ideals of femininity rather than making sure netballers had shiny hair and glowing nails.
A feminist question, rather than a solution
Fiona McLachlan, lecturer in sport studies, Victoria University
When I was seven I asked my parents if I was allowed to play hockey. While I didn't understand it as such at the time, this was a political move that challenged conventional wisdom. Girls played netball – but I didn't want to. The courts were small, I couldn't run with the ball, there was a constant sound of a whistle, and there were strict rules about where I could go on the court.
In netball I would, quite literally, be made to stay in my place. Fortunately for me, my parents did not care about conventional wisdom and so I was allowed to play a game that required me to smack a ball, and gave me more freedom to roam.
Most of my female peers made a different choice; they signed up for netball in droves. And this wasn't a passing trend – females continue to be over-represented in netball participation rates.
This might not seem to be a particularly insightful or troubling observation, but some of the most important research questions are found in the taken-for-granted aspects of daily life. So why is netball so popular with one sex, and with what effects for equality more broadly?
While netball history is not very well documented, in a current research project my colleagues and I are undertaking with Netball Victoria we have found many reasons to celebrate netball.
Initially it was a game played in girls' schools, and was taught by British school mistresses. By the 1930s it was booming, and fast becoming a symbol of female emancipation – as it was largely played, and controlled, by women. In oral history interviews we've heard about the roles women played in organising a sport with feminist principles – for example in the 1970s the "Married Ladies League" ran on a schedule where the team with the bye would take child-sitting duties that week.
We have discovered evidence of correspondence to the Sun newspaper in the 1930s bemoaning the lack of press coverage given to netball. And in the archives there are many albums with photographs celebrating the physicality of netball – females jumping, stretching, shooting.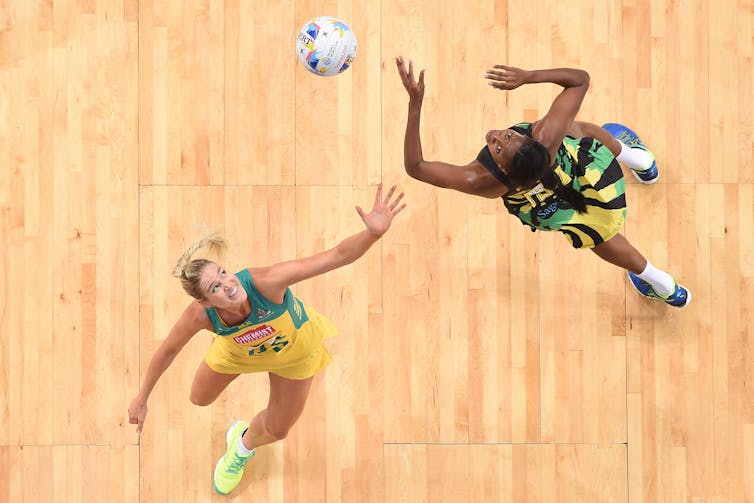 There is no doubt that netball has played an important role in the lives of many Australian girls and women, and some men. However, my prime concern as a researcher is to understand the social and historical forces that shape personal choices and experiences (positive and not so positive).
So we need to look a bit deeper and more critically at the forces that shaped the growth and popularity of netball before concluding that this game marked progress for women in terms of the transformation of gender norms and conventions. To this end we need to turn our attention to the 1920s.
This decade was an incredibly rich period in the history of women's sport in Australia, with a huge increase in participation in formally organised competitions; an article in the Sporting Globe in 1923 included the caption. "All sports popular with the fair sex".
Within this context, netball wasn't born out of a political attempt to encourage women into sport and transgress the limits of sex, but actually to discourage them from playing rough "manly" sports, like hockey.
Netball was seen as an appropriate sport for females – they could be physically active whilst exercising feminine restraint – and it was promoted at the expense of other more physically demanding sports that so many of the 1920s "new women" were beginning to excel at, and enjoy.
This somewhat contradictory and discontinuous history challenges the assumption that social conventions about gender operate in a progressive, linear fashion. It's not the case that as we go further back in time we find more restrictive ideas about what women could and should do with their bodies.
And it's certainly not true that netball paved the way for women to play other more physically demanding sports. While netball has transformed over the decades, and there is no denying the athleticism of elite netballers, for me, netball remains a feminist question, rather than a solution.
When the Firebirds line up against the Swifts this weekend, we should ask why netball garners a greater following than other women's sports in Australia? Why are we less fanatical about those sports where females can smack balls, and have more freedom to roam?
---
Leigh and Fiona will be discussing questions about gender, politics and Australian sport at a symposium for NSW History Week in early September.
---
Leigh and Fiona will be on hand for an Author Q&A between 4 and 5pm AEST on Thursday, July 28, 2016. Post any questions you have about their article in the comments below.