On Aug. 12, 2017, Charlottesville Daily Progress photographer Ryan M. Kelly captured the moment that Nazi sympathizer James Alex Fields, Jr. drove his Dodge Challenger into a crowd of counterprotesters, injuring 19 and killing 32-year-old Heather Heyer. It's probably the most enduring image to emerge from the weekend of "Unite the Right" rallies in Charlottesville, Va.
Eight months later, Kelly's iconic photograph from that tragic day has earned him the Pulitzer Prize for Breaking News Photography.
At first glance, the photograph is nearly impossible to make sense of visually or politically. Cars are not supposed to drive into pedestrians; fellow citizens are not supposed to kill each other over political differences. And there's so much in the frame of the image – so many figures and forms crowded together, most only partially visible – that you can't take it in all at once.
Pablo Picasso's 1937 iconic mural "Guernica" might teach us how to interpret this image more closely, and why it is important to do so. Like Kelly's photograph, "Guernica" conveys a moment of terror through a jumble of forms and fragments that seem to make no sense.
In April 1937, a different sort of "Unite the Right" moment took place in fascist Europe during the destruction of Guernica. At the request of General Franco, the leader of nationalist insurgents in the Spanish Civil War, German and Italian warplanes bombarded the Basque town in northern Spain. Terror rained from the sky: Hundreds of civilians were killed, while military targets were left unscathed.
Days later, as May Day protesters filled the streets of Paris, Pablo Picasso began what would become an anti-war masterpiece.
There are uncanny echoes of Picasso's "Guernica" in Kelly's photograph. Picasso used the Cubist techniques of fragmentation and collage to create a visual cry of anguish at the destruction wrought by men at the controls of war machines.
To make sense of the painting, you must do the work of reassembling what has been rendered apart. Yet you will never make sense of such destruction. You cannot merely glance at this massive painting or take it in all at once; you must stand and look and witness. There is nothing beautiful about it. It refuses to console. However, in the painting's abstraction – its matte shades of gray, its distorted figures that stand in for the wounded and the dead – there is a kind of mercy toward its viewers and these victims.
If there is any mercy of abstraction in Kelly's photograph, it is that of time. The image captures the moment in medias res – when the bodies of the men near its center still evoke the beauty of the human form in its wholeness.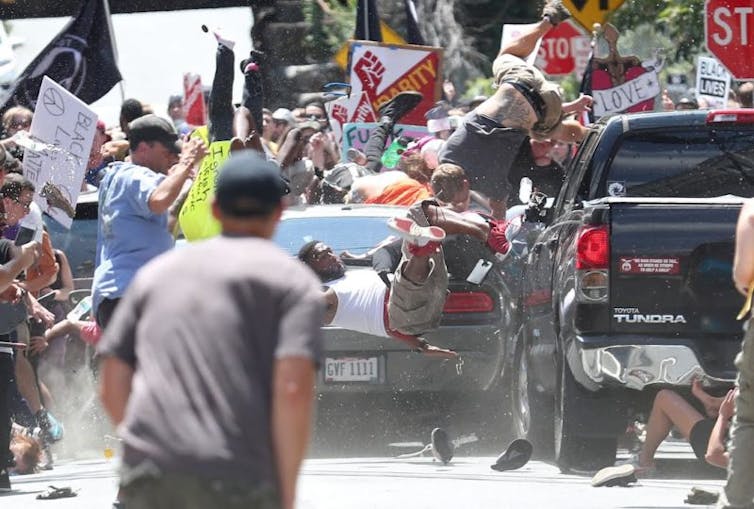 Yet we know the victims are not whole; that is why it hurts to look. The contorted positions of the man in red and white sneakers and the man somersaulting above him make sense only in the realm of sports photography. But this is not a game.
Elsewhere the photograph captures only fragments: arms and hands, legs and feet, heads and faces. Empty shoes on the ground. Sunglasses. A cellphone in midair.
You will never make sense of this image because it makes no sense. (Or, rather, it makes as much sense as racism itself.) Yet to look away risks turning away from the truths it tells. A heavy aspect of our national tragedy is that we seem to lack a president – such as Abraham Lincoln – whose heart might break to see such carnage.
As he kept reworking "Guernica," Picasso painted over a raised fist he had initially drawn near the center of the canvas. Then – as now – the raised fist is a symbol of solidarity against fascism. It makes an eerie reappearance on two posters in the top third of Kelly's photograph.
"Guernica" includes small lines resembling newsprint. The Charlottesville photojournalist's image is also crowded with text; some of it implicates the driver, while other words are a call to action.
Clear as day, there's the incriminating license plate. No one can deny that this car drove into this crowd, as the colluding European fascists did when they claimed that Guernica had been bombed by Spanish Republican forces.
Then there's the collage of protest signs and street signs that the neo-Nazi at the wheel didn't heed: Peace/Black Lives Matter. Solidarity. STOP. LOVE. BLACK LIVES. STOP.
Kelly's photograph redirects these injunctions to the viewer, who's left to wonder whether this is what our democracy – or the state of our union – looks like.
This is an updated version of an article originally published on Aug. 17, 2017.