With a Coalition government in power, the issue of student political activism is firmly back on the agenda. Education minister Christopher Pyne has stated that he would like to make the current compulsory student services fees voluntary once more, perhaps as early as this year.
This is an article of faith for many Liberal politicians, apparently motivated by the belief that the fee supports (mostly left-wing) student political activity. However, the government is yet to make the case that the current student services fee is being misappropriated for political purposes. Instead it appears to be a case of some politicians wanting to fight an ideological battle that is no longer relevant.
But it could just be the shift from an elite to mass model of higher education is indirectly killing student activism in our universities.
The heyday of student activism in Australia was the late 1960s and early 1970s, when students campaigned against the Vietnam War and apartheid. Student politics were radical, with groups from the left – such as Marxist-Leninists, Maoists and Trotskyists – dominating the scene.
Back then, university study was largely a full-time pursuit. It was also elite: less than 3% of Australians had university qualifications. But by 2005, when the Howard government first introduced voluntary student unionism, approximately one-third of Australians held a university degree. There were more than 700,000 students enrolled across 37 public universities.
By 2005, however, university was no longer free, meaning that two-thirds of undergraduate students were employed. Almost 40% of students were employed full-time. This meant that for most students, the anti-establishment lifestyle, typified in movements like the Sydney Push, was not a reality.
Interestingly, the most recent statistics show that the number of employed undergraduates has dropped to 61%, while the number employed full-time has dropped to 15%. So perhaps Australian university students have more time today to be politically active than they did in 2005. But compared to the 1960s and 1970s, full-time study – in the purest sense – is the exception rather than the norm.
Another issue is whether today's university campuses still act as focal points for student activism in the same way they used to. In 1971, more than 1400 students, or more than half the student population, reportedly attended a meeting to discuss banning military recruiters from the La Trobe University campus.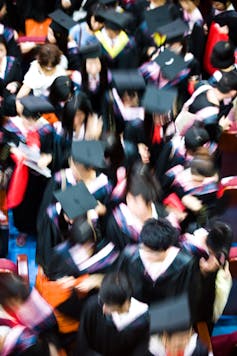 Today, 30% of Australian university students study part-time and 13% study in distance or online mode. Most universities also operate across multiple campuses. Students' life choices and work commitments mean that they do not interact in the same ways anymore.
Increased access to higher education also means that student demographics are much more diverse than they have ever been. In 2005, 26,000 students were from non-English speaking backgrounds. In 2012, this number had risen to 33,000. Enrolments from students from low socio-economic backgrounds rose by almost 60% in the same period. A focus on the international student market has also seen these types of enrolments rise from 164,000 in 2005, to 320,000 in 2012.
Mature-age students are also changing the composition of the national student body. Between 2006 and 2011, the mature-age student population grew by 25%. The 2011 census data also revealed that just over one-third of all university students in Australia were born overseas. The largest growth rates were for students born in Africa and the Middle East.
Rallying students to a common cause was difficult enough in 2005 when voluntary student unionism was first introduced. Today our university sector is even more diverse. This does not mean students today are any less politically engaged or savvy than those from earlier generations. However, diversity of opinion, experience and belief often makes unified action much more difficult.
Perhaps it is going too far to say that increased access to higher education is killing student activism in Australian universities, but it is certainly changing its function. Nowadays, student guilds concentrate much more on providing apolitical services. These include running discount food outlets, helping students find accommodation and providing information on a wide range of health, welfare and legal issues. The guidelines specifically forbid the fee being used to support political causes.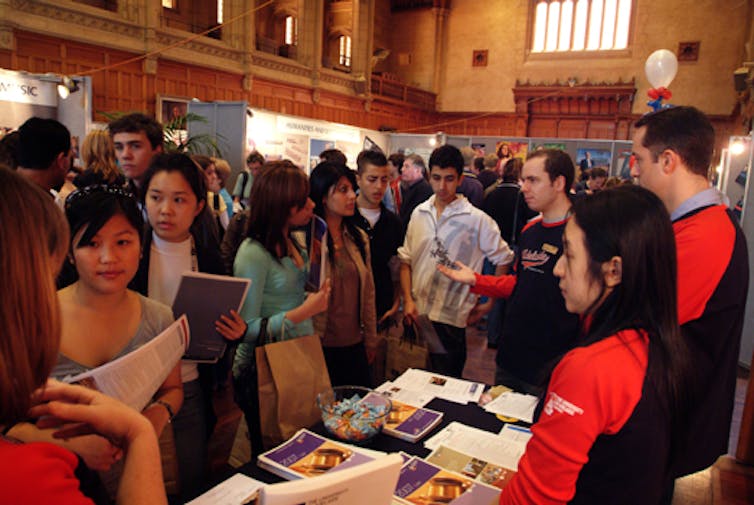 Social media, rather than public demonstration, now seems to be the preferred means of political expression. For example, last October only 100 or so students took part in the National Union of Students' (NUS) demonstration outside Victorian Parliament House, protesting against federal government cuts to higher education. Instead, the NUS focused efforts to promote its position via social media; such as using the Twitter hashtag #standwithstudents.
Positive efforts to increase access and opportunity have already played a far greater role in determining the future of student activism in Australian universities than any punitive policy action on the federal government's part. Any act to ban the Student Services and Amenities Fee would be an unnecessary and damaging distraction from the more pressing issues facing the sector.