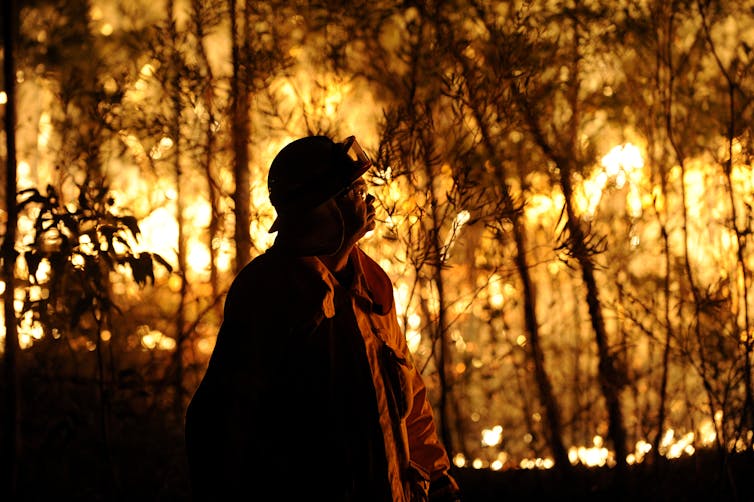 For the Abbott government, it has emerged that talking about climate change during a "natural" disaster is taboo. Of course, how "natural" the NSW fires actually are is the issue here, as we witness over 100 separate fires across NSW. These fires are the likes of which have never been seen in the month of October anywhere in Australia, let alone this close to population centres.
Yesterday Greens MP Adam Bandt posted the following on Twitter that drew several reactions from LNP politicians.
Tony Abbott's plan means more bushfires for Australia & more pics like this of Sydney.
Environment minister Greg Hunt condemned Bandt linking the NSW fires to Abbott's perceived inaction on climate change, saying:
There has been a terrible tragedy in NSW and no-one anywhere should seek to politicise any human tragedy, let alone a bushfire of this scale.
But is this really politicising the fires, as if to gain some narrow political advantage for the Greens? Or is it in fact a gesture to point out how serious global warming actually is, and that without effective global action - especially from high carbon footprint nations like Australia - we are likely to expect more of such kinds of fire behaviour at very strange times of the year?
Notably, Bandt has not attributed just this one period of fires to global warming, and, as climate scientists will tell us, to ask of such a direct link is to ask the wrong question. But we can suggest that the dice is loaded toward such events occurring more frequently and in more intense forms.
Nevertheless, Bandt has been subjected to a barrage of censuring voices: on Twitter, on talkback radio, from LNP politicians and from unsigned opinion pieces on news.com.au.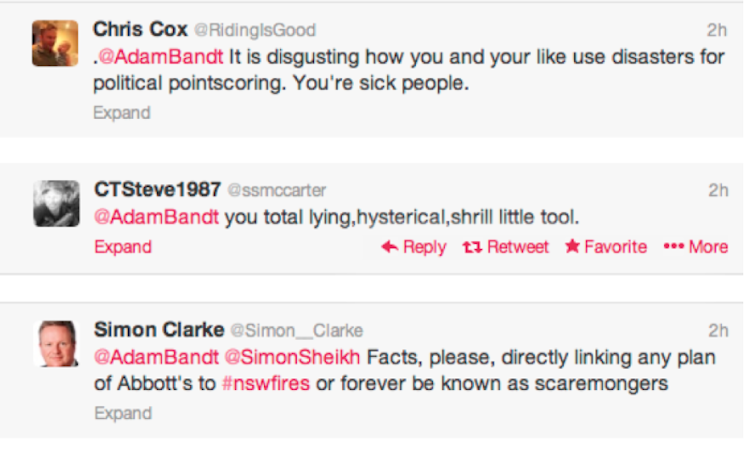 Liberal MP Wyatt Roy has appeared on a Fairfax Media video clip with a personal story of how traumatising it is to lose a house. He retold events of a kitchen fire leading to the loss of his family home when he was younger.
Following Bandt's tweet, prime minister Tony Abbott himself had sought to normalise the NSW fires.
Australia is a country which is prone to natural disaster but every time it strikes, it hurts and we grieve for all of those who are now hurting because of what's happened in NSW.
Abbott is here tapping into an entrenched narrative that has been used for covering extreme weather events long before "global warming" and "climate change" entered our vocabulary, which might be called the "fury of nature" narrative. The other dominant narrative at play during these events is about how "Australians" can overcome adversity in times of crisis. These narratives are extremely powerful, and research at Monash University suggests they are the two most important ones relevant to the Black Saturday fires of 2009 and the Brisbane floods of 2011.
However, the study at Monash also reveals that it is precisely during extreme weather events that journalists have the best opportunity to communicate the reality of climate change. From a climate science standpoint, looking at the link is the wrong question, but from a media culture perspective it is exactly the right question at the right time.
The science alone, carbon policies, climate conferences - none of these topics arouse audience attention in any form of mainstream media more than extreme weather events do. This is why climate change deniers on Twitter and in parliament alike might want to jump on climate change at these times, much quicker than you can actually put out a fire.
The stakes could not be higher, and extraordinary vigilance will be needed by the deniers if the discussion is to be suppressed at these times. We generally do not jump on discussion of road safety when there has been a fatality: in fact, it raises our contemplation of what it means and makes urgent the steps for prevention. But with the inexorable march of global warming and as the NSW fires demonstrate, we are fast approaching a kind of media-climate equinox.
As the events increase in number and scale, they will advance so far into the daily lives of Australians that social and psychological issues will emerge — that will touch us so personally and deeply — as to require narrative symbolisation. For even the most tabloid journalism to ignore these issues when people are desperately searching for an explanation will not be possible. The "fury of nature" line is just not going to cut it.
There are signs of such an equinox arriving, and the media narratives are beginning to turn. News Corp, the largest newspaper group in Australia, has - in recent years - been avoiding any link between climate change and extreme weather. But an extraordinary editorial opinion piece in last Monday's Daily Telegraph in Sydney led with the words:
There is almost no doubt that climate change is occurring and very little that human activity is a contributor.
Such a stance on climate change is a complete reversal of its past editorial position, and was put out on a day when fire was raging all over its front page.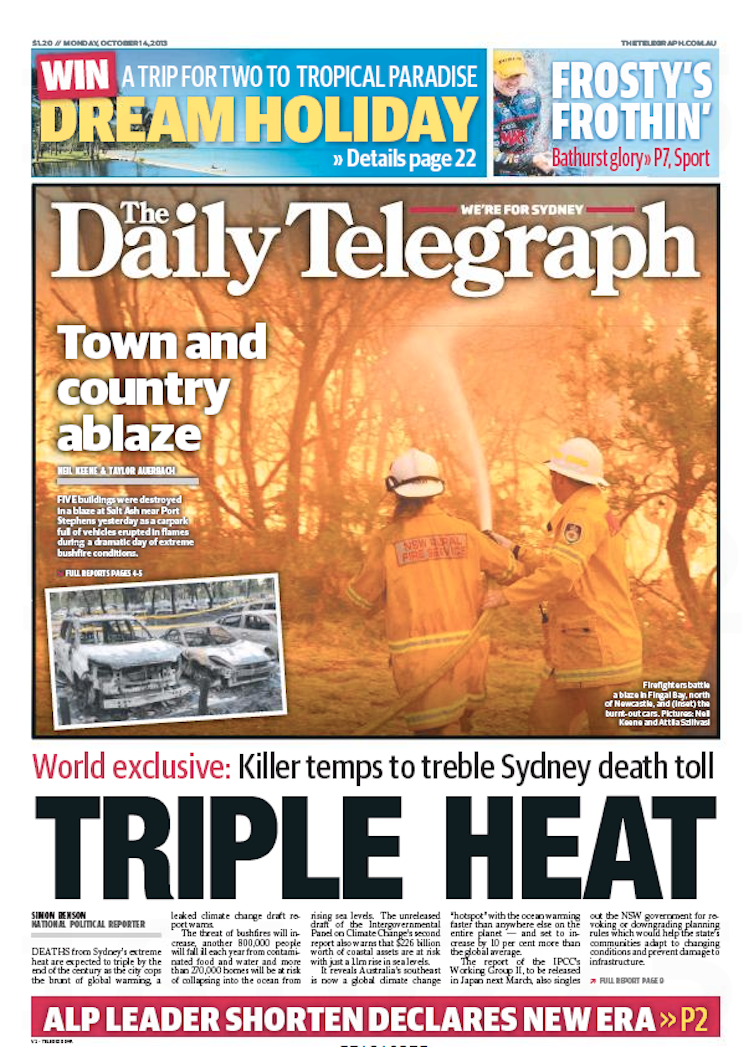 In what is billed as a "World Exclusive", the front page story opened with:
DEATHS from Sydney's extreme heat are expected to triple by the end of the century as the city cops the brunt of global warming, a leaked climate change draft report warns.

The threat of bushfires will increase, another 800,000 people will fall ill each year from contaminated food and water and more than 270,000 homes will be at risk of collapsing into the ocean from rising sea levels. The unreleased draft of the Intergovernmental Panel on Climate Change's second report also warns that $226 billion worth of coastal assets are at risk with just a 1.1m rise in sea levels.
But, curiously, there was no adverse reaction on Twitter or from federal MPs to this unauthorised "leaked" story, or the fact that the tragedy of the mass destruction that had just happened in Port Stephens was being so directly linked to climate change.
The fact that there was no reaction suggests that what has hit a nerve with Bandt's 70 character tweet was that it was critical of the Abbott government's policies on climate change, rather than the link between climate change and the out-of-season nature of the fires. If this is the case, we might need to think again about who is politicising what in the midst of this ongoing inferno.