Bill Bradley was a Princeton graduate, All-American basketball player, NBA star, United States senator and one-time candidate for president. He is also the reason that Americans cannot place bets on sporting events unless they travel to Nevada.
In 1992, then-Senator Bradley spearheaded an attack on sports betting in the US. Betting on sports undermined the integrity of the games, he asserted, and damaged the public's confidence that they were free of corruption. Moreover, Bradley argued, legal betting sent a message to the nation's youth that sports were more about money than achievement and sportsmanship.
The senator was supported in his efforts by the major sports leagues and the NCAA, whose representatives testified before Congress that sports betting should be illegal everywhere in the US.
Congress, however, refused to go along with a complete ban. Instead it passed the Professional and Amateur Sports Protection Act (PASPA) in 1992, which forbade state-licensed sports betting but "grandfathered in" four states that allowed betting at the time (Nevada, Delaware, Oregon and Montana). The act also gave New Jersey one extra year to enact its own sports betting legislation, which it failed to do.
The result of PASPA was to give Nevada a monopoly on single-game sports betting, as the other three states offered only multiple game "parlay" contests that have limited appeal.
Now, judicial scrutiny of PASPA and the recent rise of daily fantasy sports (DFS) may threaten that monopoly. Other voices, including some from the professional sports leagues themselves, assert it is time for Congress to reconsider its widespread ban on sports betting.
Is it time to repeal or change PASPA? To answer that question, we need to examine the arguments for and against and why it's still mostly banned beyond Nevada's borders.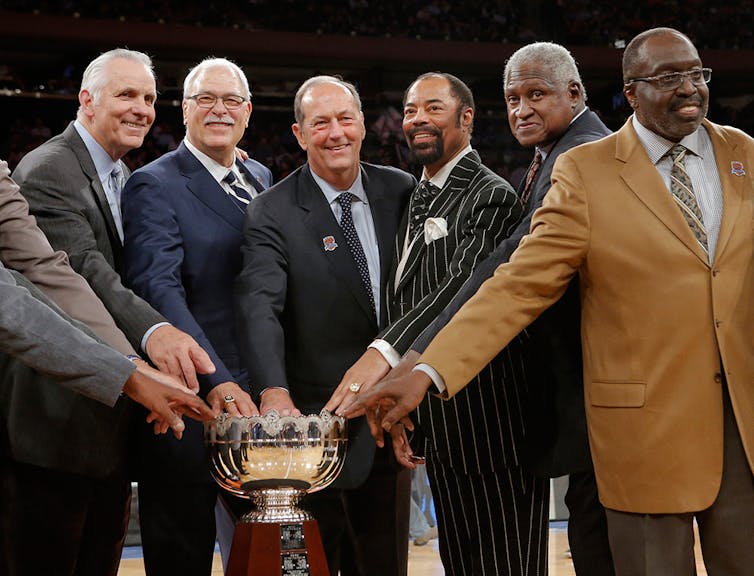 A booming business
The American appetite for sports betting is prodigious.
While Nevada sportsbooks handle some US$4 billion in legal bets yearly, anywhere from $50 billion to $400 billion is bet illegally with bookies and internet-based overseas sports betting companies.
The wide range of estimates exists because businesses operating illegally don't disclose business records. Even the low end of the range indicates a substantial market for sports betting.
In the last decade, proponents of legalized sports betting have attacked PASPA as bad policy, primarily on three grounds:
If states could offer sports betting, they would gain considerable revenue by taxing a form of gambling that enjoys wide support in the US. Polls suggest people favor legalizing sports betting by nearly 60%. By allowing such a substantial illegal market, states are leaving untapped a sizable revenue source.

Legalized sports betting actually promotes integrity of sporting events because licensed sportsbooks have an interest in reporting unusual betting activity to authorities. The sportsbooks stand to lose considerable money if they accept bets on games that have been "fixed," because a successful sports book operation depends on having a rough equivalence bet on each side of an event.

By legalizing, regulating and taxing sports betting, we eliminate the illegal market for sports betting, which historically has had connections to organized crime. Better to have the states realize tax revenues from sports betting than to have criminal elements profit.
The social costs of gambling are high
The pro-legalization arguments are far from indisputable. For example, tax revenues generated from legalized sports betting might be offset by the social costs created by those with gambling disorders.
Moreover, legalized sports betting does not eliminate match fixing, as European soccer has illustrated, and the belief that professional athletes make too much money to be targets for game-fixing may be mistaken.
Finally, legal sports betting would not put the illegal neighborhood bookie out of business. Sportsbooks operate on a cash up-front basis. A sports bettor typically "settles up" with his bookie on a periodic basis to pay off his losses (or collect winnings) without money being required in advance.
Where the sports leagues stand
But the trendlines are clear. Most American sports leagues are gradually coming around to the idea that a structure for legal sports betting would appropriately bring the activity "into the sunlight."
In November 2014, NBA Commissioner Adam Silver called for a federal system of legal sports betting. Major League Baseball and the National Hockey League have also both indicated they might be amenable to such a solution.
So if three of the professional sports in the US are in favor, why is sports betting still illegal?
While Bill Bradley made PASPA possible, it is the NFL's Roger Goodell who keeps the act viable.
The NFL commissioner recently reaffirmed the league's opposition to sports betting, emphasizing the damage to the integrity of the game that would follow from widespread legalized sports betting.
But does it matter that the NFL is the outlier among the professional sports leagues in this opposition? The answer to this question is undoubtedly yes.
The NFL is a business behemoth with yearly revenues exceeding $10 billion; by 2027 revenues are projected to reach $25 billion. Its television ratings are at all-time highs.
The interest in events such as the NFL Draft and NFL Combine workouts for prospective players has given the league year-around visibility. Along with the NFL's prominence comes political clout that can blunt efforts to overturn PASPA.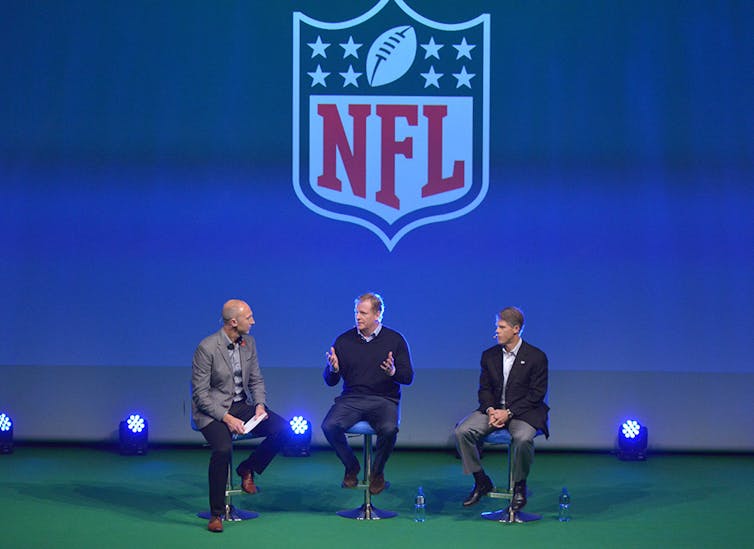 Is the NFL's stance hypocritical?
Among the many criticisms leveled at the NFL is that its opposition to sports betting cannot be squared with its other actions.
For example, in the 2015 season, three NFL games are being played in Wembley Stadium in London. Sports betting is legal in Britain, and fans can place bets on the NFL games at nearby sportsbooks or even at the game from their mobile phones. No claims have been made that the integrity of these games has been affected in any way.
Moreover, here at home, the NFL has developed extensive connections to the daily fantasy sports industry. Nearly all NFL teams have some sort of relationship with the two largest DFS operators, DraftKings and FanDuel. These DFS industry leaders sponsor "fantasy lounges" at several NFL stadiums, and two NFL owners have equity stakes in these companies.
The legal question of whether DFS should be considered sports betting is far from settled. Recently, the New York attorney general issued a cease and desist order to DraftKings and FanDuel, stating that the companies were engaged in illegal gambling operations in the state.
Last month, the Nevada Gaming Control Board likewise declared that DFS is a form of sports betting that requires licensing. Commissioner Goodell, however, insists that he "doesn't look at fantasy sports as gambling," and that the legality issue should be left to states to determine.
Finally, legalized sports betting could provide states considerable tax revenue, which could be shared with cities. This would seem to be fair in that NFL teams have benefited considerably from government subsidies to build stadiums.
This arrangement hasn't always worked to the economic benefit of the community. Using government subsidies to help fund a stadium owned by a profitable professional sports team is a dubious proposition; denying states tax revenue from legalized sports betting only magnifies the problem.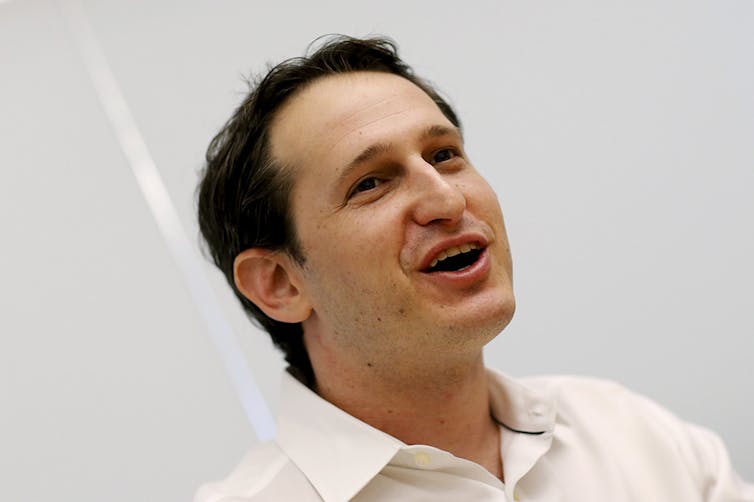 What might make the NFL change its position?
One view is that the NFL would no longer oppose sports betting if a regulatory structure were created that monetized the activity to its benefit. For example, if there were a small tax on every sports bet made on an NFL game that went to the league, wouldn't that be a financial bonanza the league couldn't pass up?
This perspective assumes, of course, that the NFL's "integrity" justification is a sham, and that it is really a financial matter. This may be true, but not in the way many people believe. The money the NFL is focused on is the money it already makes for the owners of the teams, and the revenue streams unrelated to sports betting that will develop in the future.
The NFL generates $10 billion a year in revenue without legalized betting. The risk of a betting scandal that would jeopardize the profitability of the NFL juggernaut has to be considered. Simply put, the financial potential of legalized sports betting may not be large enough to cause the NFL to relent in its opposition to a change in PASPA.
Where we go from here
Federal court litigation could change the dynamics of the sports betting debate.
Currently pending before the 3rd Circuit Court of Appeals is a challenge to PASPA by the state of New Jersey. If the court ruled that there was a way around PASPA, as New Jersey claims, many other states would follow suit. At that point, the major sports leagues, including the NFL, would have to seek a national system of sports betting. The court's ruling, likely many months away, could be decisive.
But it is far from certain that sports betting will expand beyond Nevada's borders.
A few years ago there was frequent talk of how widespread internet gambling in the US was inevitable. So far that has proven to be untrue.
Unless the judiciary forces the hand of the NFL, those who say that legalized sports betting is a matter of "when and not if" may experience similar frustrations.